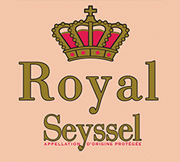 Seyssel may be unknown to many oenophiles today, but the vineyards of this small appellation are regularly mentioned in documents dating back to at least the 11th century, and with the development of sparkling wine production methods in the 19th century a new Seyssel
mousseux
was created that quickly gained great popularity. Even Queen Victoria is said to have enjoyed the region's sparkling wines during spa stays in neighboring towns. The "Royal Seyssel" label (originally called "Royal Carte Bleue"), launched in 1901 by the Varichon and Clerc families, was considered for many years to be the best sparkling Seyssel on the market. But when the operation was purchased in the 1990s by a large Burgundian
négociant
, quality suffered badly, and in 2007 the owners finally closed the local winery, keeping only the rights to the name 'Varichon et Clerc' in order to shift the name recognition in the market to their other sparkling wines. Dismayed to see what their great local wine had come to, Seysselans Gérard and Catherine Lambert teamed up with Olivier Varichon, great-grandson of the founder, to buy back the Royal Seyssel label and recreate the light, floral wine that was once so renowned.
The sparkling wines of Seyssel indulge in the same
méthode traditionnelle
production techniques used for Champagne, and Lambert de Seyssel takes it one step further by aging the Royal Seyssel for at least three years before disgorging it, giving the wine more complex, distinguished aromas and a fine
perlage
than the competition, which ages only the legal minimum of nine months. The house style is also quite dry (low dosage) in order to preserve the character of the grape varieties.