FEAST ON CORSICA
by Molly Surbridge
Corsicans love any reason to eat and drink sumptuously. The way they do it is usually with a fantastic spread of local sheep or goat milk cheeses like Brocciu or Tomme and various cured meats, be it lonzu (pork loin), panzetta (streaky bacon), or prizuttu (Parma-style ham), followed by a simple brothy soup, a Corsican type of cannelloni or gnocchi, and then a piece of hearty roasted meat—pork or lamb.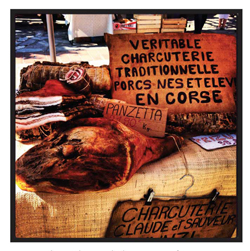 Real, traditional charcuterie from boars raised in Corsica
© Molly Surbridge
2011 Vin de Pays de l'Île de Beauté Rosé
Domaine de Gioielli
To go with the first part of a meal, nothing seems to work better than rosé. One that stands right up to charcuterie and cheeses is the 2011 from Gioielli. This rosé is unlike any other from the island (or anywhere else, for that matter). It smells of strawberries and raspberries with an exotic aroma of blood-orange rind. The silken mouth-feel is lush, offering a distinct experience appropriate for any festive gathering.
$30.00 per bottle   $324.00 per case
2009 Patrimonio Rouge "Grotte di Sole"
Antoine Arena
Maquis. If you're unfamiliar with the term, it represents perfumes and flavors emitted by the tangle of wildflowers, herbs, and shrubs that grow ubiquitously in Corsica. It is an element that lends itself to pairing with food in the best of ways, and it also happens to be the thread that binds all of the wines Antoine Arena produces. The Grotte di Sole is a complex and succulent wine redolent of maquis, kirsch, dark cherry, cocoa, and violet with a very long finish. Decant and drink now with roast leg of wild boar, lamb, or pork just begging to be feasted upon. Otherwise, save it for a few years—you'll be glad you did.
$45.00 per bottle  $486.00 per case