INTRODUCING marino COLLEONI
by Dixon Brooke
At the foot of a winding, steep dirt road down through the forest on the northern end of the town of Montalcino, perched on a cliff over-looking a patchwork of cultivated land that spreads northward toward Siena, you'll find a small Tuscan stone farmhouse surrounded by olive trees. On the sea fossil–strewn and terraced hillsides encircling it, you'll see well-pruned Sangiovese vines standing at attention. This is the home of Marino Colleoni of Podere Sante Marie and the birthplace of some of Montalcino's most unique and thrilling wines.
All three wines below are 100% organically grown Sangiovese yet offer three very different interpretations. The Orcia Rosso is a deep, pure, chewy rendition, vinified with whole clusters and no sulphur. The Rosso is as fine and elegant a Sangiovese as you will ever encounter: a perfumed caress. And the Brunello, both powerful and very complete, showcases finesse, freshness, and minerality, while shimmering with layers of complex Tuscan flavor and character. There is a sea of Brunello out there today, but few achieve greatness, in our opinion. Colleoni's has amazing energy and just makes you stand up and pay attention to what it has to say. It is well worth every penny.
These wines are all capable of aging, yet are delicious at this very moment. Please hurry, though, if you want to try them, as this is a tiny property and we only have a few cases of each—literally. I had to fight off my colleagues to put aside a few cases in reserve for this newsletter.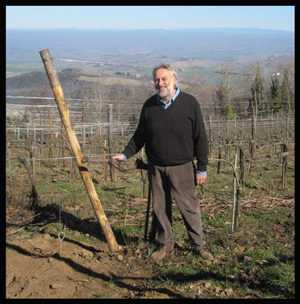 Marino Colleoni in his vineyards
© Dixon Brooke
| | |
| --- | --- |
| | per bottle |
| 2011 Orcia Rosso |  $29.00 |
| 2010 Rosso di Montalcino |  42.00 |
| 2007 Brunello di Montalcino |  80.00 |