MORGON AND MORE MORGON
by Anthony Lynch
Of the crus of the Beaujolais, Morgon holds a special place in my heart (and after last night's tasting, my stomach). There is something irresistible about a wine that is so fun, flavorful, and ultimately gluggable. Furthermore, its versatility at the table makes it a great addition to almost any meal. You'll find Morgons delicious alongside slightly spicy Mexican dishes as well as rich stews and soups, while a roast chicken is a more classic pairing that provides the perfect backdrop for the wine to express all its nuances. Beaujolais to some has a negative connotation—not "serious"—which is laughable because our Morgon producers prove just the opposite: the Gamay grape is more than capable of making serious wines—and that means serious fun.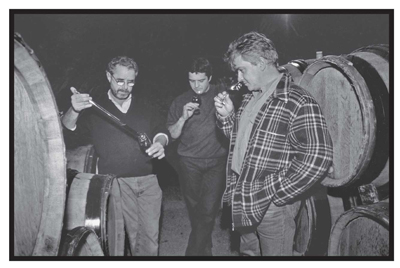 Marcel Lapierre, Guy Breton, and Jean-Paul Thévenet
2011 MORGON "VIEILLES VIGNES"
GUY BRETON
Guy Breton's Morgon is the lightest in color with tremendous freshness and a weightlessness on the palate that provokes imbibing. An ethereal quality makes it delicious right now, yet its balance of fruit and acidity suggests it will fare well in the future. A 1995 opened recently had fresh energy along with a myriad of spices.
$32.00 per bottle $345.60 per case
2011 MORGON "VIEILLES VIGNES"
JEAN-PAUL THÉVENET
In contrast to Breton's weightless style, Jean-Paul Thévenet makes a deeper, fuller Morgon. An enticing velvety texture is backed by rustic, earthy minerality. The juicy finish is redolent of freshly pressed strawberries—which is not a bad way to finish.
$32.00 per bottle $345.60 per case
2011 MORGON "CUVÉE MMXI"
MArcel LAPIERRE
In this cuvée, century-old vines give rise to another unique expression of Morgon's terroir. Matthieu Lapierre's bottling is a fitting honor to his late father, Marcel. It has remarkable depth and is packed with everything you could ask for in a Morgon. Mouth-filling yet compact, the combination of floral and earthy flavors makes it a complex wine that should unravel beautifully in years to come. A forgotten bottle of '91 Lapierre Morgon was recently discovered in the depths of the cellar beneath our Beaune office. What elegance and subtlety! We were all swept away—an unforgettable moment.
$42.00 per bottle $453.60 per case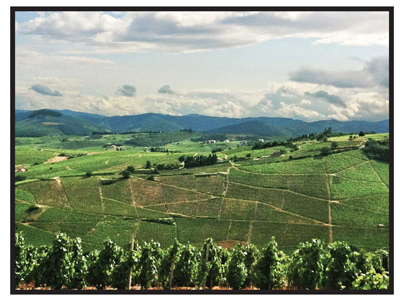 Nope, not Côte Rôtie—this is grand cru Beaujolais