Kermit Lynch was raised in San Luis Obispo, but his name has become synonymous with French and Italian wines. In 1972, with a $5,000 loan and maybe a bit of gumption, this writer/musician opened Kermit Lynch Wine Merchant with thirty-five cases of wine stacked on the floor. Attracted by the Old World wine cultures of Europe, Kermit became a retailer, distributor, and national importer for authentic wines that express their
terroir
. Much like his close friends, the late food writer Richard Olney and Chez Panisse's founder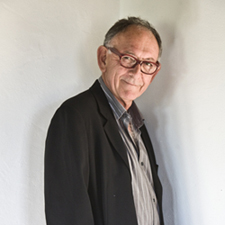 Alice Waters, Kermit's influence has been enduring. He has had so much success shining the spotlight on small, artisan producers that he has won two James Beard awards and was knighted by the French government with their prestigious "Legion d'Honneur."
Kermit's creative nature continues to extend beyond the two doors of his Berkeley storefront. In 1998, he purchased the historic Domaine Les Pallières in Gigondas in partnership with his friends, the Brunier brothers of Domaine du Vieux Télégraphe. In addition to having three books published,
Adventures on the Wine Route
(1988, Veuve Cliquot Wine Book of the Year),
Inspiring Thirst
(2004), and the 2
5th Anniversary Edition: Adventures on the Wine Route
(2013), his passion for roots music has driven him to record five CDs so far. Kermit and his wife, photographer Gail Skoff, divide their time between Berkeley, California and Provence, France—where Kermit says he is "near enough to Domaine Tempier that I can fill up the trunk of my car whenever I need to."
Books and CDs by Kermit Lynch
Interested in purchasing a book or CD?
Please call our retail shop at 510.524.1524.

Farrar, Straus and Giroux, c2013. pp.388. paperback.
Inspiring Thirst
Berkeley, CA. : Ten Speed Press, c2004. pp.420. hardcover.
Adventures on the Wine Route
New York, NY. : North Point Press, c1988. pp.271. softcover.
Mes aventures sur les routes du vin
Paris. : Éditions Jacques & Rivages, c1988. pp.332. softcover.