Tasting Recap – Thursday, March 26th
Last week's staff tasting at the Berkeley shop featured a line-up of classic Kermit Lynch imports. Kermit likes to taste white before red, young before old, and north to south so we started off far to the north in Alsace with a couple wines from Maison Kuentz-Bas.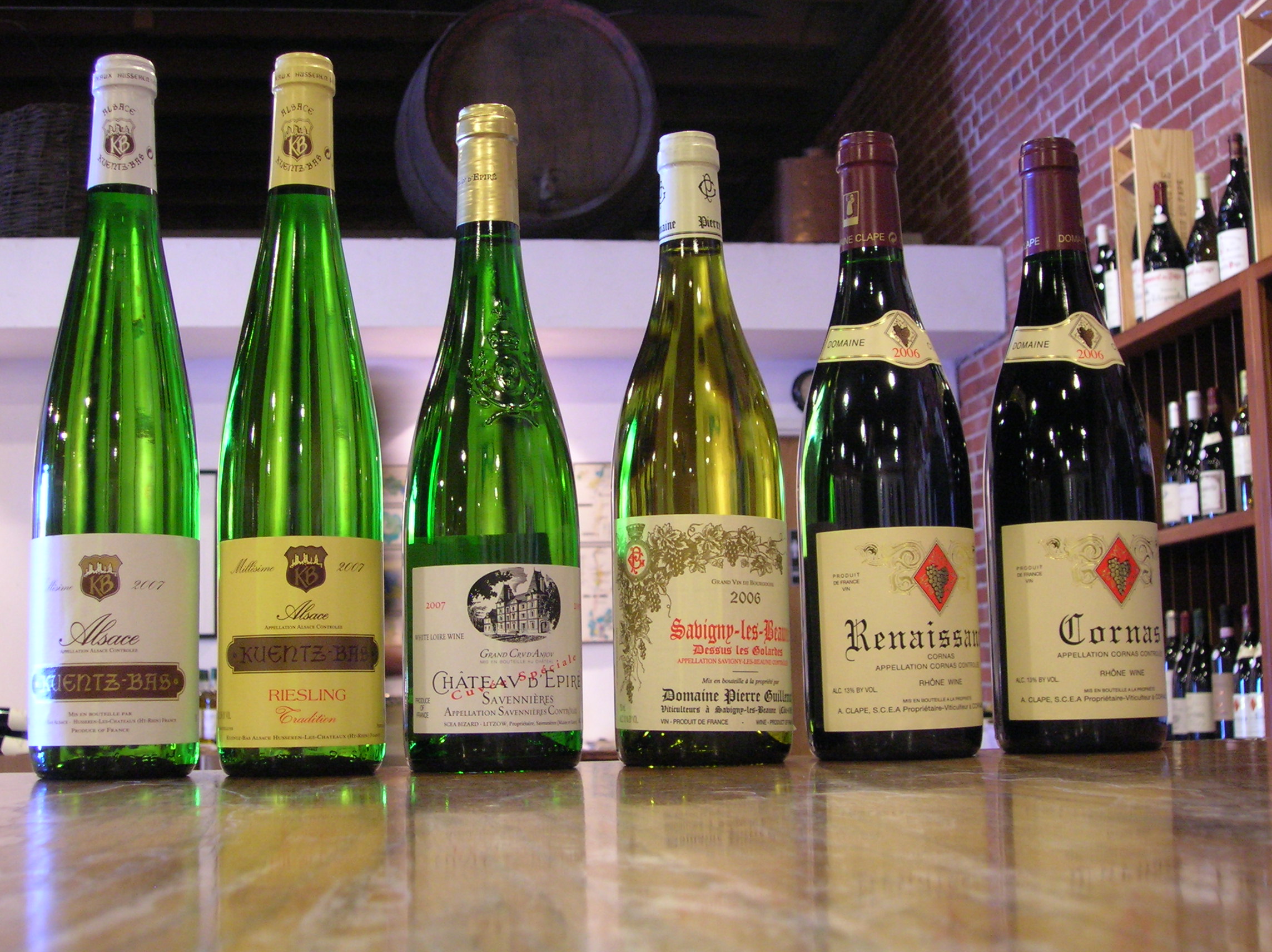 Kuentz-Bas strives for a traditional style of winemaking, producing wines that are dry and crisp but still elegant and complex. The two 2007s we tasted delivered on this promise. The 2007 Alsace Blanc ($12.95) was bright and flowery with a hint of petrol – a ton of complexity for an entry-level wine. We were all impressed by the aromatic, crisp and fresh minerality of the 2007 Riesling "Tradition" ($16.95). Try a bottle and see if you agree.
We then headed south-west from Alsace to the Loire Valley and tasted the 2007 Savennières "Cuvée Spéciale" ($19.95) from longstanding Kermit Lynch producer, Château D'Epiré. 100% Chenin Blanc, this bottling was intense, with a strong concentration of smokey, gunflint, struck-stone minerality. The racy acidity of the 2007 shows a return to an older style of Savennières. Because of the recent string of warm vintages, it's been a while since we've felt this way, but this is one to put in the  cellar for a number of years.
After the Loire, we moved down to Burgundy and tasted Pierre Guillemot's 2006 Savigny-Les-Beaune Blanc "Dessus Les Golardes" ($35). Like D'Epiré, we've been importing Guillemot's wines for decades. He is the rotund Burgundian featured in the photo at the south-west corner of our store. Unlike many producers in Burgundy these days, Guillemot refuses to raise his prices. Across the board, his wines are of impeccable quality and value, with his premier cru reds offering much potential for cellaring. The "Dessus Les Golardes" was spectacular this vintage. A full richness on the palate livened by a crisp citrus minerality with just a hint of oak.
We finished the tasting by moving one major region south to Cornas in the northern Rhône. The 2006 Cornas "Renaissance" ($57) and Cornas ($87) from Auguste Clape just arrived. The "Renaissance" was elegant, rustic, and showing quite well right now. The Cornas was classic, earthy, structure driven and begging for ten years in a cellar.