White Burgundy Sale – Tasting 2
Our white Burgundy sale is currently on in full force. 20% off by the bottle, 30% off by the case. For a list of the wines, click here. Here are the notes from our second round of tasting…
2006 Puligny-Montrachet "La Truffière" 1er Cru • Bruno Colin
Normally $115.00, 20% off per bottle $92.00
Tasting with Bruno Colin is a treat. You taste through so many of the great white wines of Burgundy and you see the differences from vineyard to vineyard. Of course there are many cellars in the region that offer this chance but with Colin you get to taste wines that are perfectly vinified, are not manipulated with too much new oak, and retain the charm and character of each vineyard.
Towards the end of tasting through his wines you get to the Puligny-Montrachet "La Truffière," a highly sought after 1er Cru that has a lot in common with the Grand Cru "Le Montrachet." They both share a profound vibrancy and power, an incredible ability to age and a grandness that is only matched by other Grand Cru vineyards. "La Truffière" also has something "Le Montrachet" does not, the added bonus of a hint of black truffle. It is said that long ago there where oak trees among the vines and that truffles grew under the oaks. These mythical truffles lend their wonderful character to the wine and of course you pay a lot less for the Puligny than Le Montrachet…..especially at 30% off. – Michael Butler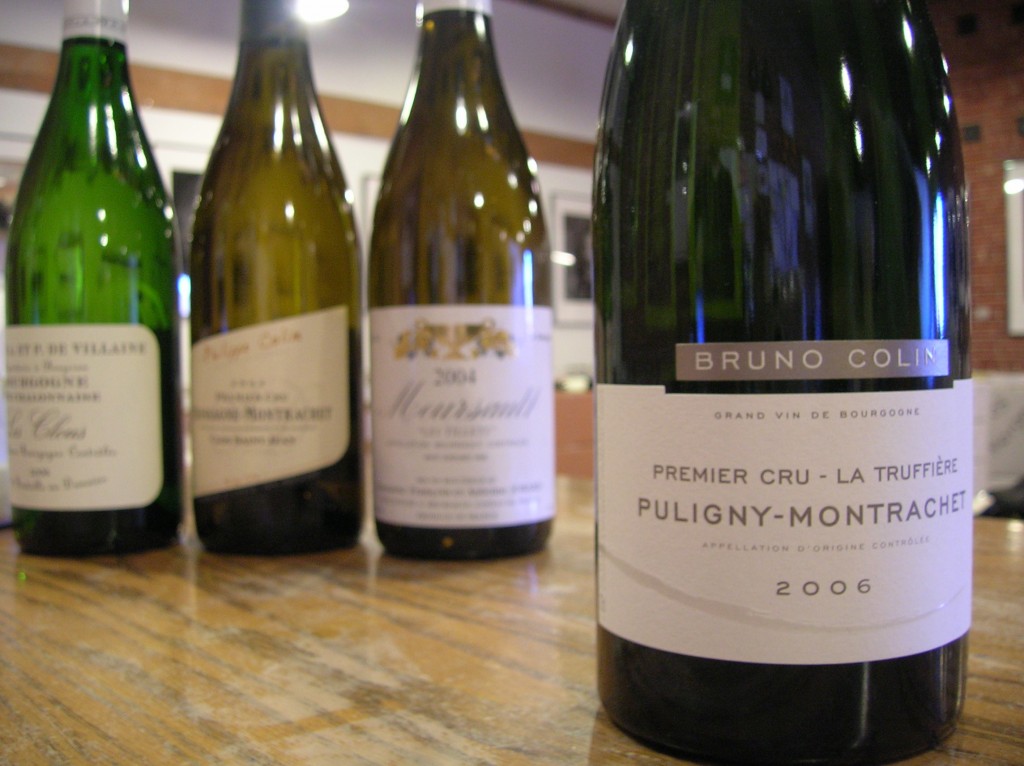 2006 Bourgogne Blanc "Les Clous" • A. et P. de Villaine
Normally $32.00, 20% off per bottle $25.60
Aubert de Villaine is well known in Burgundy and throughout the world as co-director of the famed Domaine de la Romanée Conti. He is a man of humility and vision, and when making wine he has one focus: to make excellent wines that are 100% indicative of their terroir. Located in the Côte Chalonnaise, the "Les Clous" comes from several south facing parcels that protect it from the wind and position it ideally for summer ripening. De Villaine describes this wine as a true "vin de garde" – a wine that you should watch develop over a number of years. I agree, but this wine is also drinking beautifully right now. A fresh roundness of fruit on the palate is buoyed by a light streak of acidity and fresh minerality. Buy a case and drink it over the next four or five years and you will not be disappointed. Also, A. et P. de Villaine have an excellent website with detailed information on each of their wines. – Clark Z. Terry
2004 Meursault "Les Tillets" • François Jobard
Normally $72.00, 20% off per bottle $57.60
Again, I find myself drawn to Francois Jobard for our blog, this time it is a 2004 Meursault "Les Tillets." Jobard's "Les Tillets" comes from forty year old vines which border his famous 1er cru "Poruzots." A beautiful golden robe is followed by notes of lemony crème brûlée and a delicious nuttiness, finishing with bright, fresh lime zest, minerals and chalk. A classic Jobard, through and through, drink it now if you like but it has the underlying power to age gracefully. – Mark Congero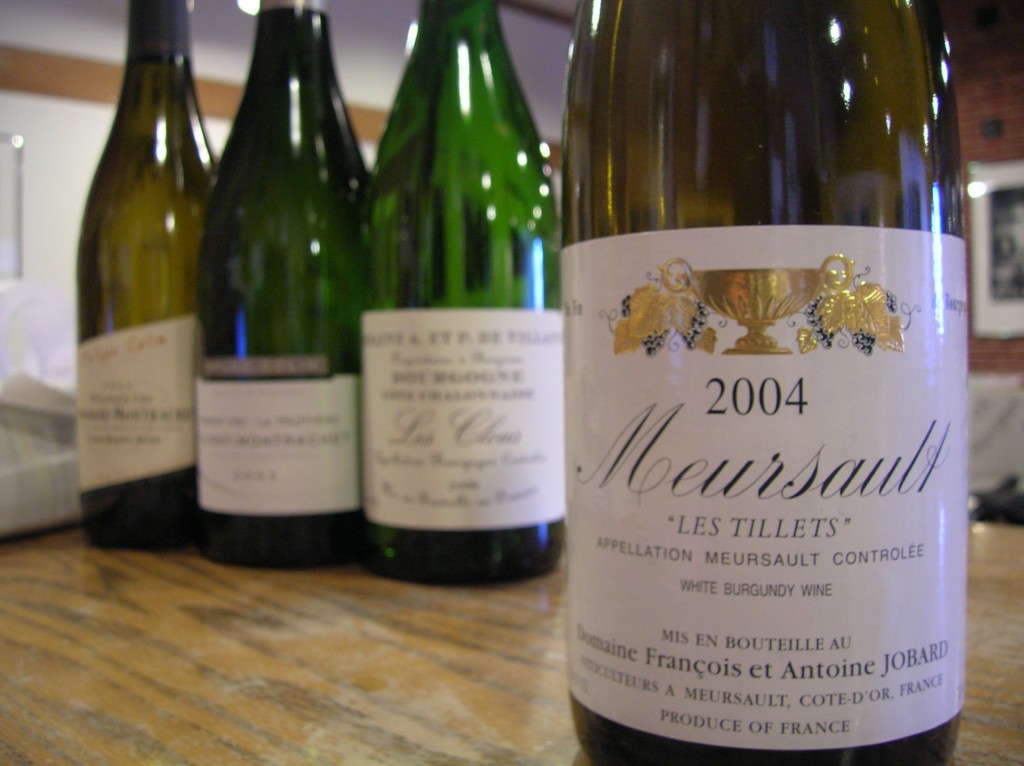 2005 Chassagne-Montrachet "Clos St. Jean" 1er Cru • Philippe Colin
Normally $85.00, 20% off per bottle $68.00
Back in 2005 I had the pleasure of tasting with the three winemaking members of the Colin family that we import: Michel, and his sons Bruno, and Philippe. The sons worked under their father before establishing their own domaines just a few years ago. I go back and forth over which Colin brother's wine I like better, but just recently I had a bottle of Philippe's that was quite memorable. Philippe's 2005 Chassagne-Montrachet "Clos St. Jean" is a gorgeous white Burgundy that is drinking quite well right now. 2005 as a vintage provides the best of both worlds: forward fruit for early drinkability, yet good crisp refreshing acidity. Drink now through the next five or so years.  – Steve Waters