Meursault, May 12th, 2009
I've just come down the hill from the lost hamlet of Blagny, up in the hills above Puligny-Montrachet in the Côte d'Or in Burgundy. You may have heard the name "Blagny" before, attached to a bottle of premier cru Meursault-Blagny, or perhaps even a bottle of the increasingly rare Blagny Rouge. The tiny, ancient hamlet straddles the appellations of Puligny and Meursault, high on the hill below the forest. Monks first established the little village and planted vines in the 14th century. This almost magical, lost-in-time corner of the world boasts a unique microclimate, with a slightly different average temperature, exposure to the elements and soil than the rest of Burgundy. In our humble opinion, our friend and vigneron, Laurent Martelet, creates the most haunting masterpieces that emerge from this terroir. Laurent bottles the wines we import under the Comtesse Bernard de Cherisey label named in honor of his wife Hélène's mother, who inherited their vines and passed them down to Hélène. Hélène and Laurent work side by side in the vines as a team. Their 2004s and 2005s were received with great reverence by our salesman and clients over the past two years. We just received a shipment of their 2006s, and I thought it made sense to get the word out to as many people as soon as possible.
All of the de Cherisey vines are premier cru, all are at least 60 years old, and all encircle his ancient cellar in the Hameau de Blagny. His Puligny-Montrachet 1er Cru Hameau de Blagny is from vines on the south side of Blagny, level with the village, just above Puligny Truffières. It is a wine that combines the power and richness of Meursault with the ethereal finesse of Puligny. Laurent's Puligny-Montrachet 1er Cru Chalumeaux is from vines just below Blagny, between the aforementioned Truffières and Meursault-Perrières. It is a perfectly situated parcel loaded with white limestone and gives a very fine, intensely focused très Puligny wine, screaming with minerality. It doesn't have the renown of its neighbors, but it should. His Meursault-Blagny 1er Cru La Genelotte is from a vineyard just north of Blagny, on the Meursault side of course, high on the slope above the village. This is a powerful, classic and very long-lived Meursault. The Genelotte vineyard is also a monopole meaning Laurent is the sole proprietor. The grapes grown in these vineyards almost always benefit from additional hang-time at the tail end of the growing season due to the hamlet's slightly cooler temperatures and their exposure to drying winds and late-afternoon sun allows the grapes to stay clean and healthy. The vines' also benefit from their positioning mid-slope and the resulting deposits of rich, organic material. This deep soil allows the vines' roots to burrow deep into the earth in search of moisture preserved by the limestone during the scorching summer heat. Laurent works the vines without the use of any chemical herbicides or insecticides. It's for all of these reasons that Laurent produces perfectly balanced, statuesque and long-lived Burgundy in every vintage.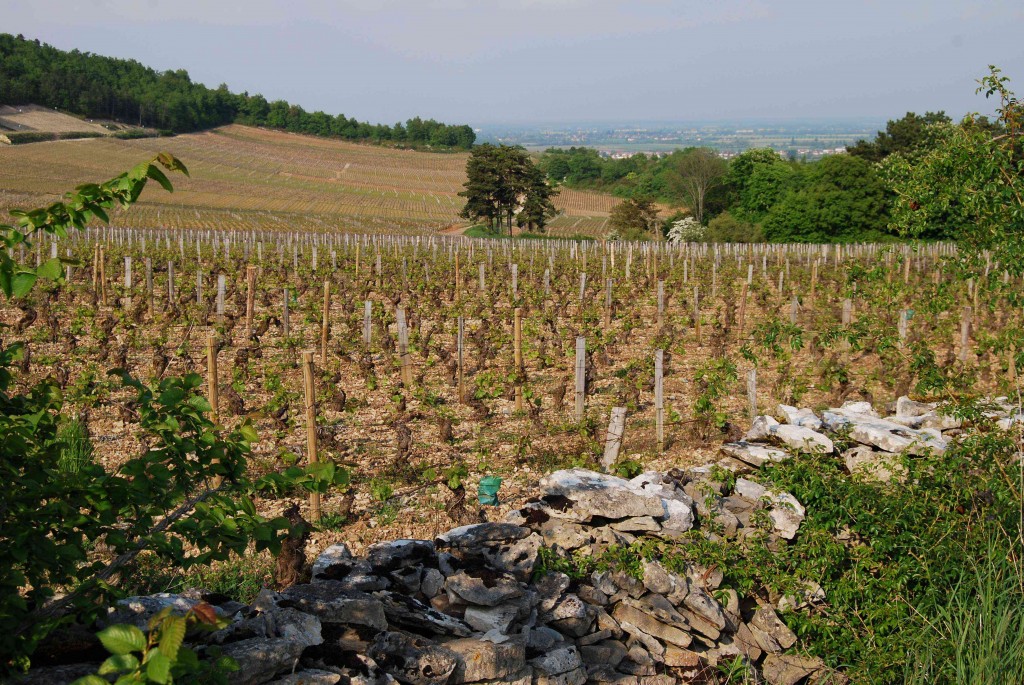 1er Cru La Genelotte in Spring.
The 2006s are such a brilliant case in point, because they really prove why generalizing a vintage can be so dangerous. I'm hearing from France that too many wine buyers in the United States are afraid of the 2006 vintage in white Burgundy due to a perceived lack of structure or acidity for aging (and I've also heard that some are making the even more critical mistake of lumping white and red Burgundy together when they formulate an opinion about a vintage – Chardonnay and Pinot have very different profiles and very often react quite differently to certain growing conditions). Laurent's 2006s have everything you could ask for in a white Burgundy for the cellar: transparence of terroir, structure, acidity, minerality, concentration. They are exquisite examples of what makes white Burgundy perhaps the most compelling white wine in the world, especially if you are possess a good cellar. Do yourself a favor and do not miss these wines.
2006 Puligny-Montrachet 1er Cru Hameau de Blagny $68.00/bottle, $734.40/case
2006 Puligny-Montrachet 1er Cru Chalumeaux $68.00/bottle, $734.40/case
2006 Meursault-Blagny 1er Cru La Genelotte $68.00/bottle, $734.40/case
If you'd like to hear more about it from the horse's mouth so to speak, Laurent has philosophized a bit about what the Blagny terroir means to him and you can read all about it here. The original French can be found here. For those of you interested in more technical information about the wines you can find a full breakdown here.
In our June newsletter, available online June 2nd, we will have more on our philosophy about vintage variation in Burgundy and a spectacular and diverse pre-arrival offering from four of our top red Burgundy domaines.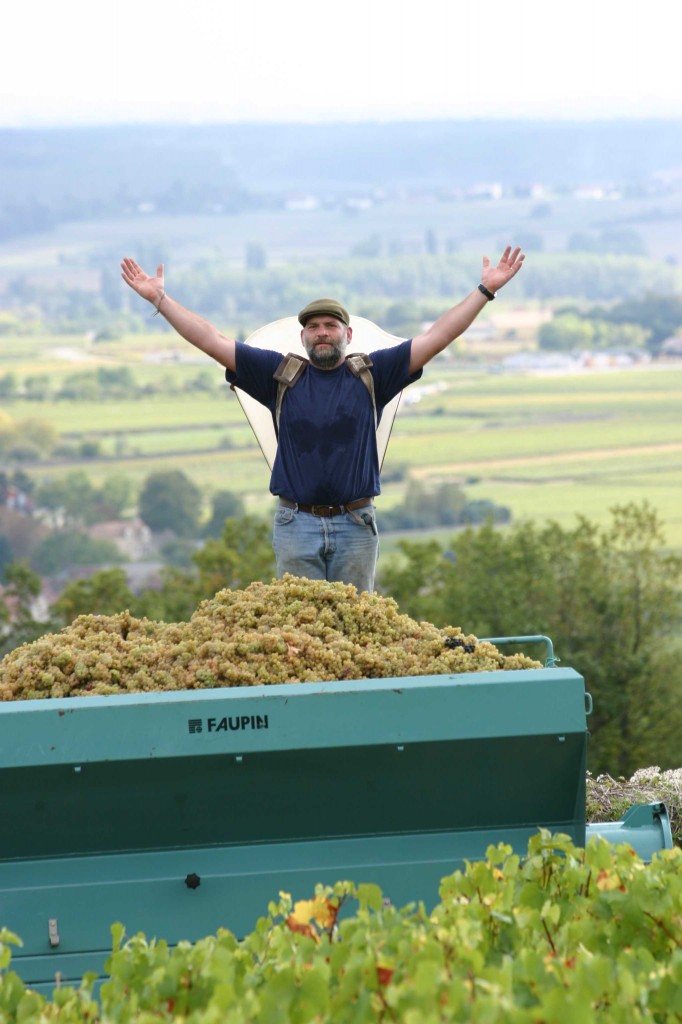 Hallelujah harvest is over!