2008 Tempier Rosé… It's Here!
The moment that you rosé drinkers have been waiting for has finally arrived: the 2008 Bandol Rosé from Domaine Tempier is now in the Berkeley shop! Give us a call at 510.524.1524 or come by the shop and pick some up before we drink it all. No really, we might drink it all…it's that good.
Also, give a try to one of Kermit's favorite Bandol rosé pairings: popcorn! Stir a little olive oil, salt, and dried thyme into the popped corn.
2008 Bandol Rosé • Domaine Tempier
$32.00 per bottle    $345.60 per case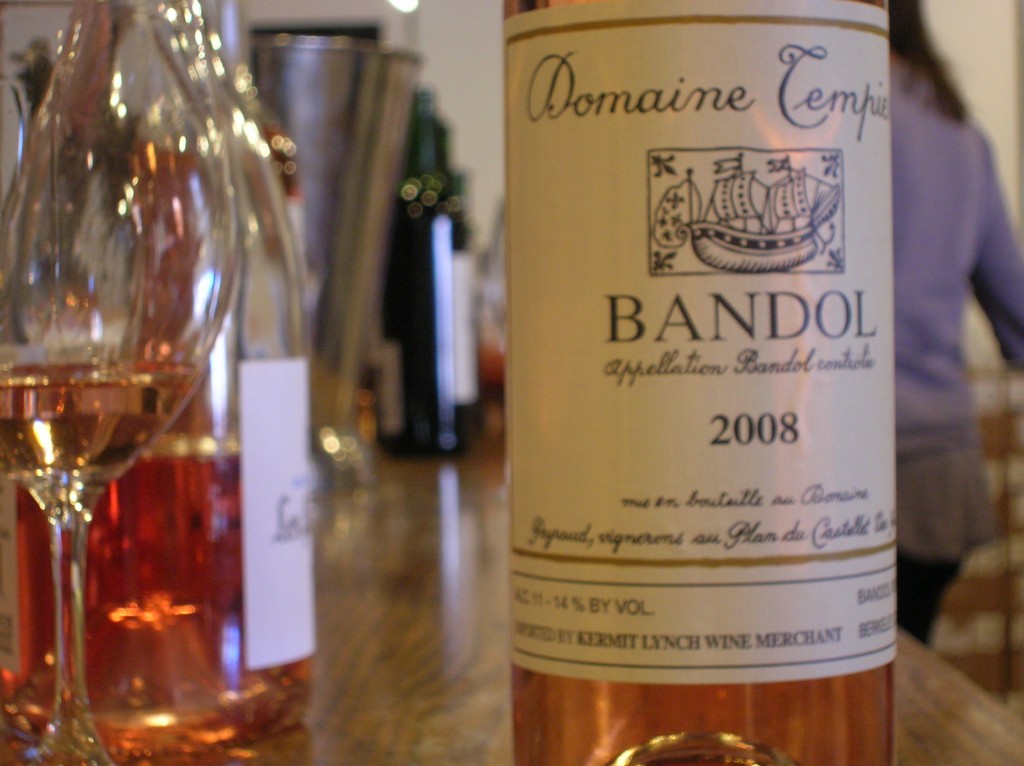 We've been importing Tempier rosé for over 30 years now. Here's a couple of excerpts from the newsletter about Tempier rosé from 1979 and 1981.
1979
1977 Domaine Tempier Rosé
A connoisseur's rosé from the finest wine domaine in Provence. This rosé, incidentally, is the perfect bouillabaisse wine. ($6.50)
1981
Domaine Tempier's Bandol Rosé
Our biggest single client for Tempier's rosé… is Chez Panisse Restaurant because Alice Waters loves the wine and recommends it often with her cuisine. Her book, The Chez Panisse Menu Cookbook, should appear soon. It quite successfully communicates the spirit of Chez Panisse.
I asked Alice for a little something that would go well with Domaine Tempier's rosé. She responded with this Anchovy Toast recipe:
Cut a thin slice of good bread. Toast it. Rub it with raw garlic. Saturate it with your best olive oil.
Filet an anchovy (packed in salt). Rinse it well. Place the anchovy shiny side up on the bread and broil it under a hot flame until brown. Brush with olive oil. Serve with nicoise olives, basil leaves, dried tomatoes, whatever seems appropriate and handy.
$6.95 per bottle    $75.06 per case