An Evening With Kermit Lynch: Union Square Wines, NYC
Join Kermit at Union Square Wines in New York this Thursday, May 28, for a special tasting and book signing. More than a dozen wines will be open: red, white, rosé and bubbly.  Details of the event are below.  To find out about events featuring Kermit Lynch wines in your area, sign up for our Email Wine Alerts here.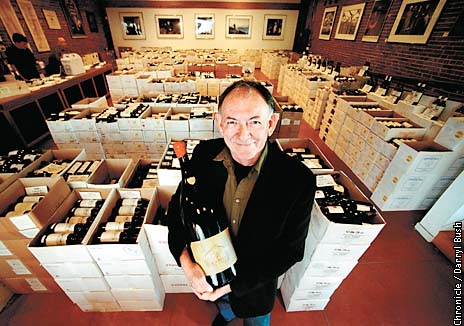 Photo courtesy of SF Gate.
Inspired Thirst • An Evening with Kermit Lynch
Union Square Wines
Thursday, May 28, 6:00pm – 8:00pm
140 Fourth Avenue (@ 13th Street)
New York, NY
Contact: (212) 675-8100, [email protected]
More Info: Union Square Wines Events
Help us welcome star importer and wine writer Kermit Lynch to the Salon at Union Square Wines for an exciting evening of red, white, and sparkling wines from France and Italy. With an astonishing array of top-flight estates throughout France, Mr. Lynch's portfolio represents some of the finest French wines, in any price range, available in the United States today. Stay tuned to this page as full wine and event details emerge. At this time, no reservations are required to attend this event, and admission is free.