Tasting Recap: 5/20/09, Rosés and Southern Reds
The other night we tasted through our first large shipment of 2008 rosés and some other recent arrivals. Here are the highlights…
40% Syrah, 30% Grenache, 20% Mourvèdre, 10% Cinsault and man does that Syrah show in the 2008 Languedoc Rosé from Château Lascaux ($14.95). The Lascaux Rosé consistently has a peppery spice to it that makes it stand out of the crowd and that healthy dollop of Syrah goes a long way in bringing out that spice. But don't misunderstand me, this isn't a big powerful rosé! The fruit is delicate and supple, making this wine a total quaffer.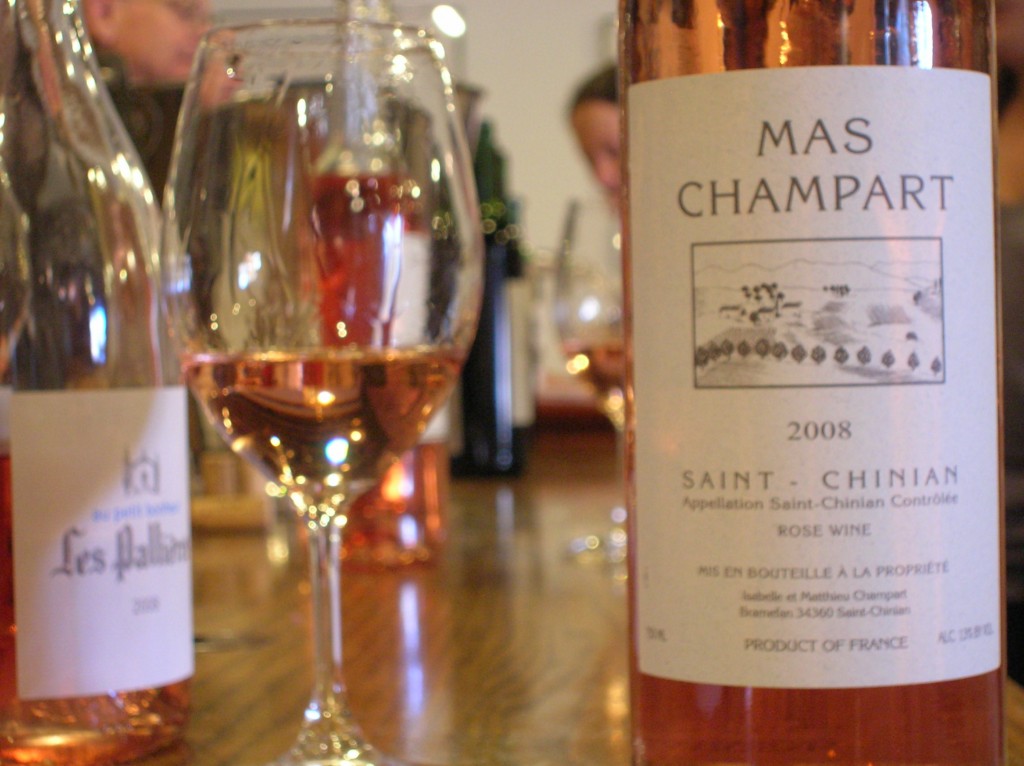 The 2008 Languedoc Rosé from Mas Champart ($13.95) seems to have a cult following. This is funny because usually cult wines are rather expensive. So how can it be a cult wine at $13.95? I guess it doesn't matter what the price is, people want this wine and the domaine doesn't make much. The Champart Rosé is delicate and fresh with an underlying herbs de provence that makes it, quite frankly, similar to Bandol in style. It's not quite the intense complexity of Bandol, but it sure is close. Are you a member of the cult of Champart?
Speaking of Bandol, the inimitable Tempier Rosé is now in the store. The 2008 ($32) is refined, elegant, subtle, and perhaps lower in alcohol than the 2007. Check out our post from last week to read about Kermit's favorite rosé food pairing and read excerpts from the old newsletters about the 1979 and 1981 Tempier Rosé.
After a rather breathtaking and refreshing line-up of rosés, we moved on to some reds, starting with the 2007 Vin de Pays d'Oc from Mas Champart ($19.95). This wine always stuns me. 80% Cabernet Franc and 20% Syrah. Wait…what? Cab Franc in the Languedoc? Yup, that's right. The classic grape of the Loire Valley can be found in the Languedoc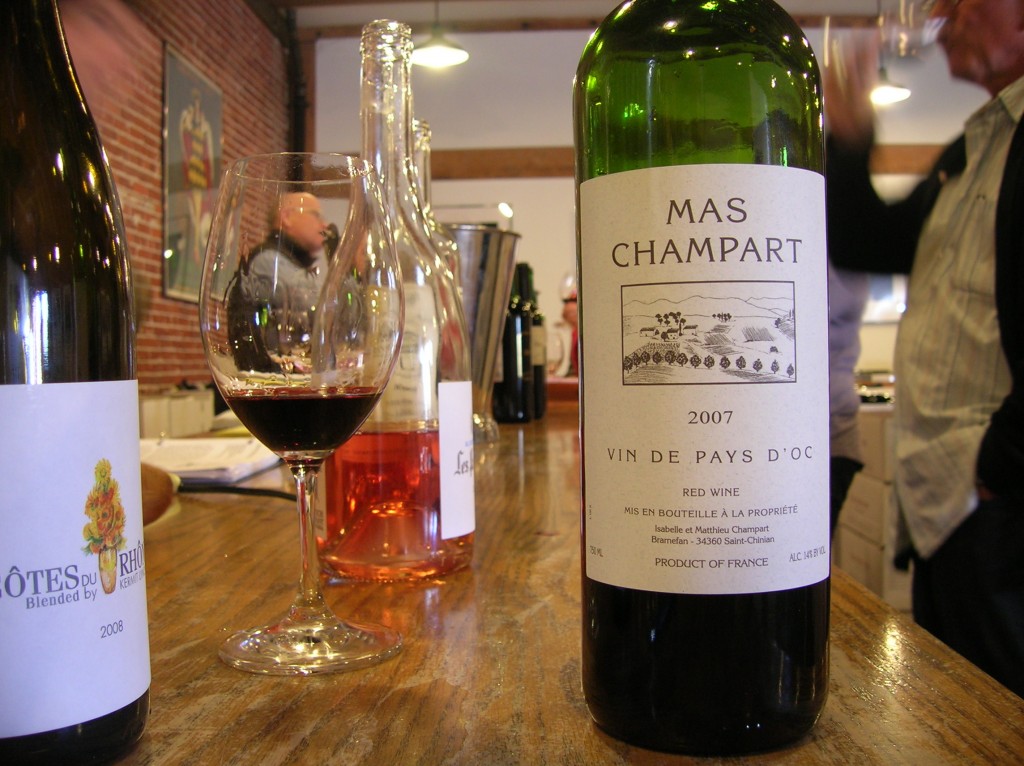 and Mas Champart knows what to do with it. The 2007 is frighteningly good. How did they get that tobacco in there? Where did the cocoa powder come from? Soft, striated tannins make this wine a joy to drink and a great match with meat. Mas Champart makes it seem that Cab Franc fruit was also meant to be grown in the south.
We stayed in the Languedoc but moved south of St. Chinian where Mas Champart is located, to the region of Corbières where Domaine de Fontsainte resides. The three wines we bring in from Fontsainte, Gris de Gris Rosé, Corbières Rouge, and Corbières "Réserve" La Demoiselles, never fail to impress. The 2007 Corbières Rouge ($12.95) and 2006 Demoiselles ($16) arrived last week and they upheld the standard. The Corbières is primarily Carignan with 30% Grenache and 10% Syrah. Dark but not overpowering, this wine has impeccable balance and seamless velvety tannins (yes, at $12.95 you can have velvety tannins). The Demoiselles comes from primarily 100 year old Carignan vines. It is deep, dark, earthy and very young. It is a common misconception that only expensive bottles of wines age. Both these wines could benefit from a few years in the cellar, especially the Demoiselles which is easily a 10 year wine.
Two 2007s arrived from northern Rhône producer Philippe Faury recently, the Vin de Pays Syrah "Collines Rhodaniennes" and the Côte Rôtie. Many northern Rhône wines, like Cornas, Côte Rôtie and even St. Joseph are best held for a few years before drinking. If you want to drink classic Syrah without having to wait, the 2007 Syrah "Collines Rhodaniennes" ($18.95) is the bottle to have. Coming from the plateaus above the St. Joseph appellation, this wine cannot take the St. Joseph name because the vines are planted on a flat surface while St. Joseph only has hillside vineyards. There is also a small percentage of young-vine St. Joseph in the final blend. The "Collines Rhodaniennes" (Rhône Hills) has a medium body on the palate, filled in by spice, pepper, red meat, and iodine notes. This is NOT a huge wine, but a very balanced big wine and should not be missed. The Côte Rôtie ($52) is an honest steal for a wine from the 2007 vintage. It is young and should not be touched for a number of years. Perhaps the best value there is in Côte Rôtie.
Tempier might be our most well known Bandol producer but there's a good reason we import three other Bandol domaines: they all produce unique and excellent wines. Wines from different producers from the same region should have similarities but they better not all taste the same. We tasted bottlings from two of our four Bandol producers, starting with the 2005 Bandol Rouge from Domaine de Terrebrune ($30). Terrebrune's wines are meant for aging. At our trade tasting earlier in the month, Reynald Delille, vigneron of Terrebrune, poured current vintages of his Bandol Rouge as well as his 1999 and 1987. 1987 is not known for being a great vintage, but his red was drinking beautifully. The 2005 is impressively luscious, giving, and forward right now. I was struck by the complexity and approachability at such a young age. Our final bottle of the night was a 1999 Bandol Rouge from Domaine du Gros' Noré ($45). At ten years old, this wine is now reaching, let's say, its early adolescent years. There's no teenage angst here though. The nose is bright and young and the palate is just starting to show classic signs of aged Mourvèdre: a velvety touch of earthy tobacco, reinforced by bright berry fruit. I love wines that are just starting to show their age. The aged complexities that are starting to peak through and the retention of fruit and acidity makes them perfect at table. We have very little of the 1999 Gros' Noré available so act fast.