Blended By Kermit Lynch
As mentioned in our June Newsletter, with our 2008 Côtes du Rhône Blanc "Sunflower Cuvée"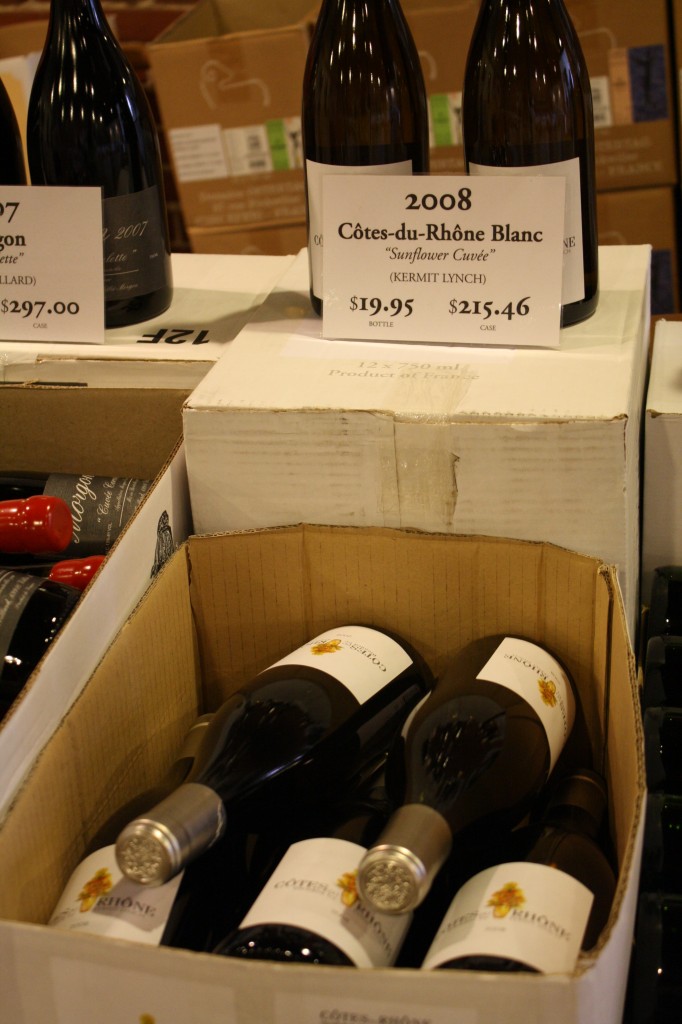 we've added a new bottling to our line of wines labeled "Blended by Kermit Lynch." These "house" wines are great values and hard to keep on the floor, making it rare that we have all five Kermit Lynch blends available at one time.  Right now three are available in the shop: 2008 Côtes du Rhône Blanc "Sunflower Cuvée" ($19.95), 2008 Vin de Pays de Vaucluse Rouge ($9.95), and the flagship wine the 2007 Côtes du Rhône Rouge ($12.95), affectionately known in Berkeley as the KL Côtes-du-Rhône.
When a wine is labeled "Blended by Kermit Lynch" or "Cuvée Selectionnée par Kermit Lynch", it can mean a couple of things. Kermit might arrive at a winery that has wines in barrel, in foudres, in stainless steel or cement, that has old vine cuvées and young, that has cuvées of different grape varieties to choose from etc. He tastes everything and then begins blending to try and come up with something special. A percentage of this and that, a touch of this or that – he composes and shapes the blend until he has what he wants. The vigneron bottles it for us, and we sell it to you at a great price. This is the case with the Kermit Lynch Côtes du Rhône, the Sunflower Cuvée, and the Cypress Cuvée. Also, every so often when Kermit tastes at a domaine, he likes a specific cuvée but isn't impressed with the label and therefore decides to use his own. The Vin de Pay de Vaucluse Rouge and Vin de Pays de Vaucluse Blanc made by Domaine de Durban fall under this definition. These wines are the epitome of the KLWM style: small production, high quality, good prices, built for comfort.
Now, it is true that Kermit does similar selecting or blending in all our producers' cellars. When he has the choice of several cuvées of a certain wine, Kermit selects what he considers the finest and that is wine we see in our shop.
Here are my notes from my last few experiences with our "Blended by Kermit Lynch" labels:
2008 Côtes du Rhône Blanc "Sunflower Cuvée"
I'm usually not a fan of white Côtes du Rhônes. Often I find them to be a little heavy on the palate, thus lacking the quaffability of a Sancerre or Chablis. The "Sunflower Cuvée" is different than your average Côtes du Rhône Blanc – it is 100% quaffable! Loaded with white peach and apricot aromas, this wine has a wonderful fresh but light-weight feel on the tongue, and the lovely flavors linger. Here's what Kermit has to say about this wine.
"It is not only an unbelievable value, it is the most Hermitage-like white I have ever tasted from the southern Rhône. This is essentially for drinking in its youth, but I wonder—I'm curious about its aging potential. Southern whites almost never age as well as Hermitage, but there is something to it that leads me to put away few bottles to see what happens."
2007 Côtes du Rhône Rouge "Cypress Cuvée"
The "Cypress Cuvée" and "Sunflower Cuvée" are both made by the same vigneron, Louis Barroul. Southern Rhône fans might recognize Barroul's name because he is the winemaker at Château St. Cosme. The Gigondas style is evident throughout this wine: earthiness, dark fruit on the palate, infiltrated by an aroma of elegant violets.
2008 Vin de Pay de Vaucluse Rouge
The Vin de Pay de Vaucluse Rouge and Blanc are both made by our Beaumes de Venise producer, Domaine de Durban. Durban makes a beautiful AOC rouge and a well known Muscat. This 2008 Vaucluse Rouge has something most 10 dollar wines don't have – structure! Firm but not overpowering tannins with dark reglisse, fruit, and some beautiful black pepper spice, which also sounds a lot like Gigondas.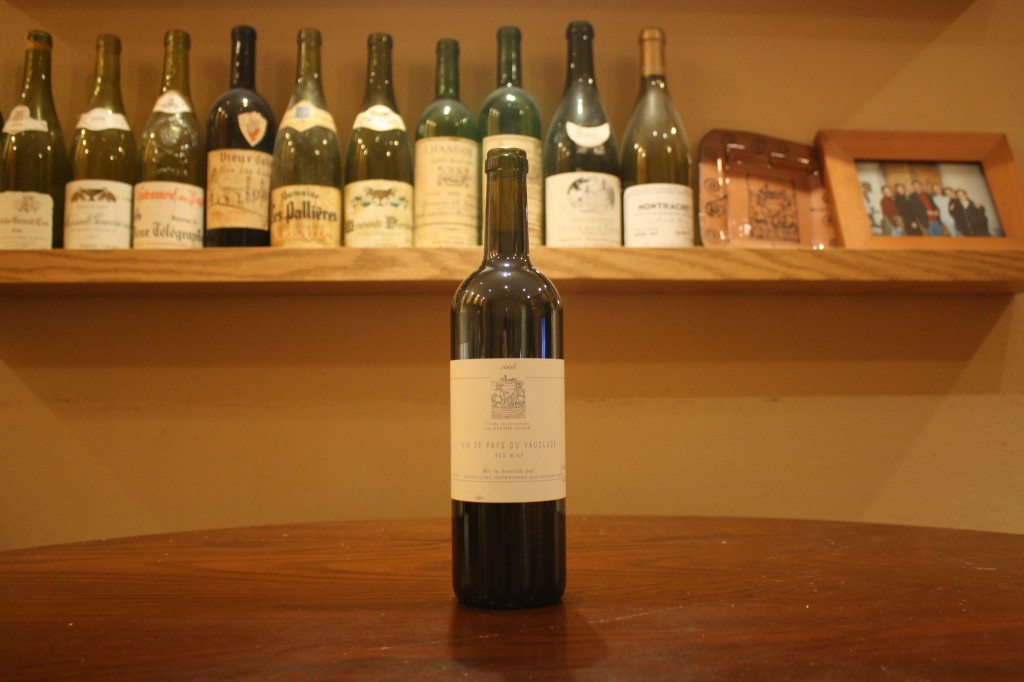 2008 Vin de Pays de Vaucluse Blanc
If a salesperson at a retail wine shop were to say to me, "Try this wine, it's 50% Chardonnay and 50% Viognier", I'd probably run for the hills, chased by visions of buttery new oak, heavy tropical fruit and a little residual sugar. Our Vaucluse Blanc may be 50/50 Chardonnay and Viognier but it sure has nothing to do with my previous farcical description. This wine is clean and crisp. An excellent counterpart to Provençal olives or tapenade and a perfect wine to sip on while firing up the barbecue for an outdoor summer dinner.
2007 Côtes du Rhône Rouge
Kermit has been bringing in his Côtes du Rhône Rouge since 1987. Here's an excerpt from what he said about that first vintage:
"In my favorite stomping grounds, in the shadow of the Dentelles near Gigondas, I found this delicious red Rhône from the 1985 vintage. In has a vivid purple color. The aroma is so pretty and assertive that it is a bit of a shock in a simple Côtes du Rhône. Fruit aromas like plum and blackberry dominate, with suggestions of black pepper. It's full-bodied, but perhaps not in the usual sense of the term: there is no hard, vulgar tannin, nor does its gut hang out over its belt buckle. Intense might be a more appropriate word than full bodied."
22 years later and Kermit's tasting notes for the 1985 could by copied and pasted to describe the 2007 – now that is consistency! If you haven't yet tried the KL Côtes du Rhône, then get your hands on a bottle of what is ostensibly Berkeley's House Wine.
The next time you're in the shop or you call us on the phone, ask about the availability of "Blended by Kermit Lynch" wines. They sell very quickly but at most times of the year we'll have at least one or two available. These wines are also distributed throughout the country so there's a good chance a retail shop or restaurant in your area carries one or more of them. Kermit is not predictable. In the past he put our label on a Macon-Villages, now and then a Beaujolais, and a Bordeaux Blanc for a few years. But the value is predictable and worth seeking out.