New Arrivals!
In our recent email blast we featured some new arrivals that we are excited about. Here are a few more, all hailing from the 2008 vintage.
2008 Côtes du Rhône "La Sagesse" • Domaine Gramenon
If the recent arrivals from Domaine Gramenon are any indication, then 2008 has produced excellent wines in the Rhône. Gramenon likes to bottle early to retain as much fruit character as possible and this shows in the '08 La Sagesse: young, bright fruit with an elegant spice finish. The spice is not your typical peppery Rhône spice but instead it is reminiscent of cinnamon and nutmeg. Try it and let us know if this characteristic comes across to you too.
$32.00 per bottle    $345.60 per case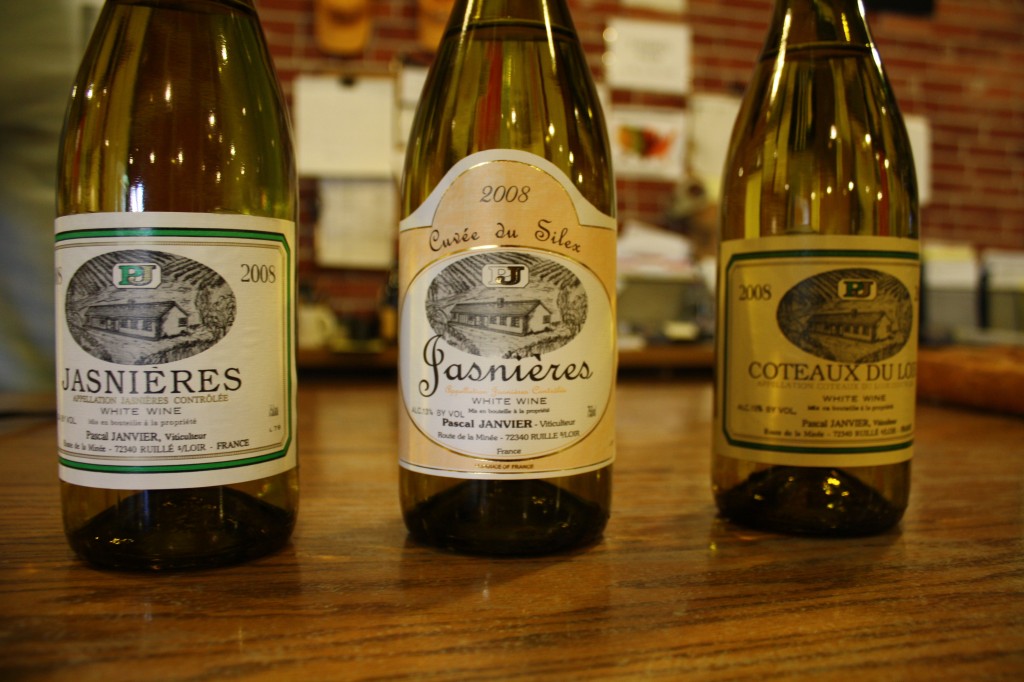 2008 Coteaux du Loir Blanc • Pascal Janvier *
Janvier hails from the northern central Loire, up north of Vouvray along a little tributary of the Loire River called the Loir River.  Subtle, huh?  The wines are not subtle, however.  He works vines in two appellations, Coteaux du Loir and Jasnières; Chenin Blanc is the grape for the white wines, Pineau d'Aunis for the reds.  The 2008 vintage is outstanding for Loire Valley whites, and this one makes quite an introduction.  It brags with explosive, exotic aromas of nutmeg and guava, a big, ripe, smoky palate, and searing silex minerality to finish it all off.  Not for the faint of heart.
$16.00 per bottle    $172.80 per case
2008 Coteaux du Loir Rouge • Pascal Janvier
During the summer I drink a lot of light, refreshing whites and rosés, but I'm always on the look out for a red that falls into this same category. The only red we import from Janvier is exactly my style of summer red. Slightly pale in the glass, fresh pepper on the nose, a hint of cherry, vibrant acidity, and an edge of dusty texture; try this instead of a rosé as an pre-dinner apéritif. I recommend putting it in the fridge for about 20 minutes before serving…a small chill goes a long way towards quaffability.
$17.00 per bottle    $183.60 per case
2008 Jasnières • Pascal Janvier
How can some people passionately argue that terroir dosen't exist? That is the question I asked myself while tasting Janvier's '08 Jasnières. The intensity of this wine is so striking it seems to be spring-loaded with mineral, melon, and citrus fruit. However, the Jasnières' most remarkable aspect is despite its concentrated character, the wine maintains an elegance and finesse through the finish. This might seem like a lot of complexity for an $18 bottle of wine but maybe we should  expect that.
$18.00 per bottle    $194.40 per case
* Written by Dixon Brooke.