Spaghetti with Basil Pesto & Heirloom Tomatoes
This month's sampler is the third in a series of "Seasonal Samplers" that pair great wines with recipes featuring seasonal ingredients. This series is the creation of salesperson Mark Congero. After graduating from the California Culinary Academy in 1991, Mark spent over a decade working in the kitchens of various Californian and Costa Rican restaurants. Before coming to the Kermit Lynch Wine Merchant retail shop three years ago, he worked as a server at the Chez Panisse Café for seven years. His wife Melissa is also formerly of Chez Panisse and a private chef in the Bay Area. Their daughter Isabella is the cutest two year-old you could ever meet.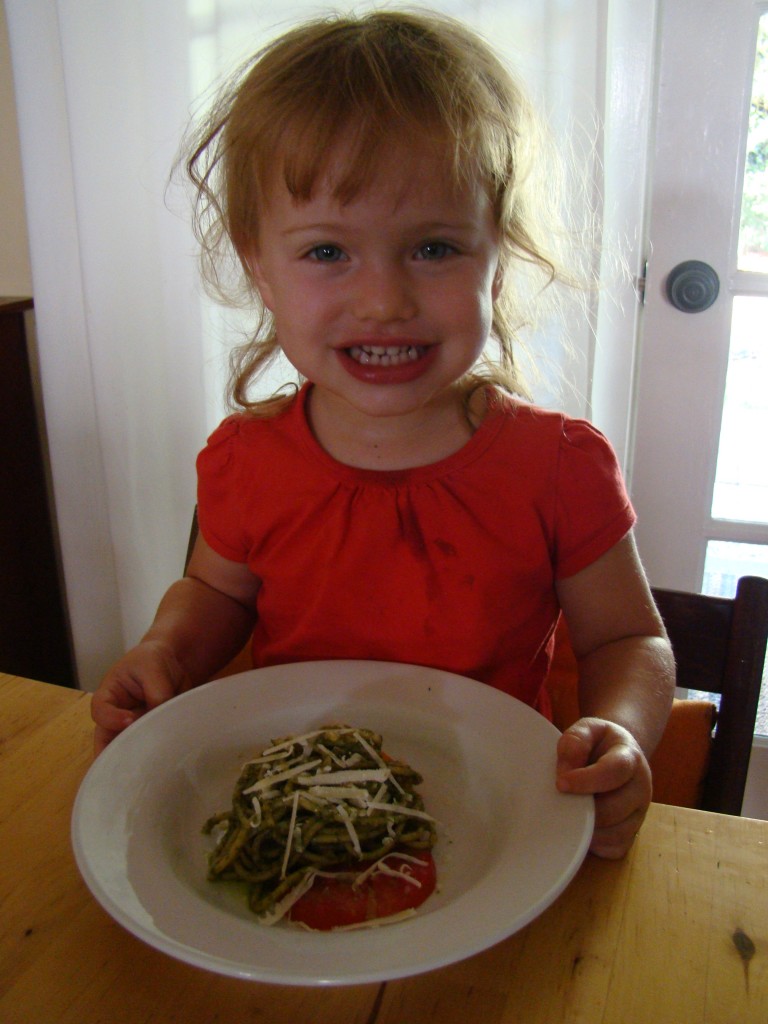 Mark knows his food and his wines. He has the final say on wine pairing advice around the shop and KLWM employees and customers alike have all benefited greatly from his knowledge and expertise. Three recipes are included in the August sampler, one of which can be found below. Mark has paired each recipe with a few wines from the sampler. Enjoy!
Spaghetti with Basil Pesto & Heirloom Tomatoes
By, Mark Congero
Serves 4-6 people
This dish could not be any easier to make and is one of my favorite summer pastas. I could eat pesto year round, and with summer tomatoes, it is perfect. Try it with the 2007 Vin de Pays d'Oc Rouge from Cyriaque Rozier ($12) or the 2008 Gris de Gris Rosé from Domaine de Fontsainte ($13.95).
Pasta:
1 lb quality dried spaghetti (1 lb is good for about 4 people)
3 or 4 ripe heirloom tomatoes, preferably bright red and yellow varieties
Sea salt and black pepper
Pesto:
3 tbls pine nuts, lightly toasted
2 cups packed basil leaves
1 medium garlic clove
1 pinch kosher salt
½ cup grated parmesan cheese (have a bit extra to finish pasta dish)
4 tbls grated pecorino cheese
1 ¼ cups Extra Virgin Olive Oil
In a food processer, add pine nuts, garlic, salt, and basil, and process to a paste. Then add cheeses and pulse a few times. While the machine is running, slowly drizzle in oil. Taste for seasoning. Makes about 2 ½ cups.
Bring a large pot of salted water to a boil. While the water is boiling, take the core out of the top of the tomatoes and slice them about ¼  inch thick. Arrange them either on a large serving platter or individual plates. Season tomato slices with coarse sea salt and fresh pepper.
Add spaghetti to boiling water and give a good stir so the noodles don't stick. I like my pasta al dente, with a bit of a bite, but cook it the way you like it. About 11 minutes should be good for the spaghetti but cooking will vary so just take a bite and see. While the pasta is cooking, place about a cup or more of the pesto in a large bowl. When the pasta is ready, strain, and reserve about 1 cup of the cooking liquid.  Don't rinse the pasta after straining, put it directly into the bowl with the pesto and toss well. Add a bit of cooking water for consistency if you would like- if you want to add more pesto, add more!  Using tongs, place a nice mound of pasta on top of the sliced tomatoes and finish with a generous grating of fresh parmesan cheese. If you have leftover pesto, you can add a few tablespoons to a basic vinaigrette for a great dressing for tomatoes.
This month's sampler is a twelve bottle mixed case for $168 (includes a 25% discount). For details on the wines, please check out our August newsletter.