A Visit To Domaine de Fontsainte
On a recent wine trip through the beautiful and still underappreciated Languedoc region of southern France, I had the pleasure to pay my friend Bruno Laboucarié a visit. Bruno represents the current generation of the Laboucarié family managing their property, Domaine de Fontsainte, in the appellation of Corbières.  He took the reins from his father Yves who remains very active at the domaine.
Bruno's grandfather died this year at the age of 102.5 years, one year younger than their vineyard they call La Demoiselle.  I was introduced to him when I was there, about a month before he died. He was asleep in a chair in their dining room, dressed to the hilt.  Bruno woke him up by clapping loudly and shouting "Papie," which would have probably given me a heart attack in and of itself.  His great joy at this stage in life was joining the family at the lunch table every day and sharing a glass of their Gris de Gris and some good conversation.  He was at his most animated at that point in the day.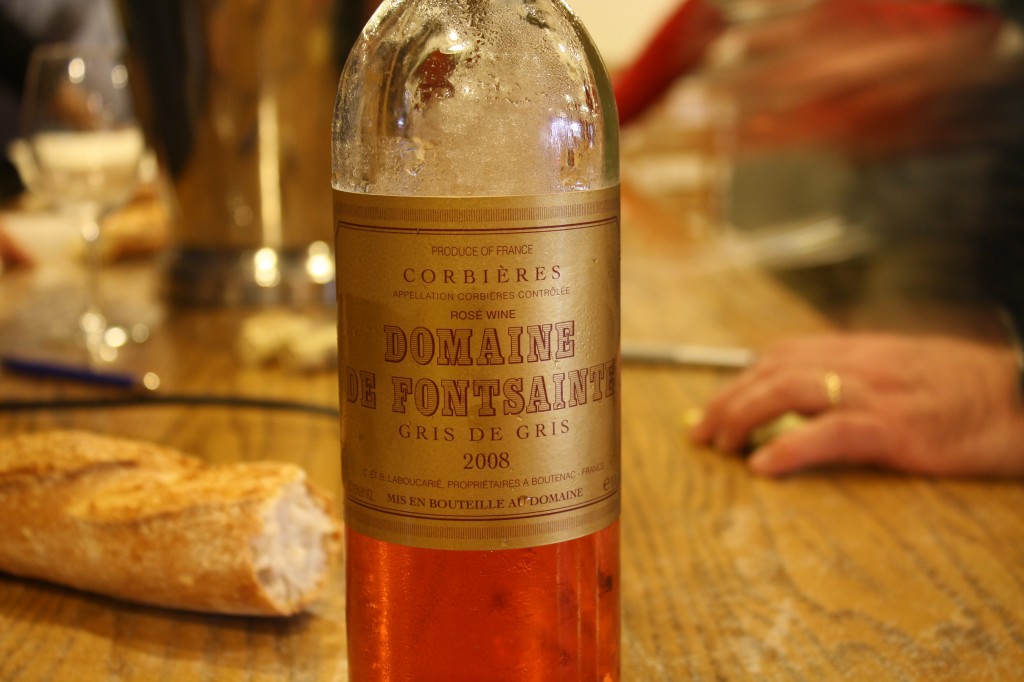 In his memory I wanted to make you aware of the fact that we currently have in stock the gorgeous 2008 Gris de Gris ($13.95), a Grenache Gris dominated rosé that is bright, lively, zesty, round and slides down the throat with effortless abandon.  It is year end and year out our best value in rosé and one of our most delicious.  It is an absolute MUST HAVE for your summer dining and cocktailing regimen.  Get it cold, right off the boat from France.
La Demoiselle
We also have two outstanding reds from Fontsainte: their absurdly well-priced 2007  Corbières Rouge ($12.95) and the wise old man, 2006 La Demoiselle ($16.00).  The Corbières Rouge is a blend of Carignan, Grenache and Syrah in an easy to drink, supple style.  La Demoiselle is a product of ancient Carignan vines, the true soul of Corbières.  Bruno has assembled quite a collection of ancient Carignan vineyards and in addition to the 100 year + parcel he has parcels of 95 and 70 yr old vines to name a few.  La Demoiselle is a wine of haunting finesse, a wine that stands the test of time in the cellar (a classic KLWM starter cellar wine – look at that price!), a beautifully balanced wine with great character.  Kermit told me last week that a magnum of '95 Demoiselles was his favorite wine on the table at a recent winemaker dinner that included many old and prestigious gems that sold for many times the price.  Come and get it while supplies last.