Tasting Recap 8/27/09: Languedoc, Burgundy, & the Southwest
Thursday's staff tasting featured a wide range of regions and styles. Because of this diversity we didn't hold to our usual north to south tasting order but instead jumped around. We started in the Languedoc with some new arrivals from Saint Martin de la Garrigue.
Here's a brief history of Saint Martin as told by Kermit back in 2002.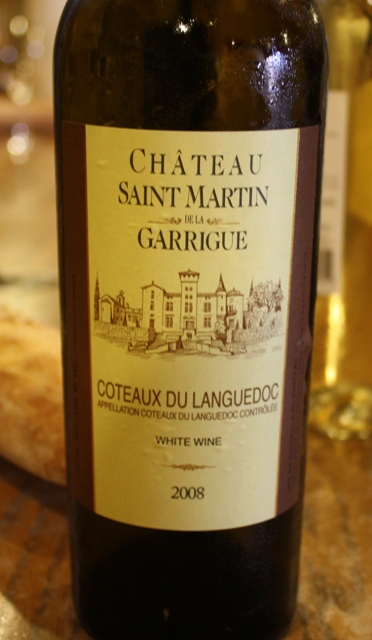 In the early 1990s Umberto Guida, a man of wealth and taste, acquired Saint Martin and restored it as well as I have seen an old property restored. Happily for us winos, he hired Jean-Claude Zabalia, a real talent, to make Saint Martin's wine. Whatever he needs in order to make great wine, the boss pays for.
This story might sound similar to how wineries are started here in California. The difference is the benefactors here seem to want to produce nothing but expensive heavyweights. Saint Martin's wines top out at $19.95 a bottle. The value is off the charts. We tasted two new arrivals the other night from Saint Martin and, not surprisingly, we were impressed.
Saint Martin's 2008 Coteaux du Languedoc Blanc ($16.95) is a beautiful example of a refreshing southern French white. The wine is primarily comprised of Marsanne, Grenache Blanc, and Roussanne. These white grape varieties lend a floral aroma with peach and strawberry essence on the palate. The finish is refreshing, with a hint of something reminiscent of champagne – no, not bubbles. This is the kind of wine I like to sip on when I get home from work.
I'll veer away from the order in which we tasted to discuss another new arrival from Saint Martin, the 2007 Vin de Pays "Cuvée Reservée" Rouge ($13.95). The argument over the existence of terroir (well, for some people it's an argument) ends when wine is tasted. There are some wines in which there is no terroir, no sense of terrestrial provenance, and the Réservée is not one of those wines. The Reservée is a Cabernet/Merlot blend. These are atypical grape varieties for a Languedoc red but the character of this wine, with its spice, black pepper and earthy dark fruit are 100% Languedoc.
We then moved on to a trio of spectacular 2007 Burgundies. The 2007 Chablis "Fourchaume" 1er Cru ($30) from Olivier Savary just arrived. I can't say enough good things about 2007 Chablis. I plan on drinking a lot of it now and putting away quite a few bottles as well. The "Fourchaume" is sharp, bright, filled with minerality, and firmly structured. It's young to the point that it almost hurts to drink it now. Give this five years in the cellar and it will develop beautifully.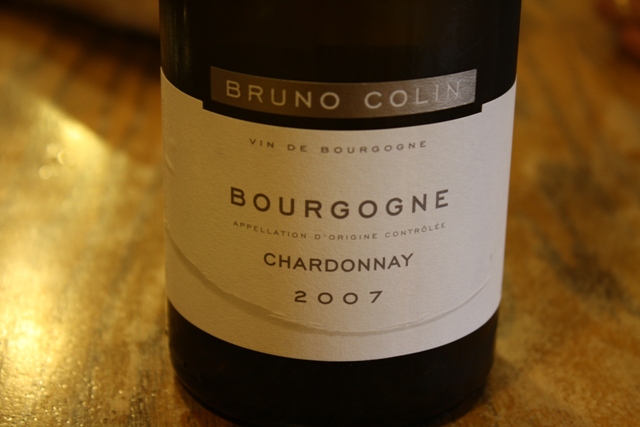 Two wines from Bruno Colin followed Savary's Chablis. Bruno's 2007 Bourgogne Blanc ($24) was vibrant and fresh, with just a breath of wood, supported by a layer of mineral. Simply put, this is an excellent Bourgogne blanc. I like to encourage people to check out the Bourgogne blancs or rouges of producers to see if they like the style before purchasing premier or grand crus. The premier crus from Bruno Colin are currently on pre-arrival and because the prices are so phenomenal I would not wait to taste this Bourgogne Blanc. I would call us to put a case of the Blanc on hold and then put down a large order of his pre-arrival wines. The prices are too good to pass up for this spectacular vintage (upwards of 45% less than 2006 pre-arrival).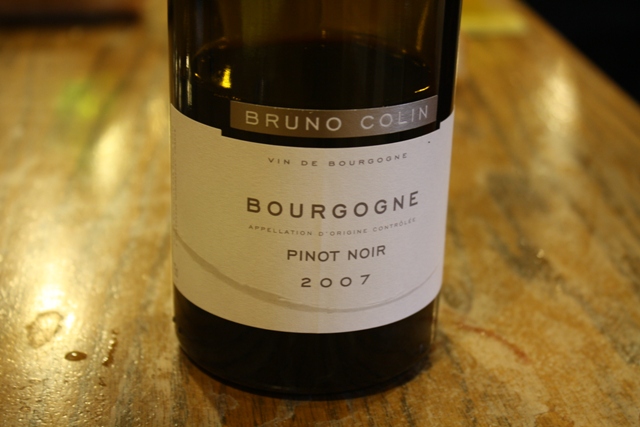 Bruno's 2007 Bourgogne Rouge ($19.95) was up next. This is a lot of Burgundy for 19.95 and I don't mean that it's a "big" wine. This bottle is packed with classic Burgundian character. There's earth, juniper, spice, and beautiful Pinot Noir fruit. If asked how good the 2007 reds turned out, I would point to this wine as a prime example of the quality of the vintage.
We then crisscrossed the country to finish in the southwest and Bordeaux. Irouléguy is one of the more obscure regions we import. Located in the Basque region of France, we import two Irouléguy domaines, Extegaraya and Arretxea. It took me about a year of practice before being able to confidently say those words (it would be well beyond my capabilities to come up with a phonetic spelling). We tasted the 2007 Irouléguy ($25) from Arretxea. The grape is Tannat, producing a wild wine – dark, chewy, meaty – but in an extreme kind of way. Drink it with any hunk of meat you can throw on the bbq.
The final bottle of the night was the superb 2006 Lussac St. Emilion from Château de Bellevue ($24). Our man in France, Dixon Brooke, described the wines of Bellevue best: "Sleek, sexy, spicy, complex, fresh, and well balanced, that's what you will find." This is a young, but approachable right bank Bordeaux. We don't import the classified growths of Bordeaux, but what we do bring in has classic character and excellent prices.