Tasting Recap 9/17/09: Alsace, Southern France, & Corsica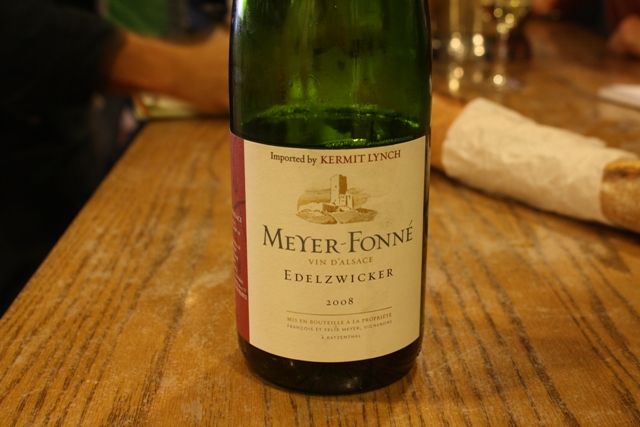 We started our most recent Thursday night tasting with some new releases from one of our Alsatian domaines, Meyer-Fonné. Since the first shipment from Meyer-Fonné arrived in winter of 2007 we have been perpetually impressed by the wines of Felix Meyer. The domaine makes blends, classic varietal wines, and vineyard specific varietal wines all of which are marked by a distinct style of being very floral and aromatic. Take in a deep breath of rose petals or open a bottle of Meyer-Fonné – the fragrance will be very similar. Don't get me wrong, the wines of Meyer-Fonné do not all taste the same, but there is a pleasurable continuity of style between each bottling.
The first of the 2008s Meyer-Fonnés arrived recently. We started with the 2008 Edelzwicker ($16, 1L). The word "Edelzwicker" translates to mean "noble blend." Typically, and in our case, Edelzwicker bottlings are well priced, dry, crisp, and quaffable. The added bonus to ours is it comes in a 1 liter bottle! That's 1/3 more wine than a normal 750 ml bottle! Wow, that sounds like we've started selling laundry detergent. The Meyer-Fonné "Edelzwicker" is 60% Pinot Blanc, 15% Muscat, 15% Chasselas, and 10% Riesling (this blend remains the same each vintage). You won't be disappointed with the hint of sparkling acidity on this bone dry and floral big bottle.
The second new arrival from Meyer-Fonné is the 2008 Pinot Blanc "Vieilles Vignes" ($17.95). Normally, Pinot Blanc comes from young vines, and this shows in their bright, refreshing character. The Meyer-Fonné Pinot Blanc is from old vines and there is an added depth and smokiness from the vine age, supported by crisp acidity, a vein of creamy richness, and aroma of raw honey. This is a lot of great wine for such a low price.
We then moved south to the Rhône Valley and tasted the 2007 Vacqueyras Blanc from Domaine le Sang des Cailloux
($56). Balance in white wines from the Rhône can be difficult to achieve. So often, Rhône whites tend to be lopsided and too weighty for my taste. This was absolutely not the case with the '07 Vacqueyras Blanc. This wine has a beautiful medium, round weight to it, held up by a firm spine of acidity, with orange and lemon peel, and earthy wet stone. Many beautiful wines have come out of Sang des Cailloux in recent years. Dixon Brooke recently said this about Serge Férigoule, the vingeron from Sang des Cailloux:
I think Serge Férigoule is one of the best vignerons in the southern Rhône today. His wines just seem to get better and better, and they were already outstanding! Despite the heat his vines endure, he is managing to make balanced wines every vintage, which is no small task.
We have a total of four cases of this wine and despite the price it will go fast. Don't miss your chance to try this unique bottling.
The first of our reds took us deep into the Mediterranean, to the island of Corsica. The 2006 E Prove Rouge from Domaine Maestracci ($19.95) is a perfect food wine. I say that because it is young, tannic, and firm, could spend 5+ years in the cellar but it is still approachable now. The blend is 35% Nielluccio (the islands descendant of Sangiovese), 35% Grenache, 15% Sciacarello (no identified mainland cousin at this time), and 15% syrah. This is a dark, inky wine, with a lot of wonderful maquis, the aroma of Corsica's brushland.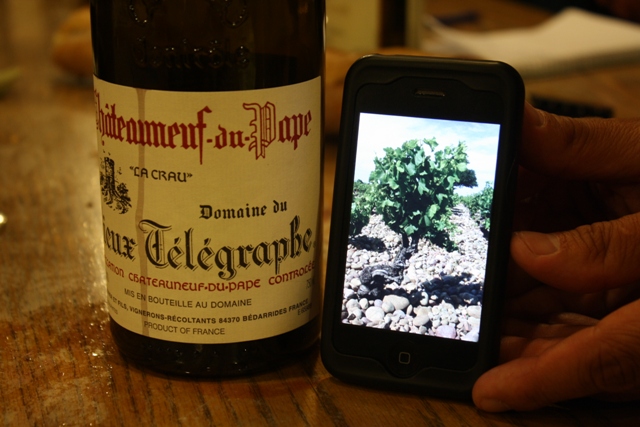 The final two wines of the evening took us back to mainland France and the village of Châteauneuf-du-Pape. After much anticipation surrounding '07 Rhône wines, the 2007 Châteauneuf-du-Pape "La Crau" from Domaine du Vieux Télégraphe ($66) finally arrived. This wine is young and should not be touched anytime soon. PLEASE hold it for at least 10 years and then drink subsequent bottlings very sparingly after that. If you can hold on to a 2007 until 2037, you will be duly rewarded for your patience. The Vieux Télégraphe is a big wine, the type of wine that all big wines should aspire to be: beautiful balance between the firm tannic structure and a plethora of complexities on the palate. There's earth, spice, black fruit, and it reeks of stones.
We finished the night with a bottle we found quite randomly in our back stock room – a 1995 Châteauneuf-du-Pape "L'Hippolyte" from Vieux Télégraphe. The "L'Hippolyte" bottling for Vieux Télégraphe was never commercially released and was originally made to test out different blends from the "La Crau" vineyard. Kermit ended up with a bottle that somehow got lost, but upon finding it, we decided it should be tasted. 1995 was an excellent year in Châteauneuf and not surprisingly this wine was showing quite well. The color was a bright purplish red, with loads of young fruit on the palate, and firm streaks of tobacco and earth. Based on this tasting and previous 1995 Vieux Télégraphes I've had these wines are quite accessible now but with great potential for further aging. If you like your Châteauneuf with good aged characteristics but still retaining a lot of fruit, start drinking. If you prefer heaps of tobacco, earth, and dark spice, you can easily hold your '95s for 7 – 10+ years.