Kermit Lynch Week in New York!
During the week of October 26, Kermit will hold four exciting events in New York. Details of the events are below. We hope to see you there!

Monday, October 26 – new event update!
Dinner with Kermit Lynch at Bouley
Mon, October 26th 2009 7:00pm-10:30pm
$325 including tax & gratuity
Please RSVP to Andy or Call 212.924.6999
Please join us for this rare New York appearance by Mr. Lynch. In addition to the superb wines we have chosen to accompany David Bouley's wonderful food, Kermit has promised to grace us with some very special bottles from his private cellar.
Bouley | 163 Duane Street (Corner of Hudson) New York, NY 10013 | 212.964.2525
Reception
Canapés
Château St Martin de la Garrigue Blanc 2008
Kermit Lynch – Sunflower Cuvee 2008
Domaine de Fontsainte – Gris de Gris 2008
First Course
Porcini Flan
Dungeness Crab, Black Truffle Dashi
Domaine Savary – Chablis 1er Cru "Fourchaume" 2007
Comtesse de Cherisey – Puligny-Montrachet 1er Cru "Hameau de Blagny" 2006
Second Course
Maine Day Boat Lobster
Ruby Rhubarb, Trumpet Royal Mushrooms, Sugar Snap Peas, Parsley Root Cloud
Concord Grape/Pinot Noir Sauce
Domaine Chevillon – Nuits-St-Georges "Vieilles Vignes" 2006
Domaine Bertheau – Chambolle Musigny 2006
Third Course
Colorado Lamb Chops
Thierry Allemand – Cornas "Les Chaillots" 2006
Domaine Tempier – Bandol 2006
Fourth Course
Cheese Plate
Tuesday, October 27
City Winery Hosts A Special Evening With
Renowned Wine Merchant Kermit Lynch
Wine Tasting & Music Event
Tuesday, October 27th, 7pm
Kermit Will Introduce Songs From New CD Man's Temptation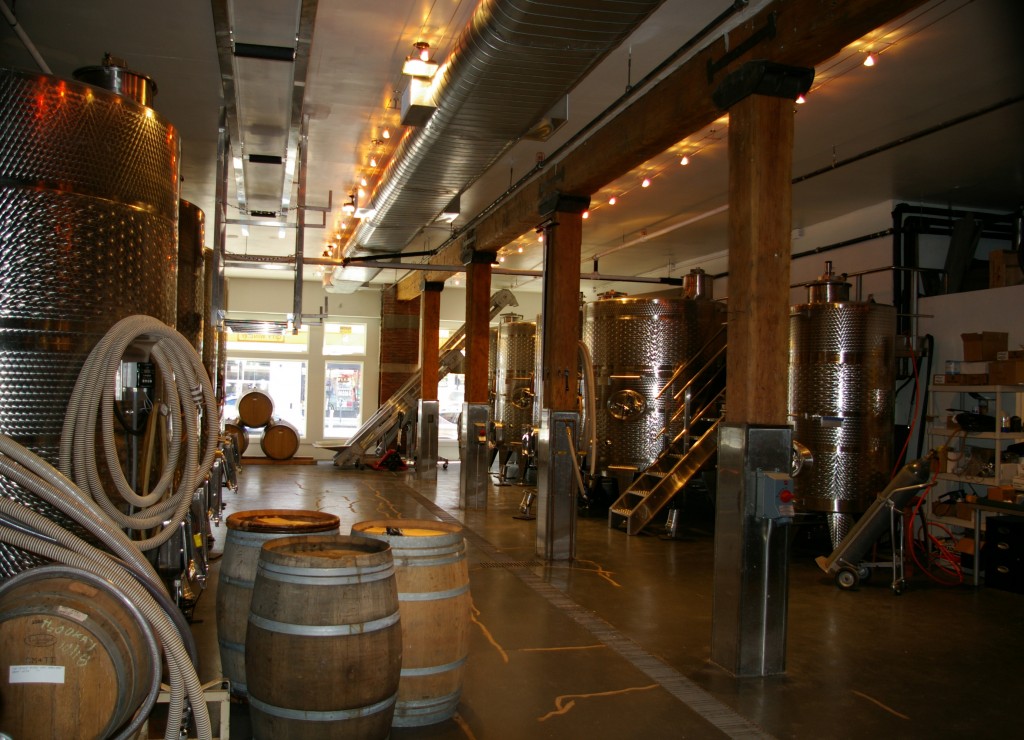 The City Winery fermentation room, where the event will be held.
City Winery | 155 Varick St., New York, NY  | 212.608.0555 | www.citywinery.com
City Winery is the brainchild of Michael Dorf, founder of the iconic Knitting Factory, who wanted to create a space in Manhattan where he could combine his shared passions for wine and music. It is a vibrant, interactive space in New York where folks can not only make wine, but also meet friends new and old while indulging their passion for quality food, music, art and life. We hope to see you there!
An Evening of Wine at Brooklyn Botanic Garden
Wednesday, October 28, 6–8pm
Join us for a unique opportunity to taste 25 sustainably produced French wines chosen by renowned wine expert Kermit Lynch in the exquisite setting of Brooklyn Botanic Garden.
Guests will also meet Kermit Lynch as he shares his decades-long passion for wine and dedication to sustainability.
Ticket sales are first come, first served; no ticket purchases at the door.
Tickets are $40 each.
Brooklyn Botanic Garden | 1000 Washington Avenue, Brooklyn, NY |
718.623.7202 | www.bbg.org | [email protected]
This event is co-hosted by Thirst Wine Merchants of Fort Greene, Brooklyn.
Inspired by Kermit Lynch, Thirst specializes in Slow Wine, meaning delicious, small-production wines made from grapes grown in low-yielding vineyards that are farmed sustainably, organically or biodynamically.
Please visit thirstmerchants.com for more information.
About Brooklyn Botanical Garden:
BBG is a 52-acre living museum where beauty, romance, and fun blossom among world-class plant collections and specialty gardens. Admired as an urban horticultural and botanical resource, BBG inspires visitors to discover that plants are essential to life.
Proceeds from the event will benefit Brooklyn Botanic Garden's community horticulture program, GreenBridge. For more than 15 years, GreenBridge has helped neighborhood organizations and schools improve the urban environment through education, conservation, sustainable gardening practices, and creative partnerships.
Chambers Street Wines In-Store Tasting
An Evening with Kermit Lynch
Friday, October 30th, 4 – 8 pm
Join ex-starving musician and handbag maker, now world famous wine importer, author and no-longer starving musician Kermit Lynch for a tasting and book-signing! We'll taste a few vintages from Kermit's own estate, Les Pallieres, as well as a selection of new wines and old favorites from his magnificent portfolio.
This event is by Reservation Only!
Reserve a tasting time:
Chambers Street Wines | 148 Chambers Street (West Bway & Greenwich), New York, NY | 212.227.1434 | www.chambersstwines.com
Chambers Street Wines opened in June 2001, the product of David Lillie's and Jamie Wolff's idea that New York might support a shop that indulged their love for naturally made wines from artisanal small producers. Every wine we stock is tasted, re-tasted, debated…. this is a shop where everyone who works here actually loves wine, drinks wine with food, and knows at least a little bit about what we're selling. Particular strengths here are the Loire Valley, Burgundy and the Rhone, Piedmont, Austria and Germany; we are always working to improve our selection, and your suggestions—especially for the New World—are appreciated.
Kermit Lynch at Zachys!
It maybe Halloween but legendary wine importer Kermit Lynch is not letting that keep him away.
Saturday, October 31, 12 -4pm
Join us and Kermit as we taste through a comprehensive line-up of the wines that he brings to the United States.
Kermit Lynch is one of the individuals that is responsible for opening American's eyes to the wines of the Rhone Valley, Burgundy, Southern France, Loire Valley and more.

Kermit will be here to pour wines, answer questions and sign books; but more importantly Kermit is here to showcase the wines that he is best know for importing.  Including: Vieux Telegraphe, Granges des Peres, Philippe Colin, Domaine du Salvard, Tempier,  A&P de Villaine and many many more…
Zachy's | 16 East Parkway, Scarsdale, NY | 800-723-0241 | www.zachys.com