Tasting Recap 10/14/09: Champagne, Friuli, Burgundy, & the Loire
Last week's staff tasting featured quite a wide range of regions and styles. From France we covered Champagne, Burgundy, and the Loire, and from Italy, the Friuli.
NV Rosé 1er Cru • Veuve Fourny *
The rosé from Veuve Fourny is a favorite among the staff in Berkeley. When a special bottle needs to be opened for the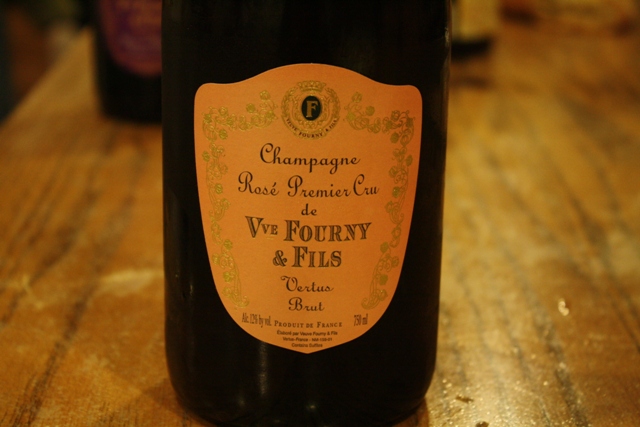 right occasion, if this wine is on the floor (or rather, in the fridge) we grab it. If you like rosé Champagne, don't miss this wine. If you don't like rosé Champagne, prepare to be converted. The Fourny Rosé is a delicate light pink in the glass with a very fine mousse. On the palate there is a lovely subtle minerality with a raspberry/cranberry tartness on the finish.
$60.00 per bottle    $648.00 per case
2008 Pinot Blanc • La Viarte
Our man in France, Dixon Brooke, described the location of La Viarte's vines as being "grown on a forested mountainside on the Italian/Slovenian border. Sounds intriguing and a bit wild, like something out of a James Bond movie or a Bram Stoker novel, doesn't it?" Like the location of the vineyards, the wine is also intriguing. I was drawn in by a wonderful earthy herbal character and a fine grain texture on the palate. Texture like this goes a long way with white wine, making it ideal for pairing with food. Drink this up with grilled fish or even a roasted chicken.
$16.00 per bottle    $172.80 per case
2007 Bourgogne Blanc • Domaine Roulot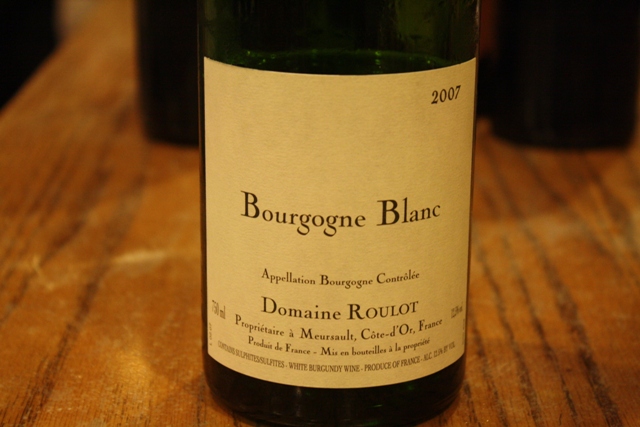 The name "Roulot" is on the short list of top white Burgundy producers whose wine just doesn't seem to be available for purchase at retail stores. Roulot likes his wines sold primarily to restaurants and that's why they do not appear in our newsletter very often. Lucky for you we have some of his Bourgogne Blanc to sell. This is not your average Bourgogne blanc. It's loaded with classic characteristics of a powerful Meursault. A dark mineral quality, with a hint of nutmeg and cinnamon, is supported by a firm acidity. The acidity doesn't make this wine lean though. The palate is wide, coating your mouth with deep Burgundy goodness.
$36.00 per bottle    $388.80 per case
2008 Coteaux du Loir Rouge • Pascal Janvier – back in stock!
A few months ago I wrote about this wine being one of my favorite summer red wines. In warm weather I still enjoy drinking red wine, but it must be light and refreshing. When the Hardly Strictly Bluegrass Festival in San Francisco happened again this year, I couldn't resist reaching immediately for this bottle to drink with some music. The upper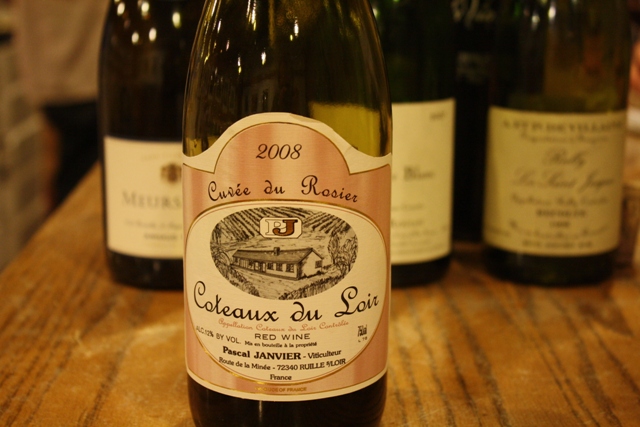 60s temps with a slight breeze on that Sunday set the exact right drinking temperature for Janvier's Rouge. As I drank the bottle I watched Booker T. and the Drive By Truckers rip through a great set that included Green Onions, Dock of the Bay, an Outkast cover, and Patterson Hood's "Let There Be Rock."
I started thinking that maybe this wine doesn't need a season and that I could enjoy it year round. I wish I could enjoy it year round but unfortunately Janvier doesn't make that much of it. If you haven't tried this wine yet, pick up a bottle, put on some tunes, and enjoy!
$18.00 per bottle    $194.40 per case

2008 Bourgogne Rouge "Champs Cadet" • Domaine de la Cadette
Many of you may be familiar with the flagship bottling from Domaine de la Cadette, the Vézelay Blanc. It's a steely white with Chablis-like characteristics and a great price tag. Jean Montanet, the winemaker from Cadette, also makes an excellent rouge that acts as a perfect complement to the blanc. This is a delicate and refreshing Pinot Noir with a Beaujolais-like quaffability. I'd surmise that Montanet's Bourgogne Rouge would be a great pairing for upcoming holiday meals.
$24.00 per bottle    $259.20 per case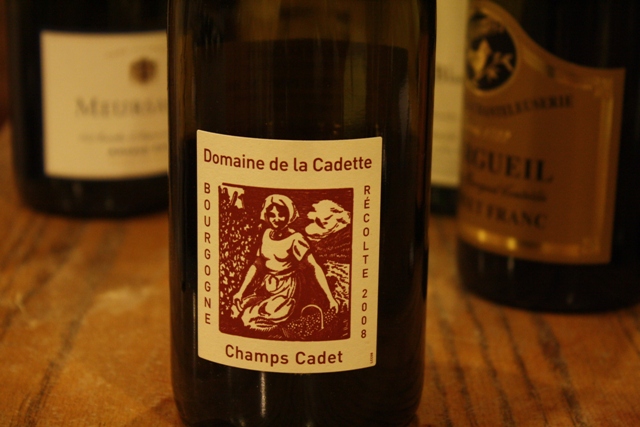 * Top secret inside information. We're having our annual champagne sale in November: 15% off the bottle, 25% off the case.