From Kermit's Cellar
One of the many perks of working at KLWM is the incredible opportunity to be able to taste old wines from Kermit's cellar. At staff tastings, more often than not, Kermit shows up with a few bottles from his personal collection that either correlates with a recent arrival or they are wines that Kermit is curious to see how they are developing. He brought in a couple beauties from Burgundy for our last staff tasting. I hope some of you managed to keep some of these wines for this long. Your patience will have been rewarded.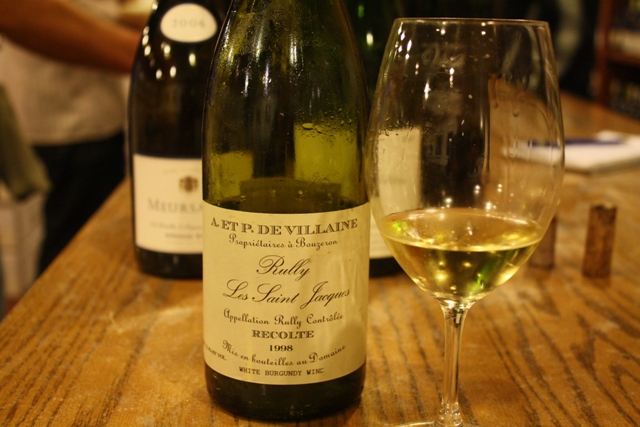 1998 Rully "Les Saint Jacques" • A. & P. de Villaine
Aubert de Villaine regularly touts the longevity of the whites and reds from his personal domaine (he is also co-director of Domaine de la Romanée Conti). He has the experience, background, and touch to make well structured wines with classic Burgundian character that can and should age. On his website, Aubert has tasting notes and advice on when to drink older vintages of his wines.
I'd never had a chance to taste older vintages of A. & P. de Villaine whites but I've found them to be quite enjoyable young. It was clear that the recommendation of cellaring was well warranted. The palate was deep and rich, with a honeycomb characteristic, and a buttery mineral spice. This wine has hit peak drinking time. If you have a few bottles in your cellar, drink them. I wouldn't recommend holding this wine much longer. In another 3 years you might be disappointed.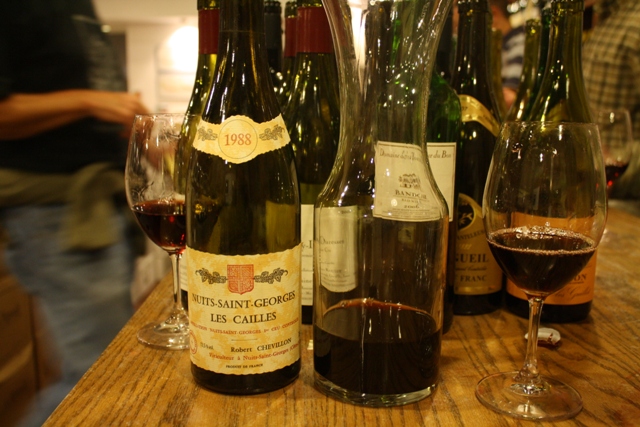 1988 Nuits-Saint-Georges "Les Cailles" 1er Cru • Robert Chevillon
Burgundy fanatics often talk about their "Burgundy moment": The bottle that flipped a switch in their brain and set them on a destructive path to buy all the Burgundy they can in search of more wine that will replicate that vinous epiphany. My bottle was an '88 Bonnes Mares Grand Cru from Bertheau (I've actually had that wine twice!). Had I not already had my "moment" it would have occurred while tasting Chevillon's '88 Cailles; pure elegance with loads of brilliant, bright fruit reminiscent of fresh strawberry/blackberry jam, and streaks of subtle tobacco. There was no reason to spit this wine. I could only sip and savor the small glass I had (there were 10 of us at the tasting). There is a reason why people have unhealthy obsessions with Burgundy, and this wine is one of them.