Winter Produce
Today we have a guest blogger, my colleague and salesperson here at KLWM, Mark Congero. I profiled Mark and one of his recipes in August. Now he offers up some guidance on selecting winter produce.
In recent years it seems that every variety of fruit and vegetable has become available year round. This makes it easy to forget that most all fruits and vegetables actually have a particular growing season. So, if you are relaxing in your kitchen nibbling a basket of strawberries during December and its 40 degrees outside, it's a good bet the fruit came from really far away. There are many reasons to eat seasonally and locally, but for me the most important reason can be summed up in a word: Taste! I get excited knowing that I can only eat fresh peaches at the height of flavor and juiciness for about 3 months out of the year. I look forward to seeing the first stone fruits arrive at the beginning of summer just as seeing the first asparagus and English peas are a sure sign that spring has arrived. With that in mind, here is a small list of some things to look for at the farmer's markets or grocery store during the cold winter months.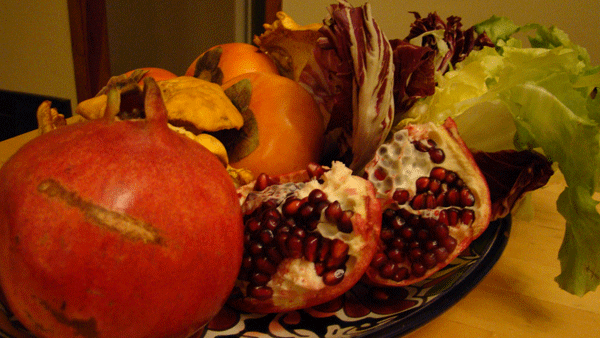 Cauliflower, broccoli, kale, and Brussels sprouts are a sure sign of cooler weather.  Take a whole head of cauliflower, slice it up, and roast it in a hot a pan with olive oil until it is browned and soft. Top with a pounded anchovy and caper oil. As for Brussels sprouts, I like to slice them thin and sauté them in butter and chicken stock, then finish with toasted chestnuts or hazelnuts.
Turnips, parsnips, rutabagas, and celery root are perfect for winter cooking. They are great for stews, braises, and gratins, or just simply roasted. Parsnips make a great purée or slice them thin and fry for a sweet treat. If you can find beautiful little baby turnips, simply blanche them and toss with good olive oil and salt. Delicious!
Citrus fruits are at their height in cold weather: Blood oranges, grapefruit, tangerines, pomelos, Meyer lemons, and naval oranges. They are wonderful in salads or salsas. Try an avocado and grapefruit salad with a citrus vinaigrette or a shaved fennel, blood orange and prosciutto salad.  Citrus fruits make great sorbets and ice creams as well.
Persimmons, pomegranates, and dates are also excellent winter fruits. After a big rich dinner, serve a delicious bowl of tangerines and dates. Fuyu persimmons are great for snacking and Hachiya's make a perfect persimmon pudding.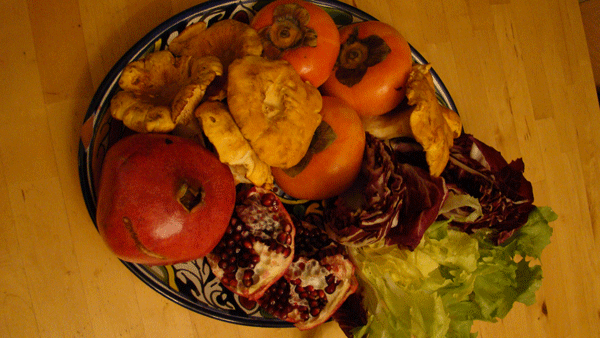 Fuyu persimmons, pomegranates, foraged chanterelles, and winter chicories.