Two Vouvrays
In recent memory we have imported just one producer from Vouvray, the wines of Didier and Catherine Champalou. Earlier this year, we began importing a second Vouvray from another Loire Valley husband and wife winemaking team, Pierre and Catherine Breton. The 2008 Vouvray Secs from these two producers recently arrived and I was excited to taste them and delve further into what 2008 Loire whites have to offer.
We started with the Breton's 2008 Vouvray Sec "La Dilettante" ($17.95). The 2008 is our second vintage importing the Breton's foray into white wine production (they also make a NV Vouvray Pétillant ($19.95). The Breton's built their reputation on making pure Cabernet Francs from Bourgueil and Chinon using Biodynamic viticulture and vinification. There was no need for a trial period with their white wines, they were stunning from the beginning. The 2008 maintained the quality of the 2007 vintage perfectly while offering its own unique characteristics. There is an alluring quality to the 2008. I know I like a wine when after first tasting, I can't wait to see how it strikes me the next time I open a bottle. Lime citrus and lychee fruit lend a thirst-quenching quality now, but I sense more will develop down the line. What will the wine offer in a month or a year from now?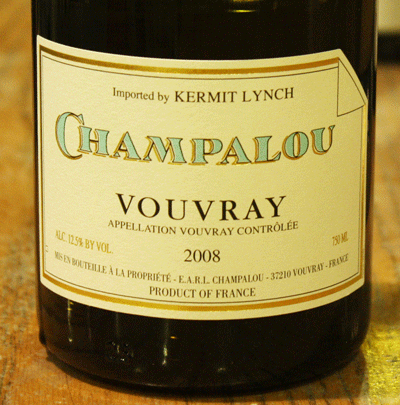 The Vouvray Sec from the Champalous is a rock solid Kermit Lynch stand-by. We've been importing their Sec, Demi-Sec, Pétillant, and Moelleux since the 1980s. Our man in France, Dixon Brooke, says the Vouvray Sec is a staff favorite. That is a mild understatement being that it has been a favorite here for two decades. The 2008 Vouvray Sec ($18.95) is a vivid and delicate rendition of Vouvray. The nose is perfumed, exuding a feminine and floral freshness. The Champalous often refer to this dry wine as being "sec tendre" or a "tender dryness," meaning they leave just a wisp of sweetness. This near illusion of sugar is engaging, it draws me in, plying me to take another sip to figure out what's going on.