A Vote of Sorts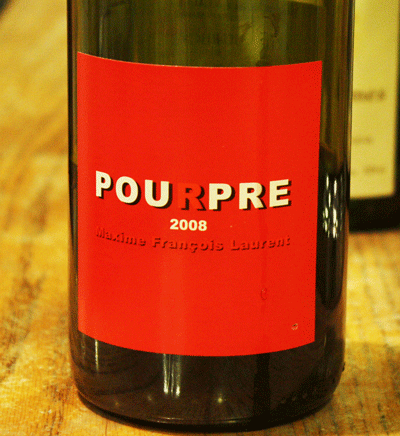 We voted at the end of the tasting. Kermit asked, "which red did you like best, the 'Pourpre' or the 'Causse du Bousquet?'" Out of the eight voters  it was a split decision (Kermit was the ninth attendee but didn't vote). Each red received four votes. What does that mean? It was close, I could have voted for the other guy but I stuck with my instincts. My favorite red of the night was the "Pourpre," made by the son of Domaine Gramenon vigneronne Michèle Aubrey-Laurent, Maxime Laurent.
"Pourpre" is a funny word to say. I'd recommend that you practice saying it out loud a few times. Don't worry about using your best French pronunciation; say whatever you feel most closely resembles "Pourpre." In general I'd use that advice when pronouncing French wine names.  Just say what comes out naturally and being the intuitive creatures humans are, whomever you're speaking to will probably understand it. Back in the day, Robert Mondavi decided that "Sauvignon" was too difficult for Americans to say, so he started bottling his Sauvignon Blanc as "Fumé Blanc." Decades later, we've figured out that Americans do possess the intellect to say "Sauvignon" and now the wine drinking public is just confused when they learn that Fumé Blanc is actually Sauvignon Blanc.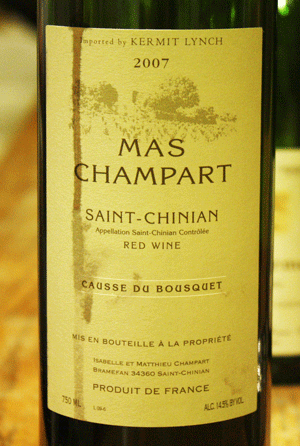 Maxime Laurent's 2008 "Pourpre" ($32) and the Mas Champart 2007 Saint Chinian "Causse de Bousquet" ($22) are two very different wines. The "Pourpre" is 100% Grenache from the southern Rhône but vinified in the style of the wines of Beaujolais. There is a bright spice, a faint brush of tannin, and simply beautiful fruit. My colleague, Sam Imel, poignantly described it by saying: "It (the "Pourpre") is just so fresh, like fresh cut fruit in your mouth."
Mas Champart's "Causse de Bousquet" is a different animal. This wine has muscle and structure. It's powerful, but not over the top. The black olive, black cherry, and réglisse notes are firmly held together by a strong backbone of tannin. Drink this now, but only with a hearty meal, or let it soften for a number of years. This is one of our many wines that don't break the bank, but can be held for 5+ years and will give you immense pleasure down the line.