A Visit from Tour du Bon
During the summer we received a surprise visit from one of our French winemakers, Agnès Henry from Domaine de la Tour du Bon in Bandol. Agnès came in right as the shop opened and introduced herself. I chatted with her a while and showed her where her wines are located in the shop. This was in July, when Kermit had publicized her rosé in the monthly newsletter. My colleague Michael was with a customer at the time and directed him to Agnès' rosé. She then explained to the customer that she knows our three other Bandol producers quite well and recommended that he try something from each of them. She said, "Try them all, not to find the best one, but to understand the differences in terroir of each wine." She then expounded about the differences between each of the various Bandol reds we carry. Terrebrune she described as disciplined, Gros 'Noré has power, and Tempier, well, it's simply excellent. She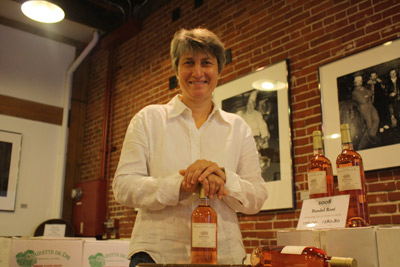 described her own wine as having power like Gros 'Noré but with an elegant, feminine touch. After divulging that Reynald Delille of Domaine de Terrebrune is a Tae Kwon Do master and raises champion show dogs, she left to continue her family vacation in California.
Agnès so succinctly and humbly summed up one of our core values here at KLWM. Why do we carry four producers from Bandol, three from Chinon, three from Sancerre, and four from Morgon? Each producer makes wine from a place that might be similar to that of their neighbors, but their vineyards, specific location, traditions, and history have influenced their wines, creating a unique style.
Check it out for yourself. Here's a list of appellations that we carry which have at least two representative bottles in stock. Try for yourself the comparison Agnès recommends.
We sincerely hope to see Agnès here again soon and hope you've tried one of her Bandol reds, whites, or rosés.
Bandol
2006 Bandol Rouge • Domaine de la Tour du Bon         $32.00
2007 Bandol Rouge • Domaine Tempier            40.00
2006 Bandol Rouge • Domaine du Gros 'Noré        36.00
2005 Bandol Rouge • Domaine de Terrebrune        30.00
2008 Bandol Blanc • Domaine de la Tour du Bon        29.00
2007 Bandol Blanc • Domaine du Gros 'Noré        32.00
Chinon
2006 Chinon "Les Varennes du Grand Clos" • Charles Joguet        28.00
2006 Chinon "St. Louans" • Catherine et Pierre Breton    32.00
2006 Chinon "La Croix Boissée" • Bernard Baudry        29.00
Bourgueil
2007 Bourgueil "Cuvée Beauvais" • Chanteleuserie        $16.95
2007 Bourgueil "Clos Sénéchal" • Catherine Pierre Breton        32.00
Sancerre
2007 Sancerre VV • Grandes Perrières    $27.00
2008 Sancerre • Daniel Chotard        24.00
2008 Sancerre • Hippolyte Reverdy        24.00
Vouvray
2008 Vouvray Sec • Catherine et Didier Champalou       $18.95
2008 Vouvray Sec • Catherine et Pierre Breton            17.95
NV Vouvray Pétillant Brut • Catherine et Didier Champalou    19.95
NV Vouvray Pétillant Brut • Catherine et Pierre Breton        19.95
Chablis
2007 Chablis • Olivier Savary        $24.00
2007 Chablis • Roland Lavantureux        22.00
Côte de Brouilly
2007 Côte de Brouilly • Château Thivin    $22.00
2008 Côte de Brouilly • Nicole Chanrion    19.95
Morgon
2008 Morgon "Corcelette" • Jean Foillard    $34.00
2008 Morgon "Côte du Py" • Jean Foillard     34.00
2008 Morgon VV • Jean-Paul Thenevet    29.00
2007 Morgon VV • Guy Breton        28.00
2007 Morgon "Cuvée Marcel Lapierre" • Marcel Lapierre    42.00