Tasting Recap 1/21/10: Corsica and the Southern Rhône
Last week's staff tasting focused on recent arrivals from Corsica and the south of France. More often than not, Kermit likes to taste north to south, however this time we started in Corsica and moved north to the mainland. Our normal behavior is also to taste white before red, but I've heard of other people doing the opposite. Here are the highlights from the tasting.
Two Corsican whites started us off, both 100% Vermentino. The first was Yves Leccia's 2008 Vin de Pays Blanc ($26).  Vermentino from Corsica has a beautiful way of seamlessly balancing a bit of weight on the palate with a crisp, refreshing acidity. In my mind, this combination makes Corsican whites excellent food wines. Leccia's Blanc has plenty of perfume, and, on the palate, a dash of sea salt, lime zest, and Mediterranean herbs.
Antoine Arena's Patrimonio Blanc "Haut de Carco" ($36) followed. Per the vineyard name,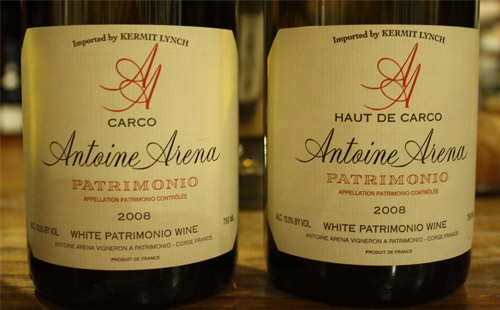 this parcel is located above Arena's Carco vineyard. To plant a vineyard above his current holding, Arena had to terrace a very steep hillside. Everyone in his village though he was crazy to do this, asserting that it would be impossible to grow grapes on such a steep côte. Something tells me his neighbors' skepticism only egged him on to see through his project. Here is the first example of wine from his new "Haut de Carco" vineyard and you must check it out. White peaches, earthy garrigue, and oyster-shell saltiness offer a depth rarely found in a young vineyard. Need some sunshine during this rainy winter? Drink these two Corsican wines.
We tasted one white from mainland France, a first time import from longstanding red wine producer, Domaine du Joncier. We've imported their Lirac Rouge for years now and in 2007, we also liked the white. The Lirac Blanc ($22) is a big white, but it isn't cloying or sweet – it is full and dry. Ginger and nutmeg spice complement aromas of mango and a touch of cooked pumpkin. It tastes like it smells, which works for me. We only have five cases, so expect it to go fast.
Two reds stuck with me most after the tasting, both from the southern Rhône. The 2008 Côtes du Rhône Rouge "Il Fait Soif" ($27) produced by Maxime-François Laurent stands perfectly in line with the wines of his mother, Aubrey Laurent of Domaine Gramenon. The "Il Fait Soif" is super quaffable, with lovely bright fruit, pepper, and a touch of smoky leather. The pepper, leather, and smokiness always make me think that there must be Syrah in this wine, but there isn't – no, amazingly enough it is 100% Grenache. Kermit said we'll see more unexpected aromatics from the 2008 southern Rhônes.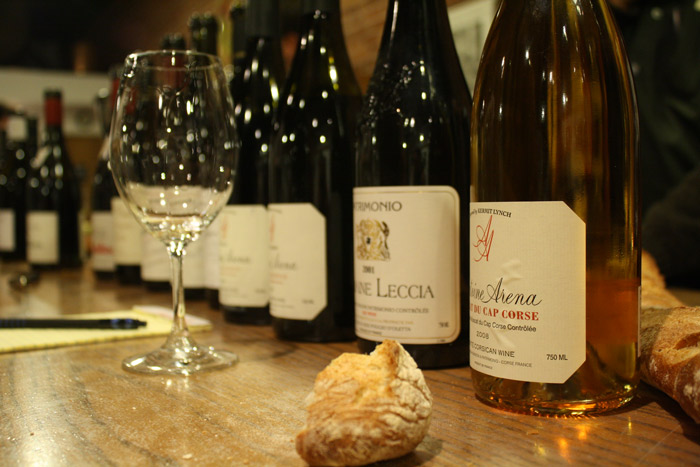 Now that most of our 2007 southern Rhône reds have arrived (some have come and gone) all the hype surrounding this astounding vintage has turned out to be true. If you missed out on your chance to purchase the 2007 Vieux Télégraphe, then we have an excellent substitution at a lower price. The second bottling from Vieux Télégraphe, the 2007 Télégramme Rouge (also from the La Crau vineyard) comes in at $38 a bottle and there is no better value in Châteauneuf these days. The classic Châteauneuf balance of power and elegance, a stony réglisse aroma, and firm structure make this bottling apt for a number of years in the cellar. Yes, a $38 Châteauneuf that can age – sounds like gold to me.
We break our rule of white before red when tasting dessert wines so we finished with Antoine Arena's 2008 Muscat du Cap Corse ($39). If you dig Muscat de Beaumes-de-Venise, do not miss trying this one. Uber floral, deep earthiness, no bite from the alcohol and loaded with peach and pear fruit. Kermit said it best, "there must be someone to whom you would love to give something beautiful. Here ya go."