Kermit at Omnivore Books
Omnivore Books on Food, of San Francisco, will host Kermit on Saturday, February 20th for a reading from his two books, Adventures on the Wine Route and Inspiring Thirst, and a tasting of a few of his favorites from his Berkeley shop.
Owned by Celia Sack, Omnivore Books is a bookstore that focuses exclusively on food and drink related books. This small Noe Valley shop carries rare antiquarian books from the 18th, 19th, and 20th centuries as well as new food and drink titles.
In her twenties, Celia began collecting while working as an antiquarian book cataloger at an auction house. She soon turned her focus to books on food. Her passion narrowed to Victorian era books on how to run your own food business (dairy, butcher, confectioner). She says, "the quaintness of these books attracted me – like how to make and display popular penny cakes 'just so' in order to attract customers – I was hooked." Many of the books at Omnivore are not cookbooks, but books on food production, history, and philosophy.
Don't miss this great chance to meet Kermit, taste his wines, and hear about his 37 year career importing French and Italian wines.
Saturday, February 20 • Wine Tasting with Kermit Lynch! • 5-6 p.m. • Free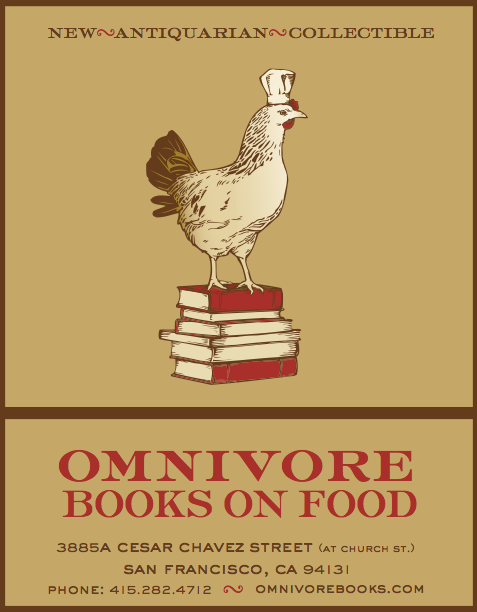 Omnivore Books on Food | 3885a Cesar Chavez Street | San Francisco, CA 94131
omnivorebooks.com | 415.282.4712 | Hours: Mon-Sat 11am-6pm, Sun 12-5