Age Your Corsicans
We've been on quite a Corsican kick here at the shop, with a sampler in January and a new white and rosé producer from Cap Corse having just arrived. New vintages from longstanding Corsican domaines, Antoine Arena and Yves Leccia, are also available and there's a lot to be excited about in these wines. The true impetus for my excitement isn't necessarily the arrival of these new Corsican reds, but a recent affirmation of the potential that the new reds from Arena and Leccia have. By "potential," I don't mean that Leccia and Arena's wines could be good; they are already excellent. I mean that they have incredible potential for being true vins de garde, wines that will age gracefully for years to come. I didn't come up with this idea simply from tasting these new vintages – Kermit brought in one of his bottles of 2001 Patrimonio Rouge from Leccia that knocked our socks off and left the entire staff thinking, "Why the heck don't more people just buy these wines by the case and age it like Gigondas or Bandol?"
"Can Kermit do for Corsica what he did for Bandol?" was the question my colleague Sam asked me the other day. In the '70s, Kermit began to import wines from the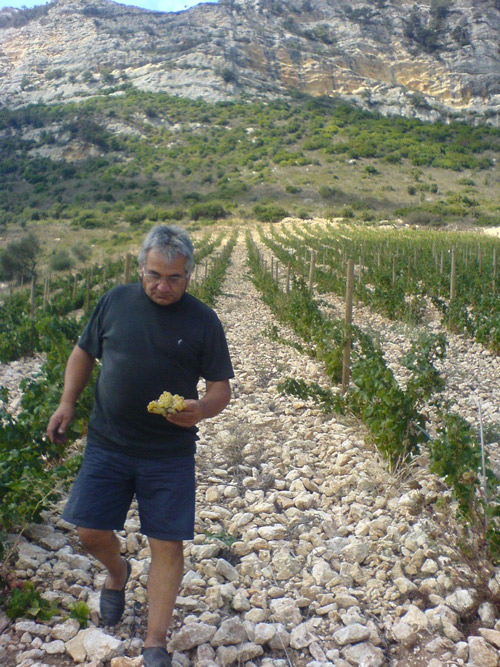 then obscure appellation of Bandol and turned them into must-have additions to the cellar of every serious old world connoisseur.  We've imported Corsican wines since the '80s, but it wasn't until recently that we've developed a stable of brilliant winemakers who produce great wines that are loaded with class and of course a good dose of rustic Corsican character. Now is the time to start cellaring these Corsican reds. Prices are not as high as quality and they don't taste like anywhere else's wines. The prices are equal or less than those of their Rhône counterparts and they offer their own individual style and potential to age.
Antoine Arena in his vineyards.
Our line-up of reds started with the 2008 Vin de Pays Rouge from Yves Leccia ($26). This is a prime example of a wine that can be enjoyed young, but would benefit greatly from just a few years in the cellar. The 2004 I cellared until last year was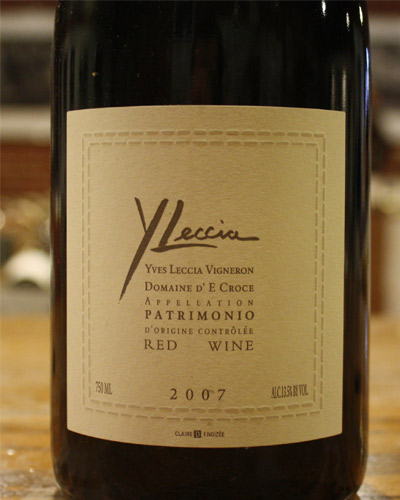 exceptional and I wished I had held off for a few more years. The '08 was juicy, with black tea aromas reminiscent of Bandol, and a smoky, resiny garrigue. The blend here is primarily Grenache, with 20% Niellucio, an endemic red grape variety. Leccia's 2007 Patrimonio Rouge ($34) has almost the opposite blend at 90% Niellucio and 10% Grenache. The depth and structure of this wine is evident right off the nose. There's a profound character to the dark, smoky fruit, but it's not heavy or over the top. Leccia's Patrimonio Rouge might be a "big" wine, but it retains a freshness and buoyancy on the palate that most wines of this size and intensity almost never possess.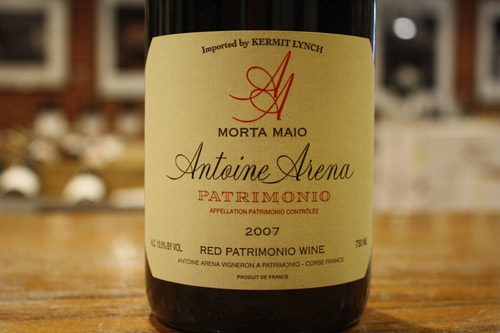 The two reds following Leccia also hail from Patrimonio, but come from the life-loving, philosophically minded Antoine Arena, a stalwart practitioner of biodynamics whose wines are a favorite in the best Parisian wine bars. Arena's two single vineyard reds, the "Carco" ($36) and "Morta Maio" ($36) epitomize his style. The beauty of Arena's reds is often in their amazing, mouthwatering fruit – like eating ripe black cherries right off the tree. The 2007s also offer the added benefit of well-integrated tannins and bright acidity, giving them serious potential for aging, five to ten more years.
The final bottle of our Corsican red line-up was the 2001 Patrimonio Rouge from Leccia that Kermit pulled from his cellar. What sticks with me is the clarity of fruit on the palate. It was focused, concentrated, and young. The structure was still completely intact, giving it potential to age much longer. This bottle holds the proof that there is huge value in aging your Corsican reds. Join us on our mission to spread the good word about the wild gems of Corsica.