In Kermit's Cellar
The vast majority of older wines that I've tasted have come directly from Kermit's cellar in Berkeley. He regularly brings down a bottle or two of something old during staff tastings, but every once in a while, the sales staff will head over to his house and have a dinner and tasting of older wines.
These tastings tend to be epic in length and scope. Dozens of bottles are opened covering multiple decades, the rare and obscure, the classic and divine. The tasting portion of the evening is always followed by a hearty meal. This time around the main course was wild boar that a client gave to my colleague Steve Waters. Melissa Fernandez, wife of another colleague, Mark Congero, braised the shoulder for 14 hours and slow roasted the leg for 5. Kermit usually digs into his stash of magnums for dinner wines as not much wine remains in the bottles after the initial tasting.
Choosing highlights from the tasting for this post was a difficult task. With so many exquisite wines, how can I honestly choose just a few? I've included the full list of wines tasted/drank at the bottom of the post.
2001 Chablis "Butteaux" 1er Cru • François Raveneau
We tasted through seven fine representatives of 2001 white Burgundy, each showing well now and some with potential to age further in the cellar. The '01 Butteaux was raring to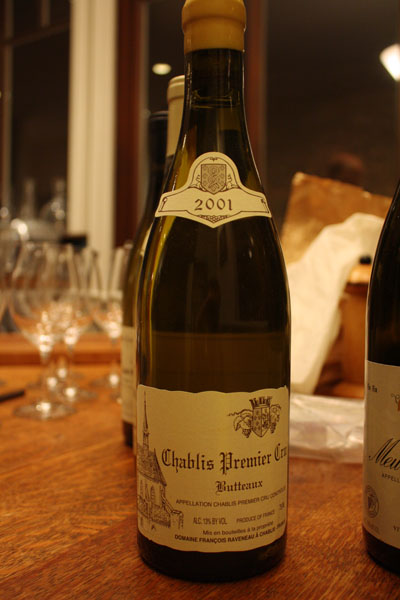 go the moment the bottle was opened. Chablis experienced a little noble rot in '01. The winemakers at the time said this imparted a champignon or mushroom/truffly characteristic. This element was seamlessly present along with the edge of richness so often found in aged Chablis. The most attractive aspect of this wine though was the richness and the racy mineral acidity. This dichotomy of flavors, seemingly opposite and opposed can be present at the same time and afford stunning complexity and character. If you own any 2001's from Raveneau, I'd recommend enjoying a bottle soon. You can definitely continue to hold them for a number of more years but there's a lot of pleasure to be had now.
2001 Corton-Charlemagne Grand Cru • Coche-Dury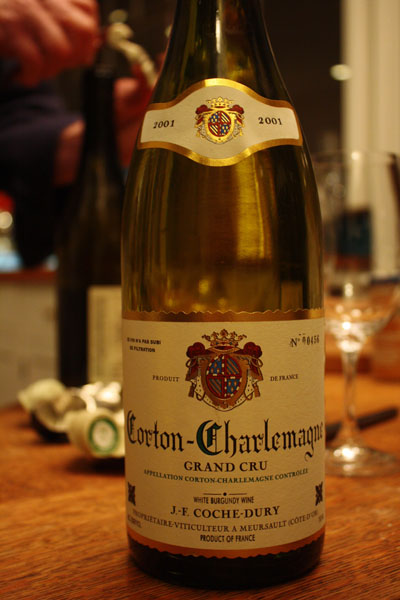 Bells rang and fireworks exploded as I put my nose into my precious glass of Corton-Charlemagne. There was much jockeying amongst the staff as to who was going to get a small sip of what remained in the bottle at the end of the tasting and for good reason. This wine was everything its name (vineyard and producer together) and reputation led me to believe it would be. I've had other Coche Corton-Charlemagnes – 1997 and 1996  – and the '01 was without question on the same level as those wines. Deep dark grain, an edge of nuttyness, firm acidity, and that classic Corton-Charlemagne spiciness – almost like red hots – are the reasons white Burgundy fanatics turn into diehards when they taste this wine.
1990 Vouvray Moelleux "Cuvée Chatherine" • Didier et Catherine Champalou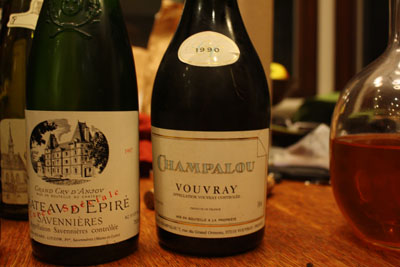 Old dessert wines are always a treat to taste. The complexity can be astounding. The Champalou's Moelleux was layered and thick (heck, you could almost chew it!) but what got me was the bright acidity. How can a wine that is so thick, rich, and sweet also have young, nervy acidity? The Champalous only make their Moelleux in the best years. I believe the next vintage we'll receive is the 2007. Get a few bottles and forget about it for a long time. Down the line you'll find a special moment to open it up and you will be duly rewarded.
2005 St. Joseph Vieilles Vignes • Domaine Faury

I was excited to see this wine on Kermit's kitchen counter as I walked in. I have three of Faury's '05 Vieilles Vignes in my cellar and getting a chance to see how it is developing without cracking my own was lucky. This wine was stunning: deep peppery spice, young blackberry fruit, a hearty medium rare steak aroma (or maybe I just really wanted a steak to eat with it), and structure that let me know I made a great decision to put a few of these wines away. I won't be opening mine for at least two or three more years. We have Faury's 2007 Vieilles Vignes ($32) available now and I will be putting away what I can afford of them as well.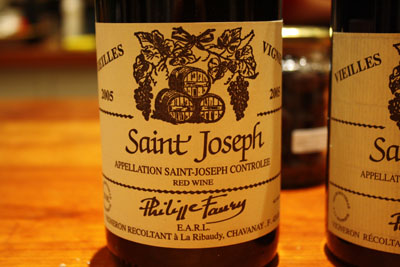 1980 Châteauneuf du Pâpe "La Crau" Magnum • Vieux Télégraphe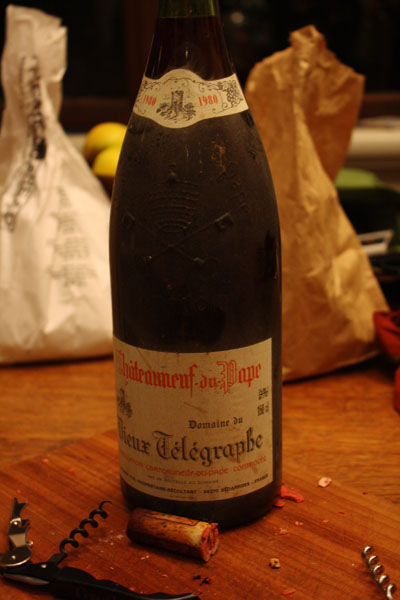 This was a spectacular wine with which to end a grand evening – a worthy climax. We drank it with cheese after having magnums of 1988 Bandol "Miguoa" and 1988 Bandol "La Louffe" with the boar. Rustic elegance is the best way to sum up how the '80 Vieux Télégraphe tasted. The terroir of the "La Crau" vineyard, the talent of the Brunier family at Vieux Télégraphe, and 30 years of graceful aging in Kermit's cellar lend an elegance similar to that of older Burgundy, while retaining the wild, rustic, brooding side of Châteauneuf. I would have never imagined that ending a meal with a Châteauneuf could be thirst quenching and refreshing. This bottle hit the spot.
Cellar Tasting 2/9/10 (in the order tasted)
2001 Chablis "Butteaux" 1er Cru • François Raveneau
2001 Meursault "Luchets" • Domaine Roulot
2001 Meursault–Blagny "Genelotte" 1er Cru • Domaine de Cherisey
2001 Meursault "Genevrières" 1er Cru • François Jobard
2001 Chassagne-Montrachet "Les Vergers" 1er Cru • Domaine Amiot
2001 Puligny-Montrachet "Les Truffières" 1er Cru • Colin-Déléger
2001 Corton-Charlemagne Grand Cru • Coche-Dury
2003 Savennières Sec • Château d'Epiré
2002 Savennières Sec • Château d'Epiré
1997 Savennières Sec "Cuvée Spéciale" • Château d'Epiré
1986 Vouvray Moelleux "Clos du Petit Mont" • Allias
1990 Vouvray Moelleux "Cuvée Chatherine" • Didier et Catherine Champalou
1971 Vouvray Moelleux • Loyau
2005 St. Joseph VV • Domaine Faury
2004 St. Joseph VV • Domaine Faury
1995 Côte Rôtie • Robert Jasmin
1992 Cornas • Auguste Clape
1991 Côte Rôtie • Gentaz
1990 Cornas • Auguste Clape
1988 St. Joseph • Raymond Trollat
1988 Hermitage • JL Chave
1988 Cornas • Noel Verset
1988 Bandol "Miguoa" Magnum • Domaine Tempier
1988 Bandol "La Louffe" Magnum • Domaine Tempier
1980 Châteauneuf du Pâpe "La Crau" Magnum • Vieux Télégraphe