This Cellar is Cold!
Steve Waters joins us again, elaborating on a tasting trip he took a few years back…
On a tasting trip in France back in March 2005, my travel companions and I had a running joke about which producer had the coldest cellar.  We'd tasted in some pretty cold ones already while in the snowy Alsace and the Côte d'Or.  Then we arrived at Château Thivin in Beaujolais to taste their ultra-traditional Brouilly and Côte de Brouilly reds.  Château Thivin is a subterranean tasting experience.  As we walked from foudre to foudre to taste the different parcels that make up their blends, I felt the dank cold of the cellar start to creep up my lower back.  Damn this cellar is freezing!  Thivin won the prize by unanimous consent before we even got halfway through the tasting!  The beauty of tasting in a really cold cellar is in the amplified presence of the terroir. Because of the temperature, the fruit is subdued, but the sense of place shines through.  Taste after taste of Thivin's wines revealed a subtle perfume of fresh cranberry fruit, with a deep backdrop of unmistakable granite and earth.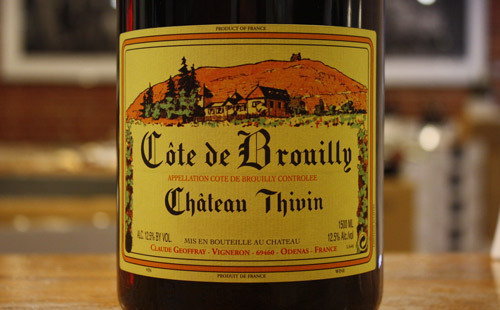 Thoroughly chilled and our teeth beginning to chatter, our group was led out of the cellar towards a most unexpected but welcome surprise.  As we walked up the stairs and were directed toward an open doorway, I smelled a faint whiff of wood smoke and heard a distant crackling sound.  To the delight of everyone, we entered the dining room and immediately to our left was a huge fireplace with a roaring fire inside.  The table was set for a sumptuous three-course lunch with multiple vintages of Thivin Côte de Brouilly, en magnum, but at that moment, we were more concerned with huddling around the fireplace and warming our frosted extremities.
The highlight of the day was a magnum of 1996 Côte de Brouilly, which segued beautifully into the final course of local cheeses.  I made a mental note to try and stash away as many magnums of Château Thivin as I could afford, plus some other cru Beaujolais I'd fallen for along the way. They evolve much like red Burgundy, except you won't feel guilty if you drink them in their youth. Magnums of cru Beaujolais are as reasonably priced as any large format bottles on the fine wine market.