Real Men Drink Rosé
And lots of it. For the manly contingent on the KLWM staff, rosé has no season and any day is a good day to have a glass. Our stocks of rosé were getting low until, thankfully, the first round of the 2009s arrived. If forced to describe 2009 rosé in one sentence, I'd say, "The wines are loaded with flavor that is jumping out of the glass!" Below are my highlights from our recent arrivals. Many more rosés are scheduled to arrive during the next couple months, including the 2009 Corbières Gris de Gris Rosé from Domaine de Fontsainte, the 2009 Bandol Rosé from Domaine de Terrebrune, and the 2009 Bandol Rosé from Domaine Tempier.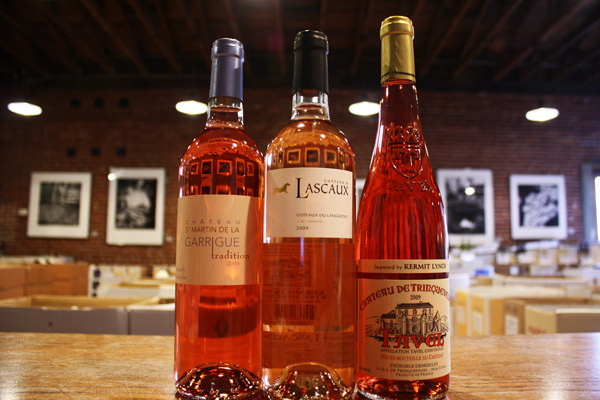 2009 Coteaux du Languedoc Rosé "Tradition" • Saint Martin
Much talk about wine is spent discussing complexity. Often, however, there can be a great deal of pleasure in simplicity. Not every wine needs to be as complex as a Bach violin sonata; a fiddle tune will do just fine most of the time for me. Saint Martin's rosé is just that – a fiddle tune. Easy to remember, catchy, and leaves you humming when the tune is over. The raspberry and strawberry aromas aren't overwhelming, but are delicate and will ring clean and clear on your tongue.
$12.95 per bottle    $139.86 per case
2009 Coteaux du Languedoc Rosé • Château de Lascaux
The highest compliment that can be paid to a rosé is, "Wow, this reminds me of Bandol." I reserve this compliment for about one rosé a year and it must be wholeheartedly true. Unequivocally, Lascaux's rosé tastes like a Bandol. What separates this wine from the average Languedoc rosé is the thin vein of creaminess running through the palate of crisp acidity, garrigue, sage, resin, and white peach. We will have more value-priced rosés coming in, but it will be difficult to top the price and quality of this Lascaux.
$16.00 per bottle     $172.80 per case
2009 Tavel • Château de Trinquevedel
There is no need to add the word "rosé" next to Tavel because the only wine this southern Rhône village produces is rosé. Typically it is a dark pink hue and the bottling from Trinquevedel (trank-vuh-del) fits perfectly into this mold. It is a rosé with power, but doesn't go too far. There is an intensity in the fruit that could stand up to a barbequed burger. The other rosés mentioned here are excellent by themselves, refreshing and thirst quenching, but this Tavel might be the ideal rosé for pairing with food—especially hearty barbeque fare.
$17.50 per bottle    $189.00 per case