Colin Family White Burgs Scream "Drink Me"
The 2008s from Bruno Colin and his father Michel of Colin-Deléger were recently offered at pre-arrival prices. Sample bottles for our staff tasting arrived mid-May.
We found the 2008s to be beautifully approachable—there is much pleasure to be had now. They are complex, vivid wines, real stunners. They scream, "drink me" as the aroma draws you in.
Vintage 2008 produced crisp wines, with voluptuous fruit, and a deep concentration of mouth coating mineral. The presence of good acidity in a relatively full wine may sound paradoxical, but as F. Scott Fitzgerald famously said, "the true test of a first-rate mind is the ability to hold two contradictory ideas at the same time." For our purposes here, we can amend that quote to apply to wine: "the true test of a first-rate wine is the ability to balance two contradictory characteristics in one glass."
The entire tasting was memorable, and here are my personal highlights:
2008 Saint-Aubin "Le Charmois" 1er Cru · Bruno Colin
Like the name implies, this wine possesses charm. Part of the charm is the value— you will be hard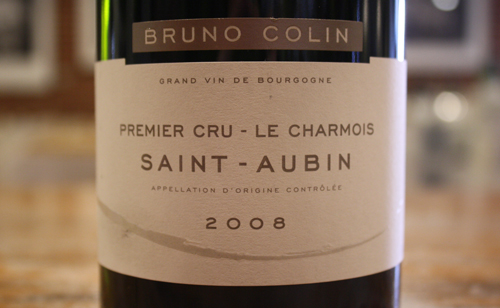 pressed to find a better premier cru bottling at this price. Although initially quiet on the nose, after a few minutes in the glass, it really opened up. A touch of oak and smoky mineral peek through and continue on to the palate. The acidity has length that sustains the mineral for a very long finish. A truly magnificent bottle!
2008 Chassagne-Montrachet "Les Chaumées" 1er Cru · Bruno Colin
The Chaumées is the sexiest, most seductive wine of the bunch. It is fleshier and more robust than Bruno's other premier crus. The lip smacking, youthful fruit and concentrated of wet stones last and last on the palate.
2008 Chassagne-Montrachet "Les Vergers" 1er Cru · Bruno Colin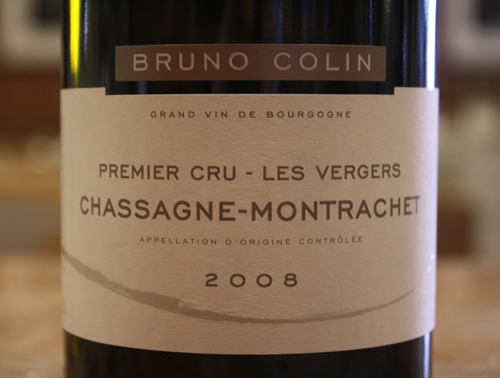 Here is the premier cru that unequivocally needs time to age. There is texture, grain, fruit, and firm structure. The Vergers will hold on to its deep, complex secrets for as long as it can, or for as long as you will let it. Exile it to a cold dark corner of your cellar for at least 5 more years before delving into the beautiful juice in the bottle.
2008 Chevalier-Montrachet · Colin-Déleger
It would be a crime to ignore the Chevalier, the lone grand cru, the heavyweight of the tasting, which showed that it merits the title. Dichotomy abounds in the Chevalier. It is rich, with a profound bass tone, but with shrill highs and a racy nervosity. There is a dark stoniness and a touch of herb and juniper berries. The golden liquid coats your mouth with a finish that lasts for minutes but still remains lively, inviting you to take another sip.