Terroir You Can See
In early August, I paid a visit to vigneron Laurent Martelet of Domaine Comtesse Bernard de Cherisey in his enchanting corner of Burgundy, the Hameau de Blagny. My visit was well-timed because in the July newsletter, Kermit wrote about Laurent's premier crus and put them on pre-arrival at an excellent discount.  We all look forward to the arrival of these wines each year. They represent the best of Meursault and Puligny-Montrachet, and during my visit, I discovered why.
Laurent taught Enology and Viticulture in Dijon before taking over the reigns at de Cherisey. To me this seems odd, because the only rule he follows when making wine is that rules don't exist (textbooks usually don't say that sort of thing).  Each vintage is different, so following rules, recipes, and directions is worthless. What worked last year may not work again.
For many people, the concept of terroir seems mystical and sometimes contrived. However, in the mind of a Burgundian vigneron, terroir is very real and concrete. Laurent's vines surround his cellar, and the road to reach the cave marks the border of Meursault and Puligny-Montrachet—two of the best white Burgundy terroirs. Scattered amongst the vines are hundreds of small flat stones, the same stones that built the walls and houses in his area of Burgundy. These stones are perfectly flat on both sides, making them ideal for laying on top of each other.
While walking from vineyard to vineyard, we used a dirt road that cut into the hillside. Laurent was eager to point out the cross-section of the hill that the cut in the road afforded us. Very clearly, you could see evenly stacked, neatly laid stones—the same stones from the vineyards surrounding the cellar. I told him that it looked like a wall had been built there, and over many years, become covered by the eroding hillside. He affirmed that though it does look like that, what we were looking at was the raw earth, located ten feet below the surface of his vineyards. These perfectly laid stones had naturally settled into place over thousands of years, creating the ideal, unfertile soil for making not only some of the world's greatest Chardonnays, but for some of the world's greatest wines. Laurent said the roots of his vines must find their way through the small crevasses between these tightly packed stones to reach any source of nutrient or water. Those are some hardworking vines! It is not often that one gets to see the cross-section of earth that gives a wine its character.
We followed the vineyard tour with a tasting of a number of his 2008 and 2007 vintages. Laurent recommends holding these wines for at least 6 years after the vintage before drinking them. The tasting finished with a 2001 Puligny-Montrachet "Chalumeaux." The nine years of age were barely detectable and the color was identical to the '07s and '08s. Refined, bright acidity supported earthy notes of truffle—a stunning wine.
As I drove back down the road to Meursault, the '01 was still coating my mouth, almost percolating… Fifteen minutes later, it continued to unveil its wonders.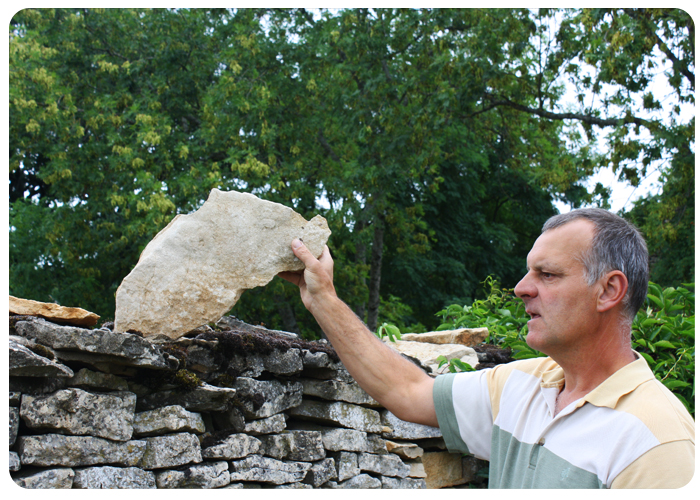 Laurent, giving us a good look at the size and shape of the stones in his vineyards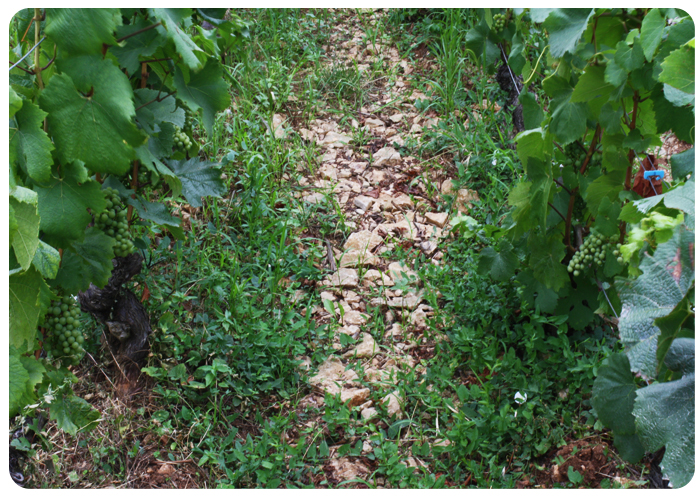 The rows between each vine are littered with flat stones of many sizes
Layers of stones in the subsoil of Laurent's vineyards