A Crusade for Alsace Part II: Kuentz-Bas
Greg Schlagdenhauffen is the Frenchman who is the United States sales manager for the Alsatian domaine Kuentz-Bas. His name doesn't sound very French does it? Embodied in Greg's last name is an a propos reminder of the history and culture of Alsace.  The end of WWII marked the most recent change of hands of Alsace from the Germans to the French but the Alsatian way of life is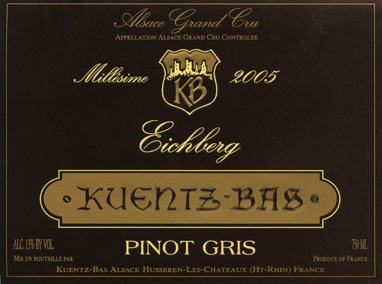 deeply rooted in the cultures of both countries. Although French is the official language of Alsace, natives still speak German and Alsatian. The influence of Germanic cuisine is pervasive. A classic Alsatian meal often includes sausages, potatoes, and of course, choucroute.
When Greg visited our shop in September, he asked me how I characterize Kuentz-Bas' wines when discussing them with customers. I think I started my response by saying, "Find me a better white wine for the price than the Alsace Blanc, honestly." Also, for me, Kuentz-Bas represents classic, varietal typicity. The wines are pure and bring out the best characteristics of Riesling, Pinot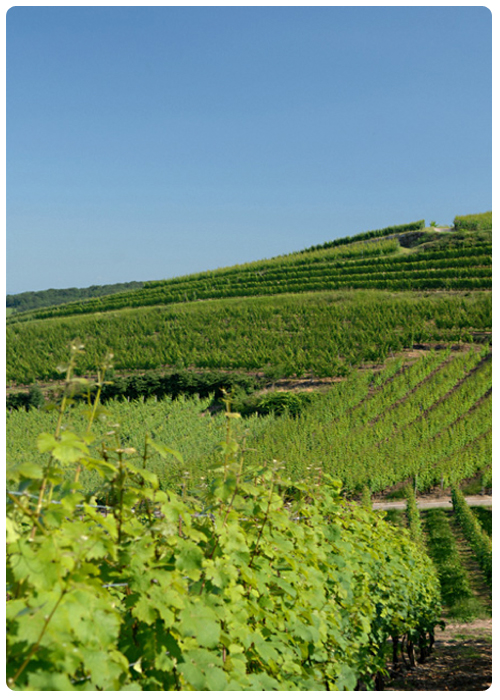 Gris, Pinot Blanc, and Gewurztraminer. The Kuentz-Bas wines have great acidity. The wines are preternaturally crisp and vibrant, making them easy to sip but also great to pair with food. Greg jumped on my food pairing comment, saying that the wines have a serious "gourmand" aspect. He loves how friendly they are with food. He contends that the gourmand-ness comes from the great acidity these wines have. He elaborated by saying that the Kuentz-Bas vineyards come from Husseren Les Châteaux, the highest wine-growing village in the region. The cooler climate of the higher elevation helps the fruit retain great acidity while slowly coming to full ripeness.
The Eichberg vineyard
Now, Kermit and I have many things in common outside of wine: we're both musicians, readers of the New Yorker, and native Californians. However, my favorite shared interest is we both understand and seek out a good hot-dog or grilled sausage. I bet Kermit has eaten a few grilled dogs in his day while sipping a cool, crisp Alsatian from Kuentz-Bas. I know I have. For all you beer connoisseurs out there, check out a bottle of Kuentz-Bas the next time you throw some sausages or dogs on the BBQ. You'll find the pairing to be impeccable and the refreshment on par with any pale ale or pilsner. And calorie-wise? Heck if I know.