Cyriaque Rozier: Two Timin' Terroirist
The Languedoc is an amazing mix of cultures, history, and geology. The viticultural legacy left by the Greeks and Romans still leaves its mark today, and it is not at all unusual to find vestiges of a previous era in vineyards that have been operating for thousands of years. As I mentioned in our newsletter this month, the Languedoc is one of the last winemaking frontiers left in France, where looser appellation laws have attracted experimental grape blends, and where ideal climatic conditions have encouraged more and more growers to implement organic and biodynamic farming. Unlike many regions throughout France that seem to enjoy a more uniform terroir, the Languedoc is a veritable geologic collision of soils—each one imparting their own unique characteristics and mineral structures.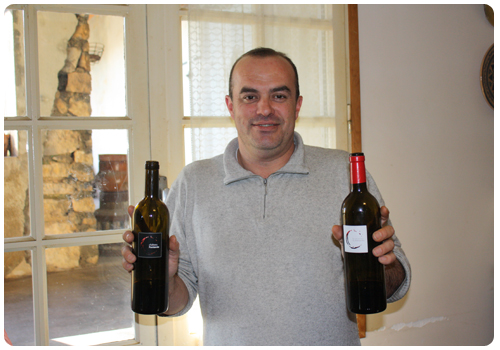 Cyriaque with the Fontanès reds
Cyriaque Rozier stands tall among the enthusiastic, young pioneers who are exploring the potential of this land.  As the winemaker and vineyard manager for Château La Roque in Pic St-Loup, Cyriaque has taken on a project of huge proportions, guiding new owner Jacques Figuette in the domaine's conversion from organic to biodynamic viticulture. In addition to tending thirty-two hectares of vines (and making them into wine) at Château La Roque, Cyriaque makes his own wine under the label Château Fontanès, also in Pic St-Loup. A charming man with a strong sense of vocation and relentless drive, Cyriaque often works sixteen-hour days between the two domaines. He started Fontanès in 2003, and undertook the ultimate labor of love in the Languedoc—planting a vineyard. For many years, this plot of land was best known for olive trees, until the great frost of 1956 decimated groves by the hundreds. The land at La Roque and Fontanès is hard as a rock, quite literally, and is composed primarily of limestone and clay. To plant a vineyard here is a game of patience and incredibly hard work. Over the last few years, Cyriaque has been slowly building stone terraces to better protect this challenging terrain from erosion. Co-planting olive trees among his vines has not only created a beautiful landscape, but it has contributed toward greater biodiversity in his vineyards.
At La Roque, the usual southern grape varietals come out to play in four delicious cuvées: a Coteaux de Languedoc Blanc, a Coteaux de Languedoc Rouge (mostly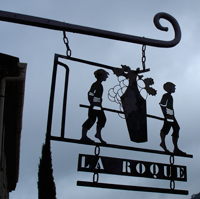 Mourvèdre), a Pic St-Loup Rouge, and the unofficial reserve wine "Cupa Numismae," a hearty wine named for an ancient Roman coin found in the vineyards. In the wise words of KLWM salesperson, Michael Butler: "Lay down a case of history."  At these prices, you can afford to!
At Fontanès, the lion's share of Cyriaque's production comes from his forty-year-old Cabernet Sauvignon vines, a grape varietal that is outside of the constraints set for the A.O.C. in the Languedoc. This means that in lieu of getting an A.O.C. cru status, he must take a Vin de Pays d'Oc designation. The draw for Cyriaque is that he gets to make his wines his way, and we, in turn, get an incredible price—$12.95—a mutually beneficial trade-off. We are very excited about his three, classic Coteaux du Languedoc wines – red, white, and rosé. If wines from younger vines can taste this good, we can only imagine what the future holds!  The 2009 Coteaux du Languedoc Rouge, also incredibly priced at $16.95, is already in the store, but you'll have to wait until late March or early April for the 2010 Blanc and Rosé to arrive. It will be the first time we'll have these wines in Berkeley, and I can't think of a more delicious kick-off for Spring!
The wines of Cyriaque Rozier, from Château La Roque and Château Fontanès alike, are everything to love about the Languedoc and the exciting momentum generated by such talent in the region today.
Pic Saint Loup