A Crusade for Alsace Part III: Meyer-Fonné
History runs deep at Domaine Meyer-Fonné. The ancestors of vigneron Félix Meyer emigrated to Katzenthal from Switzerland in 1732. The family's winemaking tradition began in the late 19th century, when Félix's great grandfather purchased their property and the house where the domaine still sits and started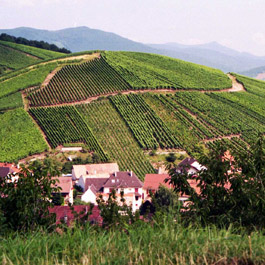 growing vines.  Katzenthal is known for its steep hillsides and granite soils, forcing the vine roots to dig deep into the slopes, and producing wines of great complexity, minerality, and acidity.
As detailed in my post "A Testament to Quality," I am enamored with the wines of Meyer-Fonné. Since 2007, the staff and our customers alike have taken to these stylish Alsatian Rieslings, Pinot Gris, Muscats, Gewurztraminers, and Pinot Blancs. From the quaffable Edelzwicker to the prized Wineck-Schlossberg Grand Cru Riesling, the granite soils of Katzenthal show their depth and complexity throughout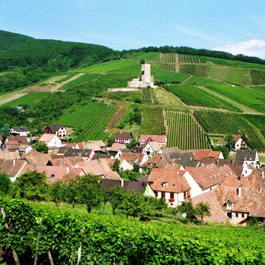 their portfolio, while a seductive perfume keeps one's nose in the glass.
"Floral" or "aromatic" are understatements when describing the character of Félix Meyer's creations. We must reach deep into our adjectival palette to best articulate the olfactory sensation. When drinking their dry Muscat de Katzenthal, I always find what I call a prominent rose petal aroma on the nose. But the aroma of one petal or even one rose does not do it justice. An entire rose garden, in full spring bloom is contained in each bottle. It will knock your socks off and send you reaching for another glass. Meyer's aromatic marvels inspire thirst!
The wines of Meyer-Fonné are made for lovers—the one-night or the for-always kind. There is something unsatisfactory about drinking a Meyer-Fonné Riesling alone—you feel compelled to share your experience. Food isn't necessary (it can come later), simply enjoy a glass for what it is—irresistible nectar that commands your upmost attention from the first sip.