A Bruce Trip: The Loire Valley
And this continues the story of Retail Manager Steve Waters' two week tasting trip through France.  Click here to read the first part of this series.
Our first day of tasting in the Loire Valley was extensive.  We had morning visits at Domaine Charles Joguet in Chinon, Catherine and Pierre Breton in Bourgueil, and then following along the Loire River we arrived in Vouvray to taste at Domaine Champalou.
The Breton's cellar, post tasting
Over the years, the "Bruce Trips" have become incredibly efficient by consolidating tastings with multiple producers.  It would be impossible to visit each individual domaine in two weeks along the wine route, so some of our producers graciously agree to meet us at another's domaine.  T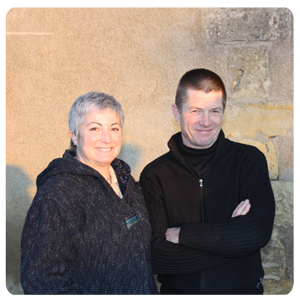 his is what occurred at the Champalous.  Catherine Champalou lead off the tasting with her Vouvrays, followed by a line-up that would make any Loire Valley fan salivate:  Pascal Janvier from Jasnières, Éric Chevalier of Muscadet fame, Emmanuel and Thierry Delaille from Domaine du Salvard in Cheverny, Luc Bizard of Château d'Epiré in Savennières, and Thierry Boucard of Domaine de la Chanteleuserie and his fantastic reds from Bourgueil.  I wish I counted how many spit buckets we filled and emptied by the end of that marathon tasting.  It was quite an experience, tasting some of the finest Chenin Blanc, Melon de Bourgogne, Sauvignon Blanc, and Cabernet Franc France has to offer.
Slightly buzzed and palate-fatigued, we lingered with the producers for a while, but as the sun was beginning to set, we jumped back into
our vans for a two hour drive to Sancerre and another tasting.  Unfortunately, because of darkness, rain, and sleet, we were running late and were not able to make it to Sancerre in time.  Luckily, our Sancerre producers, Michel Reverdy and Daniel Chotard, met us at our final destination of the day, Régis Minet's house in Pouilly-sur-Loire.  After tasting the Sancerres' of Domaine Hippolyte-Reverdy and Domaine Chotard, it was time to eat and relax.  And drink.  Can't forget that.  Also joining us for dinner was Denis Jamain from Domaine de Reuilly.  After dinner and an impromptu performance by Daniel Chotard on accordion, we called it a night and departed for our hotel, just walking distance from Régis' house.  Next up – Vézelay.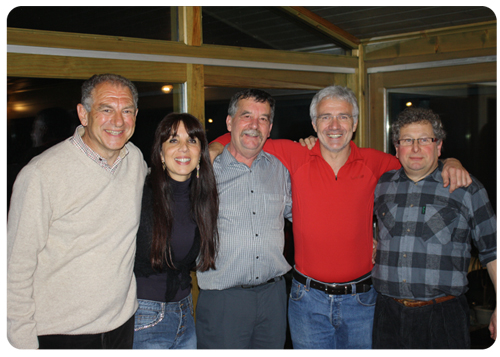 Denis Jamain, Nathalie Reitzer, Michel Reverdy, Régis Minet, Daniel Chotard