A Bruce Trip: White Lights and Winter
Here's the next installment of Retail Manager, Steve Waters', trip to France this past January. The trip continues into the Côte d'Or…
Given the chill, this may sound crazy, but if I could winter in France, it would be in Burgundy.
The Bruce Neyers Trip rolled into the Côte d'Or for three days of extensive tastings and four nights of gastronomic feats. Beaune (our home base) and every other village we visited were lit up with white lights celebrating the holiday season just passed.  Passing through the village of Chagny, on the way to dinner at Aubert and Pamela de Villaine's home in Bouzeron, was particularly beautiful. The simplicity of Christmas in Burgundy versus the potential over-the-top manifestations here in the States made for a sensory experience much more aesthetically pleasing. No big, blow-up Santas to be found anywhere.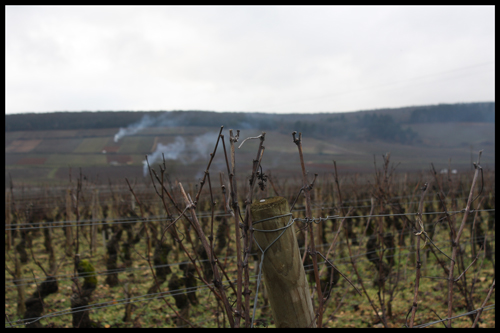 Aloxe-Corton looking to the hill of Corton
Our mission in Burgundy was simple: the white wine producers of the Côte de Beaune on days one and two, then tackle the red domaines of the Côte de Nuits next, with tastings interspersed back at the hotel with producers and samples from regions too far out of reach for this trip. The break-neck pace of a Bruce Trip is what it's all about –we were presented approximately thirty different producers and tasted hundreds of wines.  And that doesn't include wines with dinner! We acted like tourists as well as we drove along the Route des Grand Crus and stopped to snap photos of some of the most expensive real estate on the planet: Le Montrachet, Chevalier Montrachet, Clos de Vougeot, and Chambertin. The tasting at our new producer, Domaine Follin-Arbelet, KLWM's first estate from the village of Aloxe-Corton, was particularly memorable because they are a new acquisition with a bunch of Grand Crus to choose from: Corton-Charlemagne, Le Corton, Corton-Bressands, and Romanée-Saint-Vivant. Absolutely stunning wines!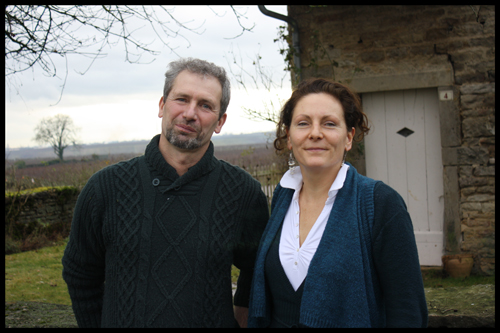 Franck and Christine Follin
A Bruce Trip would not be possible if it wasn't for the amazing staff of the KLWM office in Beaune. Chris Santini (his father is Corsican and his mother is American), the manager of the office who escorted us on the trip, interpreted for the non French-speaking among us and was a tireless communicator between the Beaune office and our producers along the way. A hard-working man, for sure. It was a great pleasure to dine with Chris at the end of the day and see him kick back and relax a little bit. His comrades in the Beaune office, Delia Dent, Julia Issleib, and Jane Berg, some of the most intelligent, committed, wine-loving, and beautiful women in all of France, were incredibly important orchestrating our tastings in the hotel.
Early the final morning in Beaune, we turned our vans south and headed toward the Beaujolais and northern Rhône…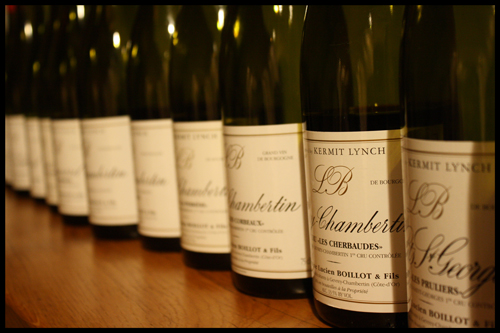 Another epic tasting