A Visit To Joncier
Charming, dynamic, approachable—one might use these words to describe Marine Roussel, proprietor and vigneron of Domaine du Joncier, and they came to mind as I drank a bottle of her 2007 Lirac a few weeks ago. I've enjoyed every vintage of Marine's Grenache blend since I started working for Kermit in 2007. Around that time, I brought a bottle of the 2004 Lirac to a friend's house. They were drinking something awful, so I took out the Lirac and said, "We're drinking this." As people sipped, eyes widened at the remarkable contrast between the two wines—oh, so this is what wine tastes like.
A visit to Joncier was at the top of my list when I travelled to the southern Rhône in August of 2010. Visiting the nearby great growths of Châteauneuf, Gigondas, and Vacqueyras was important, but seeing Lirac was worth the hour drive from my chambre d'hôte. It was clear that Marine is always excited to receive visitors. The tour of her facility was quick—she only has two rooms and they are so tightly packed with foudres and cement cuves that you can't really walk around—you just peer in from the doorway. The real excitement happened when we hopped into her two-door car and drove off for a vineyard tour.
Her Grenache vines look older than they are. Like a mountaineer who's spent his adult life in the Himalaya, the vines are weathered, thick, and gnarly, but are at most only forty years old. These vines work hard from the day they are planted. The soil is stony, or rather, the soil is really just stones. Wind whips through the plateau of Lirac year round, keeping the vines clean and dry but also robbing the roots of any extra water. The roots dive deep to find any water or nutrient source they can. "How can you work in these vines with all these stones every where?" She laughed and replied, "Very slowly." It seems to be more labor than love in the vineyards. The love happens in winery when she puts together her blend.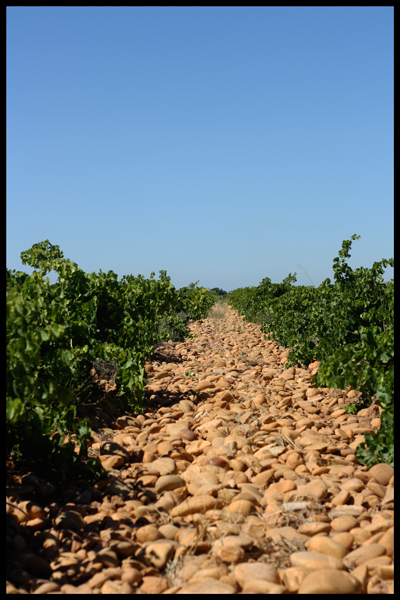 Marine changes her blend each year and spends months experimenting with different combinations of Grenache, Syrah, Mourvèdre, Cinsault, and Carignan. Her patience shows when the wine arrives in Berkeley. Her 2009 is similar to the 2007. I've got a few bottles for now and a few bottles to drink in five years. It's hearty, luscious, and full, but not over the top as it is tempered by Marine's charming touch.