Minestra – Traditional Corsican Soup
Chris Santini, our American/Corsican office manager in France, is our guest blogger today. He offers insight into traditional Corsican cuisine and a recipe for the classic Corsican soup, Minestra.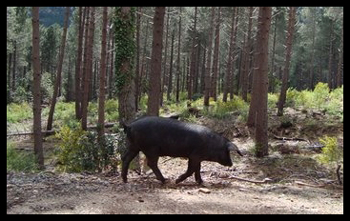 With the growing interest in Corsican wines we're seeing these days, there's also been an interest in Corsican food, which I can proudly attest is every bit as unique as the wines. If you can get to Corsica, research ahead of time or ask around and seek out the names of the good charcutiers. These guys make traditional smoked hams with names like Panzetta, Lonzu, and Figatellu, from a native race of pigs (Nustrale) raised in semi-liberty in the mountains and eat a steady diet of chestnuts from the forests. The meat is then smoked over chestnut wood and the result is simply outstanding charcuterie with strong flavors and a texture that melts like butter. Beware though, of the numerous shops on the island which sell imported, bland, saucisson to tourists under a Corsican label. It's a serious problem and you'll need to buy from a reputable source. The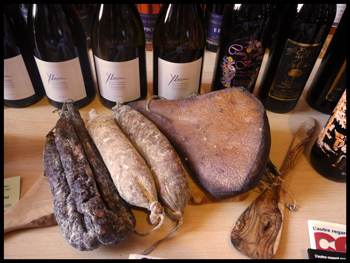 locals know who to go to for the real deal, and if you're lucky, you might be able to glean this info from them.
The other essential element to Corsican food is the cheese, in particular the Brocciu, made from ewes or goats milk, and best served fresh, in the 48 hours after it is made. It can be eaten on its own, or used in breads and pasta based dishes (such as ravioli and cannelloni style dishes), or even in the most traditional of Corsican deserts, the Fiadone. Again, if you seek this out in Corsica, beware of the poor quality imitations for the tourists, and note that true Brocciu is made only from November to June.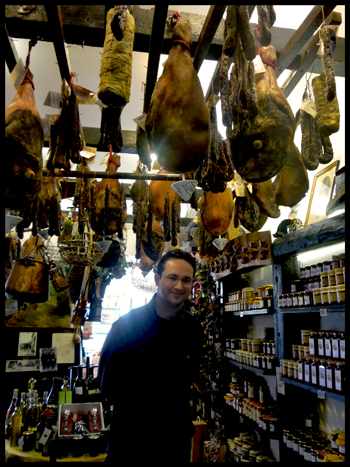 Besides the charcuterie and the cheese, which I imagine are difficult to score in the US, the quintessential, true Corsican meal is what they call in Corsican "A Minestra," or in French Soupe Corse or Soupe Paysanne. There are as many different variations as there are villages. It is never fancy, so it is rarely served in restaurants, but it is what you'll eat when you're invited to a Corsican's home to share a simple meal. Most Corsicans in the villages eat Minestra nearly daily for dinner. What goes into it is seasonal and varies depending on what grows locally and the maker has on hand, but it is always hearty, rich, and full and a meal on its own. When prepared as a lunch rather than a dinner, it's made the night before and served cold the next day.
Below is a recipe for Minestra from the excellent Corsican cookbook "Recipes from Corsica", by Rolli Lucarotti, which is the only English language Corsican cookbook that I know of. It's a great recipe that can be done far from Corsica (although of course, if you can ever get your hands on some real Corsican panzetta, or herbs straight from the Corsican maquis for the soup it will make a world of difference). If you try this recipe of Minestra, think rustic, and use flavorful heirloom varieties for your vegetables, ham with a strong, quality smoke to it, and a flavorful olive oil.
For those who wish to delve a bit deeper into Corsican cooking, two particularly popular and authentic recipes to seek out are Migisca and Ghialadicciu.  The Migisca is goat macerated overnight in red wine vinegar and grilled on embers of vine cuttings or chestnut wood. The Ghialadicciu, for those brave enough to try it, is pigs stomach stuffed with the heart, the tongue and the liver, along with a healthy dose of garlic and red wine, served with a spicy sauce.
Fish recipes exist too, but the majority of Corsicans have never really been big on fish. Historically the sea brought invasions and danger, and for centuries it was the hills and mountains that gave refuge to the population, and where Corsican cuisine took shape.
So, with that said, all that's left to do is to pull a cork on a white Vermentinu, a red Niellucciu, or perhaps a rosé Sciacarellu instead… and enjoy! Bon'appetitu!
From Recipes from Corsica – Rolli Lucarotti
Corsican Country Soup – Minestra

 There is a Corsican saying, "Eat your soup—or jump out the window," which sounds better in Corsican, "O mangia a minestra, o salta a fenestra," as it has the advantage of rhyming. What it actually means is "Put up with it or shut up."
It also illustrates the importance of soup in the daily diet of Corsicans up until the middle of last century. Each region and each season had its own soup made of pulses or fresh vegetables, meat or fish, often thickened with bread, rice or pasta. Served before cheese and fruit, it often constituted the evening meal.
Minestra – Serves 6 to 8
The most popular of Corsican soups is a hearty vegetable soup. The choice of vegetables depends on the seasons but almost always includes dried beans, onions and carrots. A ham bone or the trimmings of a smoked ham add to the flavour. Ask your butcher or at the delicatessen counter for end pieces of ham or bacon. Herbs are important too. Choose among marjoram, sage, sorrel and parsley (not all of them). If you are in a hurry you can replace the dried beans with a couple of 400 g tins of red or white beans, drained and rinsed.
200 g dried beans (borlotti or white beans)
1 ham bone or 100 g diced panzetta or streaky bacon
500 g potatoes
250 g carrots
250 g carrots
1 large onion
1 stick celery
1 large leek
2 cloves garlic
3 courgettes
2 or 3 shredded leaves of Swiss chard or cabbage
2 tomatoes peeled and chopped or 1 tbsp tomato purée
2 tbsp olive oil
200 g pasta (macaroni or thick noodles)
salt and freshly ground black pepper
herbs of your choice (fresh if possible)
Soak the dried beans in cold water overnight or for at least six hours. If using a ham bone, cover it with cold water, bring to the boil, drain and discard liquid. Reserve. Peel and dice the potatoes, carrots and onions. String and slice the celery. Split and wash the leek and cut into rounds. Crush the garlic and dice the courgettes. Heat 2 tbsp of oil in large saucepan and gently cook the onions, leeks and bacon or panzetta until the vegetables start to wilt.
Add the other vegetables and tomato purée and stir for a few minutes. Drain the beans and add to the soup together with the bam bone if using. Cover with water (about 2 litres) and bring to a boil. Skim the top carefully and add herbs. Lower the heat and simmer, covered, for about 2 hours until the beans are meltingly soft. Add the past about 20 minutes before the end of cooking time. Correct the seasoning (the ham bone is salty), scatter with chopped herbs and serve very hot with crusty bread.
Offer extra olive oil with the soup.