White Wine For Aging? It Is Time To Look To Alsace
In the soon-to-be-released January newsletter, Kermit takes up his pencil to highlight new arrivals from our longest-standing producer from Alsace—Domaine André Ostertag. Kermit first tasted with and began importing André's wines in the early 1990s and as we approach nearly twenty-five years of working with him, never has André's artistic precision and sophistication in the craft of winemaking been more apparent.
Sketches of vines in the Ostertag tasting room
Kermit discusses the new vintages of 2010 and 2011 but we snuck a few cases of some very special older bottlings on the same boat for the lucky few that discover them when browsing the racks of our retail shop. It is not every day that you can walk into a wine shop and find vintage Alsatian whites that spent their lifetime aging in the same cellar in which they were bottled.
Here is some insider advice: Many people purchase and age white Burgundy, and with good reason, because the pleasure of a perfectly aged Meursault is a stunning experience. What most enthusiasts overlook is the importance of having the wines of Alsace in their cellar as well. Top vineyard specific Riesling and Pinot Gris from Alsace have more aging potential as most white Burgundy, often at half the price of their Burgundian counterparts.
Here is a rare opportunity. André did the hard work—he could have sold these wines years ago but resisted, knowing the potential they held. The value here goes beyond not having to wait to enjoy finely aged Riesling and Pinot Gris, but also learning what you gain were you to age some yourself.
Quantities are painfully small and priced well below auction levels.
| | |
| --- | --- |
| 2007 Pinot Gris "Zellberg" | $60.00 |
| 2007 Riesling "Heissenberg" | 34.00 |
| 2004 Riesling "Fronholz" | 59.00 |
| 2002 Pinot Gris "Fronholz" | 67.00 |
| 2000 Riesling "Heissenberg" | 60.00 |
| 1999 Pinot Gris "Zellberg" | 78.00 |
| 1996 Riesling "Muenchberg" Grand Cru | 109.00 |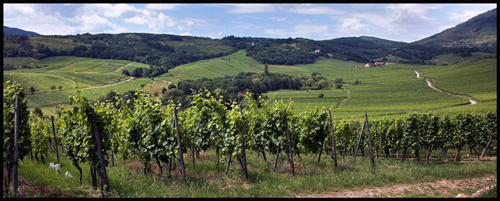 A panorama of the grand cru Muenchberg vineyard