The (Im)possible Pairing: On A Mission
I am proud to present the first edition of what will be an ongoing segment of the KLWM blog: The (Im)possible Pairing. Here's the idea: we enjoy eating all sorts of food types, and we think that every meal should be accompanied by a good glass of wine. Some foods, however, are more problematic than others when it comes to wine pairing. The best match may be unexpected or take trial and error to discover. In this blog, we challenge ourselves and our readers to find the most appropriate wines to accompany these atypical foods, in a quest to come up with…the (im)possible pairing.
Our first episode will revolve around pairing wine with Chinese food. Alright, not just any Chinese food: a good friend of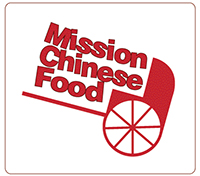 mine has a new job cooking the boldly flavored Szechuan-influenced cuisine of Mission Chinese, in San Francisco's Mission District. Three of us KLWM salespeople and our guests set out to prove that fine wine has its place on any table, even one where the amount of hot chili fumes in the air can cause spontaneous coughing fits. Much discussion preceded this epic meal, and each of us had our own ideas as to what would shine alongside Mission Chinese's intense umami flavors that are often topped with a mix of Szechuan peppercorn and sizzling-hot chilis.
We decided on three wines that we hoped would quench our thirst, quell the spice, and stand up to the food.Our first wine was a 2011 Cassis Rosé from Clos Ste. Magdeleine. Sipping it while waiting for our first wave of food to arrive only increased the sense of anticipation brewing in us. Soon thereafter, the feast began, and the wine was put to the test. Provençal rosé was a no-brainer when deciding what to bring, as its combination of full body, fresh fruity flavor, and crisp acidity makes it perfect for almost all types of food. It delivered once again, and before we knew it the bottle was empty. Our next wine, the Champalou's "Cuvée Fondraux," is an off-dry Vouvray that we suspected would balance out the spicy flavors in the food. The wine worked exceptionally well, and not just with the spiciness. The sensually tender Tiki Pork Belly struck a chord with the Vouvray, with the wine's slight residual sugar and fresh acidity perfectly complementing the sweet, fatty bites of braised pork. The "Fondraux" also enhanced the Spicy Octopus and Lamb Tongue's Salad, each component of the dish bringing out different qualities in the wine.
After this second bottle was rapidly drained, the time came for main courses. To stand up to the savory overload we were about to dive into, we opened a bottle of Abbatucci's "Rouge Frais Impérial." Rice cakes and fermented black beans are not traditional staples of Corsican cuisine, but if the island's Sciaccarellu-based refreshment could dictate this, we'd be seeing these ingredients alongside figatelli and boar stew on the Corsican dinner table. The Rouge Frais' light body allowed the food to express itself, while the wild fruit and herbs came around strongly with each swallow. We finally finished our meal, our palates buzzing from the potent spice and our heads buzzing from the delicious wine. It came as a surprise that all three of our wines worked so well with such peculiarly bold, flavorful food, especially in an establishment where the norm is to have a cold beer on hand to gulp down when the heat kicks in. We left Mission Chinese that night wondering what other bottles would pair so well with this cuisine, a cuisine that is not known for being especially wine-friendly. But in fact, the opposite turned out to be true, as the intense Szechuan flavors had us constantly reaching for our glasses. We had only one regret as we walked off into the night, remarkably full-bellied: that we did not bring enough wine—something that could easily be rectified on our next visit!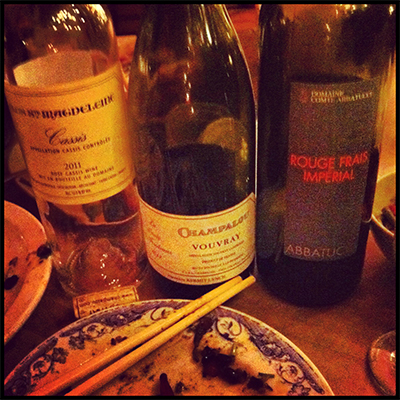 2011 Cassis Rosé • Clos Ste. Magdeleine
$32.00 per bottle    $345.60 per case
2011 Vouvray "La Cuvée des Fondraux" • Champalou
$22.00 per bottle    $237.60 per case
2011 Rouge Frais Impérial • Comte Abbatucci
$25.00 per bottle    $270.00 per case
Mission Chinese Food
2234 Mission St.
San Francisco, CA 94110