The Resurgence of the Languedoc
 In our retail shop, any salesperson will be quick to point to the Languedoc section for some of the best values in the store. Having long been the source of the vast majority of France's bulk wine, the Languedoc nonetheless produces wines of quality that are consequently undervalued. We are not ones to complain: nothing makes us happier than a juicy, sunny, southern blend at a great price.
However, this abundance of well-priced, everyday wines means that the Languedoc's true potential as a producer of serious wines is often overlooked. Recently, the region has experienced a revival in which some of the area's best terroirs are being recognized by ambitious young winemakers. Indeed, the Languedoc—an enormous region encompassing a range of diverse terrains—is home to an array of very favorable grape-growing areas, from the limestone slopes around Pic Saint Loup through the schist hillsides of Faugères, all the way south to the rugged landscape of Corbières and Fitou.
The negativity that still plagues the Languedoc's reputation revolves around the densely planted vineyards in the flatlands, generally located closer to the Mediterranean. With irrigation and copious use of fertilizers and other chemical products, yields can easily double or triple those from the poorer soils in the hills farther from the coast, permitting co-ops to churn out colossal quantities of characterless bulk wine. However, the hillsides farther inland are home to some highly desirable terroirs for the production of vibrant, structured wines, and they are not going unnoticed by the keen eyes of certain winemakers. In fact, some old vineyards—having been abandoned by their former owners in search of easier sites to work—are being re-purchased with the intent of fully realizing the potential of the land.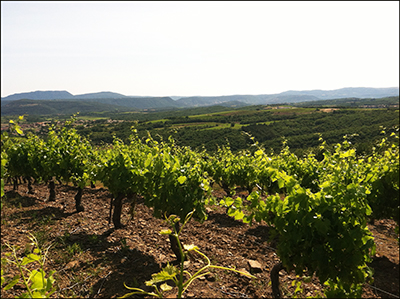 Terrasses du Larzac                                          © Anthony Lynch
The Terrasses du Larzac is a prime example of this new trend. A vast area to the north of Clermont l'Hérault, this relatively new sub-AOC of the Coteaux du Languedoc benefits from the cooler temperatures of the steep schist slopes of the Cévennes mountains. Grapes here ripen slower and retain more acidity than in the hotter plains to the south, giving the wines a distinct, lively freshness. Jean-Baptiste Granier, founder of Les Vignes Oubliées, was quick to note this: realizing the potential of some of these higher-altitude terroirs, he purchased several parcels to vinify himself rather than allowing this exceptional fruit to be mixed into the local co-op's blend. At just 29 years old, Jean-Baptiste has now produced several vintages under his own label and the results speak for themselves, putting to evidence the Languedoc's potential for serious, age-worthy wines.
Farther south, Maxime Magnon has been pursuing a similar project in the steep slopes of the Hautes-Corbières. A native Burgundian, Maxime ambitiously scoured France for good vineyards to purchase before coming across several abandoned parcels of old vines in these scraggly, garrigue-infested hills. "Nobody wanted to work these parcels," Maxime explains, "so I bought them." In vineyards too steep for tractors, it takes true dedication to set out everyday and put in hours of labor by hand. Maxime's wines perfectly reflect his hard work, with his unique approach creating wines that are filled with luscious fruit while backed with a firm mineral structure.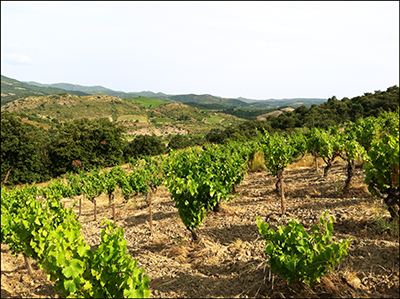 Maxime Magnon's vineyards                        © Anthony Lynch
Jean-Baptiste and Maxime are just two examples of many new growers who are revolutionizing wine in France's most productive region. This new wave of enthusiasm has resulted in an array of fascinating examples that put the Languedoc's diversity of terroirs in the spotlight. What's best is that these wines rival some of the greats from other regions in quality, but come nowhere near in price. For the moment, it seems there's nothing to do but sit back with a full glass of Languedoc wine and enjoy it, before the rest of the world catches on.
To experience the best of what the Languedoc has to offer, mention this blog and
receive 15% off on these six bottles:
2011 COTEAUX DU LANGUEDOC BLANC "SAINT AGNÈS"
ERMITAGE DU PIC SAINT LOUP      $23.00
2011 COTEAUX DU LANGUEDOC BLANC "LES COCALIÈRES"
DOMAINE D'AUPILHAC      $35.00
2011 TERRASSES DU LARZAC ROUGE • LES VIGNES OUBLIÉES      $32.00
2011 CORBIÈRES ROUGE "ROZETA" • MAXIME MAGNON      $29.00
2007 PIC SAINT LOUP ROUGE "GUILHEM GAUCELM"
ERMITAGE DU PIC SAINT LOUP      $48.00
2006 VIN DE PAYS D'OC ROUGE "LES SERROTTES"
LA GRANGE DE QUATRE SOUS      $24.00
Offer valid through September 14,  2013.