2013 Harvest Report, Part 2: Bordeaux
We saw last week that the 2013 vintage has much potential in the south of France. We have also heard word from several of our producers in Bordeaux and it is with a sigh of relief that I can say the same: it's looking good for 2013! With the exception of certain districts that fell victim to destructive hail, most of the Bordelais experienced a successful growing season with typical weather, though perhaps slightly cooler than the run of recent warm years. The vignerons we have heard from are happy with the quality of fruit they have picked and, unlike in the South, yields are for the most part in the normal range.
For Daniel and Valérie Alibrand, the harvest time is especially crucial as ideal conditions are necessary to produce the luscious nectar that is Domaine de l'Alliance's Sauternes. With the potential for so many things to go wrong, it is a joy to hear Daniel's preliminary assessment:
We began the harvest on Wednesday, September 25. We harvested the first round of Sauternes and had a great surprise: two barriques instead of the one we usually fill! Botrytis is everywhere. We are very satisfied so far: pretty fruit and good acidity. We'll see…as they say, it's not over 'till it's over. This year we had to constantly adapt, but that is the charm of our profession. Otherwise we would have chosen the factory.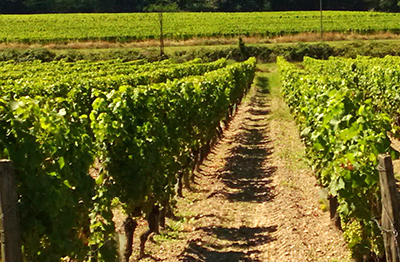 Harvest at Domaine de l'Alliance
Hervé Dubourdieu, proprietor of Château Graville-Lacoste and Château Ducasse, shares Daniel's faith in the vintage:
We picked for the dry whites one week late relative to last year. Our harvest dates are fairly typical for this decade. Conditions were good for ripening. I think we will have slightly higher acidity levels than last year. Yields are rather generous for us!
Xavier Piton of Château Belles-Graves had equally reassuring words:
The results are very encouraging, after lots of worrying. Yields are higher than expected, and above all ripeness is at the desired level, already showing a beautiful color and aromas of crushed strawberry, raspberry, and currants. Our authentic Pomerol Merlot!
Xavier's thirst-inspiring words can only leave us to imagine the quality of 2013 Belles-Graves Lalande-de-Pomerol. While there is still a long way to go, we can at the very least be optimistic given his preliminary reports and the encouraging words of others from the regions. Although there is much to rejoice in for us, Xavier nonetheless stresses the importance of solidarity with his fellow vignerons: "Special thoughts to our colleagues in Entre-Deux-Mers and Bergerac, who were hit by hailstorms."
To be continued…