International Women's Day: Celebrating Women in Wine
by Katya Karagadayeva and Anthony Lynch
Growing up in the Soviet Union, International Women's Day was a lovely holiday, a day when I got to stay home and receive gifts. Traditionally, men (or boys) honor their mothers, wives, girlfriends, and female colleagues and schoolmates, with flowers and small gifts. Nowadays, I appreciate IWD not merely as a sweet tribute to these memories, but as an opportunity to celebrate and be inspired by women and their achievements.
At Kermit Lynch Wine Merchant we've been very fortunate to work with many extraordinary, talented women. We would love to give them flowers today, but a better way to pay respect would be to tell you a little more about them. Spotlighting three "women in wine" is Anthony Lynch:
No celebration of women in wine would be complete without mentioning Lulu Peyraud. While her late husband Lucien is undeniably the face behind the wines of Tempier—and to a certain extent, the Bandol appellation itself—Lulu's role at the domaine over the decades has proven to be of equal significance. Known for her delectable renditions of classic Provençal dishes, the ever-so-sprightly Lulu—now 96 years old—will always come to symbolize the joyous, welcoming spirit that is synonymous with Domaine Tempier. The legendary banquets she organized will be remembered by many a lucky guest at the Domaine, but it is Lulu's open-armed generosity and contagious laughter that truly make this wonderful Marseillaise the First Lady of Bandol.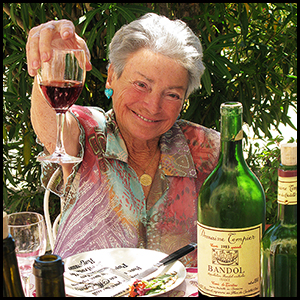 © Gail Skoff
Our next featured wine woman hails not from Provence but another fabled, picturesque wine country: Tuscany, home of the grand Brunello di Montalcino. At the Castello di Argiano, Elisa Sesti has taken after her father Giuseppe and is now responsible for managing the winemaking at the estate in addition to sales and marketing. While it remains a family effort, Elisa represents the driving force behind production as well as promotion of the brand via travel throughout Italy and abroad. Somehow, she still finds time to entertain guests at the estate, and can often be found sharing a bottle of crisp Sangiovese rosato with friends over an antipasto featuring ingredients cultivated in the Sesti garden. It is only logical that we raise a glass to this warm and caring woman to celebrate not just her role in the wine world, but also as a wonderful individual.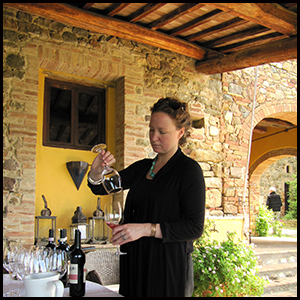 Elisa may be an exception to the rule in the wine world, as the vigneron profession is one still largely dominated by men. Nonetheless, more and more women can be found working the vineyards and running the cellars as of late. In the hills north of Venice, Cinzia Sommariva has taken charge of her family's 35 hectares of Glera (the grape variety used in Prosecco), and the results speak for themselves. Her visionary leadership and flawless execution give a Prosecco of real class and character. Cinzia herself, consistently displaying confidence and assertive demeanor with no lack of charm, is the ideal spokesperson for this most elegant and uplifting of libations.