The New Kermitlynch.com
I am pleased and excited to announce that this week, we launched our newly re-designed website. It doesn't feel like too long ago that our previous website came online, replete with profiles on each of our producers and detailed information on each of their wines. All this information is still there and in fact we make updates to it multiple times a week so as to keep it as complete and accurate as possible. That said, as we all know, things move fast on the web and keeping pace with how our customers want to access our website led us to this new design.
The big change is that this new site is now optimized for viewing on not just a full computer screen, but tablets and smartphones. Where on our old site you'd have to scroll the screen to see all the content on a phone, now the content shifts and re-stacks so it fits the screen of any device for easy searching, reading, and browsing. If you find yourself needing information on one of our producers or wines—perhaps in a retail store or restaurant—or if you are one of our many trade partners selling our wines in your establishment, this new site will make accessing this information significantly easier.
There are a few other bells and whistles worth checking out:
Our Wines – We have a new and improved interactive map to help guide you in finding a producer you are looking to learn more about. Also, instead of a text list of all our producers, we have a grid of images and logos for each producer. Now you can connect the name of the domaine to the faces of the people running the show.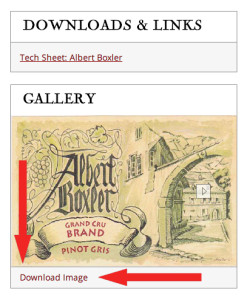 Label Downloads – Need a label from one of our galleries to send in an email, include in a display, or just show a friend what you've been drinking? With one click, you can download any label in our galleries. You'll see the "Download Image" links below each producer page gallery.
Instagram – Along with our other social links, we've included our recently launched Instagram page. If you're on Instagram, follow us at @kermitlynchwine and when posting photos of our wines, use hashtag #kermitlynch—we'd love to see your photos.
We hope you enjoy the new site and continue to find it to be a valuable resource to learn about our wines and stay up on all things Kermit Lynch—kermitlynch.com.