The (Im)possible Pairing: Avocados
Okay, maybe not impossible. In fact, not only is pairing wine with avocados possible, but as we will soon discover, it can be downright magical. After all, Jesus did turn water into wine, and we have no way of being sure Eve did not pick the forbidden fruit from an avocado tree. Here in California, our very own Garden of Eden, we are spoiled with our avocados, being lucky enough to enjoy this sacred fruit over an exceptionally long growing season—and even our winter avocados put most others to shame.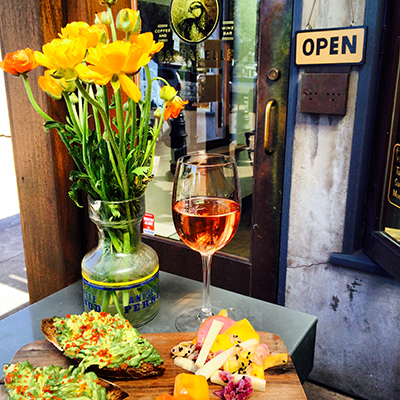 Bartavelle Coffee & Wine Bar       © Katya Karagadayeva
Given the joys inherent in cutting open a pristine oval of creamy, green richness, it is only logical that we should jointly imbibe in a carefully selected glass of wine. And given the infinite number of ways to prepare avocados—as a snack, a topping, a supporting ingredient, or even as the centerpiece of a dish—the possibilities for creative wine pairing are endless. Below, our culinarily inventive and curiously avocado-savvy sales team gives its two cents on how to combine two of life's greatest pleasures:
• Michael Butler, 25-year KLWM retail expert, suggests an avocado salad also featuring cracked Dungeness crab, thinly sliced grapefruit, and baby gem lettuce. "I serve it with something delicate and citrusy," Michael states dreamily. "Like Domaine de Marquiliani's Sciaccarellu rosé."
• Mark Congero, Chez Panisse veteran, opts for an avocado and beet salad with a lemony vinaigrette. "A fruity Sauvignon blanc like Domaine de Trotereau's Quincy has the acidity to cut through the avocado and the fruit to stand up to the beets."
• The glamorous Jennifer Oakes has only one thing on her mind: Champagne. But first, she recommends crafting Chez Panisse's green goddess dressing, which includes a healthy dose of avocado blended with anchovy, garlic, lemon, olive oil, and plenty of fresh herbs. Only once the dressing has been applied over fresh chicories can the Champagne be served. "My choice is Veuve Fourny's Brut Nature," says Jennifer, uncontrollably salivating over the idea of avocado-laced greens and crisp, bone-dry Blanc de Blancs. "With a side of oysters," she adds slyly.
• Bryant Vallejo hails from Colombia, a land where avocados virtually grow wild. He raves about slicing up the fruit before breading and deep-frying the pieces, without forgetting a bowl of homemade aïoli for dipping. "Serve Abbatucci's Rouge Frais Impérial," he asserts, offering no explanation on the basis that this light, gluggable Sciaccarellu is the perfect match for any and all foods.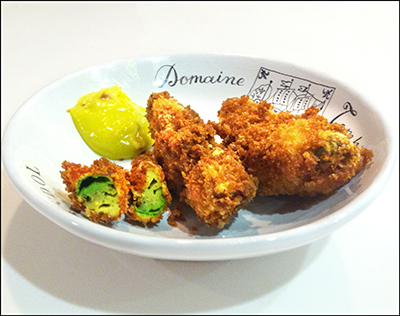 Avocado fries with aïoli     © Anthony Lynch
• Steve Waters, retail manager, doesn't take his avocados lightly. On a tortilla laden with melted cheese, he adds caramelized onions, garlic-marinated shrimp, a touch of hot sauce, and a garnish of coarsely chopped cilantro. Without forgetting, of course, impeccably ripe slices of avocado somewhere in the mix. In this scenario, Steve fills his glass with a Grenache-based wine from the Southern Rhône, looking to match the bolder flavors in his taco, without forgetting the importance of freshness: he stresses that giving the red a slight chill is "absolutely essential".
• Dustin Soiseth, the most recent addition to the KLWM retail staff, is all about simplicity: he likes his avocado sliced on a piece of toast and drizzled with our Maussanne olive oil from Provence. His ideal pairing? "Rosé. Charles Joguet's Chinon rosé."
• If anybody knows what to do with an avocado, it's Suzanne Drexhage, owner of Bartavelle Coffee & Wine Bar next door to the KLWM shop. Bartavelle's avocado toast has reached legendary status: on a warm slice of Acme levain, mashed avocado is topped with a drizzle of olive oil, lemon spritz, sea salt, and a sprinkle of tangy marash pepper. With a rotating lineup of wines by the glass, it can be hard to choose, but Suzanne has no doubts: "Rosé!"
Bartavelle's avocado toast        © Katya Karagadayeva
Now it's your turn: what is the best way to prepare an avocado, and what wine do you serve with it?