The (Im)Possible Pairing: Ceviche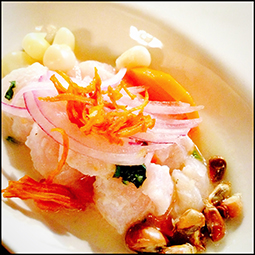 One of my favorite dishes to prepare during summer is ceviche. I've tried multiple methods, but the household favorite remains my Peruvian husband's family recipe. Ceviche, a citrus-flavored marinated fish dish can be challenging to pair with wine. Adding ingredients like garlic, red onions, cilantro, peppers, corn, or even ginger (as the family recipe requires), and one can easily feel confused when trying to choose aperfect wine. A popular pairing I see mentioned in various wine-food related blogs is Sauvignon Blanc due to its similar flavor profile. Personally, I found that the intense taste of the marinade (leche de tigre) strips the citrus flavors out of the wine.
I prefer to pair my Peruvian ceviche with wines that won't interfere with the taste of lime but have enough personality to stand up to and complement the tangy flavors of the dish.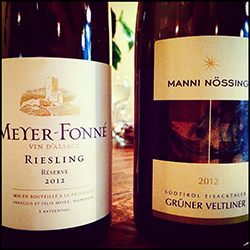 On a most recent trip to Tambo restaurant in Oakland, I brought two wines to try out alongside their ceviche: an Alsatian Riesling and a Grüner Veltliner from Alto Adige. The Riesling worked beautifully, while the delicate Grüner was overpowered by the heat of the dish. To avoid making that mistake again, I compiled a little cheat sheet for myself. Con mucho gusto, after much experimenting at various family events and restaurants, I share with you my ceviche-friendly wine list:
2013 Languedoc Blanc • Château de Lascaux $17
2013 Reuilly Pinot Gris • Domaine de Reuilly $20
2012 Riesling Réserve • Meyer-Fonné $23
2013 Île de Beauté "Rosé de Pauline" • Domaine Marquiliani $28
2011 Pinot Gris • Albert Boxler $38
2011 Pinot Gris "Fronholz" • André Ostertag $52
For those who are adventurous enough to experiment at home, I recommend a great recipe from a famous Peruvian chef, Gaston Acurio -> recipe. I would love to hear how the pairings worked for you.
¡Salud!