Another working day at Domaine d'Aupilhac
Sarah Hernan, our French intern for the summer and fall joins us as our guest blogger today.
You have probably already heard or read about the Domaine d'Aupilhac. In the middle of Languedoc close to the Terrasses du Larzac, Sylvain Fadat and his wife Désirée built a wine cellar next to the family house right in the heart of the village of Montpeyroux.
Two years ago I worked for them as an intern for about six months. Now two years later, currently another interning with KLWM, on the other side of the wine business and also on another continent, I felt that this was a good time to share with you the domaine's secrets.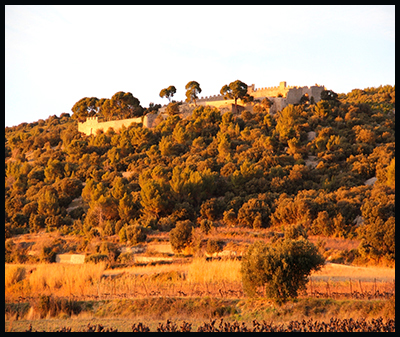 Montpeyroux Castle      © Sarah Hernan
I could tell you many anecdotes but then I would need more than one blog post, and because nobody asked me to write a book (fortunately), I am going to tell you about one specific day.
Toutes caves ouvertes, which means literally "all wineries opened," is an annual one-day event during April that awakens this little picturesque village.
After several weeks of preparing to welcome hundreds of people, everything was finally ready. But on this Sunday morning the atmosphere was charged, like before a major competition, a combination of excitement and anxiousness. The weather was not helpful—a dark sky accompanied by an icy wind threatened the celebration day.
We had designed an itinerary guiding our guests across the cellar from the private entrance of the family house through the chai to the wine tasting cellar. All along the path people could taste the domaine's wines, beginning with whites and ending with a few old vintages.
In spite of the terrible weather, much more appropriate for a winter day than a spring one, the village streets filled up slowly with guests, musicians, and a cluster of farm animals. By noon the cellar was crowded, making it difficult to follow our itinerary.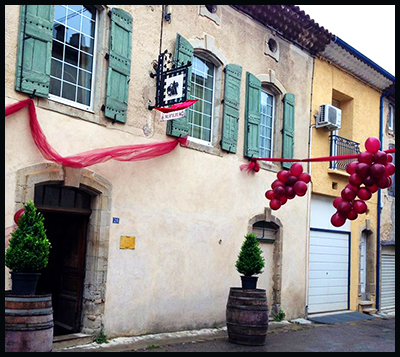 Aupilhac family house  © Sarah Hernan
Cadenced with tastings, history lessons, laughs, shouts, songs, and brotherhood enthronements, I remember this day as symphonic. Unfortunately, I didn't get the chance to be enthroned by the world famous brotherhood named "Les Grapillettes"—a rare honor, which celebrates you as an ambassador of the Montpeyroux wines. Sylvain is one of the few lucky honorees.
All the Fadat's family and friends were there to help, many of their old vintages were opened, among them an incredible Montpeyroux 1999. Deep and complex, with a breathtaking freshness and flavors of garrigue—a magical cuvée I will never forget that made me fall in love with wine all over again.
I picked this day because it embodies the essence of Domaine d'Aupilhac, its philosophy and its wines: authenticity, a hint of craziness, and a lot of generosity and character. I truly believe that passion for wine comes from this kind of setting which makes life a wonderful adventure!
To finish my story, I would like to do a brief etymology lesson. The name Fadat has several meanings. In the colloquial French it means insane, and everyone who knows Sylvain would agree that this translation is perfect for him. I suppose a man needs at least a tiny part of insanity to terrace the terrific, rocky, but exceptional Cocalières vineyard as he did a decade ago. In Occitan, a language spoken in southern France and in a few places in Italy and Spain, Fadat means Touché par la baguette des fées—"Touched with the fairies'wand." Perhaps, the Aupilhac's terroir has been blessed by the fairies, but I will let you make your own judgment after you taste one of Fadat's enchanted wines.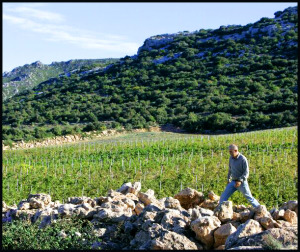 Sylvain Fadat attending to the Cocalières vineyards  © Sarah Hernan