A French Woman in the Bay Area
by Sarah Hernan
I know this title sounds quite common around here—you must be thinking yet another French person! And I couldn't blame you as I have never been in a foreign country with such a huge French community. Every time I walk around San Francisco or Berkeley, I almost feel like home—hearing my native language on every street corner. And here starts the hide-and-seek game, trying to hide my French accent from my compatriots. There are two types of ex-pats, the ones who look for people from their home country and the others who try desperately to hide from them.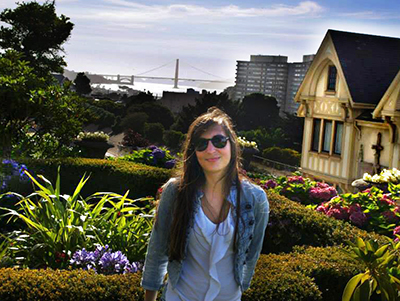 Exploring the Bay Area
I am a part of the latter. Of course I miss France, my family and friends. It's never easy to start a new life in a new place, with new people, new language, and new customs. I understand that it is simpler and more comforting to hang out with fellow countrymen, especially when you first hit the shore of a new country. But then the real adventure has to begin—overcoming fear, trusting yourself, and moving forward. Total immersion is necessary to soak up another culture and language. Time flies and before you realize it, you are back home experiencing what we call "reverse culture shock."
After almost three months spent in the Bay Area and many weekend trips, I can say without any hesitation that I could definitely live here for a while—it is terrifically different from France but so similar at the same time. French food culture is present everywhere. So far I almost haven't missed anything. A Bay Area native is probably used to the cultural diversity but for the provincial French person that I am, this is very unusual and surprises me every day. Culture, art, nature, food, and wine from all over the world—there is something for everyone. The Bay Area fully deserves its rank among the top places to live in the world, even with its unpredictable fog. I consider the Bay Area, as the French say, ma région de coeur—loosely translated as "my second home."
But even then, I could never disown my birthplace, Alsace.
Alsace is a charming French region next door to Germany, well-known for its rich gastronomy and unpronounceable village names like Niedermorschwihr, the home town of our famous producer Albert Boxler. But once you move past these clichés and take time to explore Alsace, all the hidden treasures you'll find would amaze you. Between plains and mountains, your eyes would be spoiled by the gorgeous landscapes. Have a walk in one of these countless picturesque villages, venture through narrow, curvy streets weaving around the colorful, half-timbered houses—you could never get bored with them.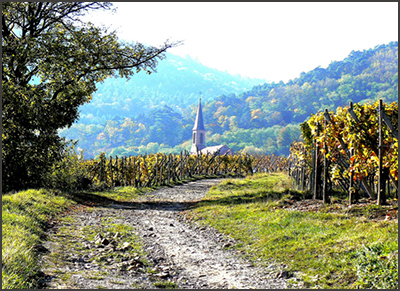 Alsace in the fall
That's where I was born, and even though I grew up in a Spanish family, I consider Alsace my home—a special place that I return to year after year.
If you go to Alsace during harvest time and drive along the wine road from Mulhouse to Strasbourg, you would most certainly enjoy the continuing ballet of tractors carrying tons of grapes to the old cellars located in almost every centenarian downtown house.
During Christmas time the region turns into a fairy tale, with bright lights, festive markets, and children behaving perfectly, in a fear of a visit from Père Fouettard who accompanies St Nicholas in his rounds on St Nicholas Day (December 6), distributing lumps of coal and floggings to the naughty children, while St. Nicholas gives out mandarins, chocolate, and Mannele, little fluffy brioche men, to the well-behaved. Père Fouettard gave my brother and I our worst nightmares and my parents can thank him for having such nice children during one month every year.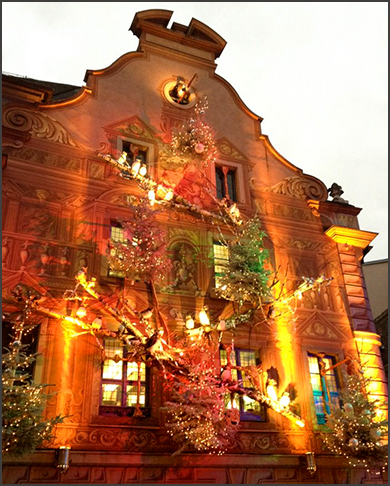 Christmas in Strasbourg        © Sarah Hernan
Of course you can't leave Alsace without trying a glass of schnaps, a local eaux de vie, made from grain or fruit. The most popular are Mirabelle and Quetsch, a plum variety. I can't remember any family feast without homemade schnaps. Unfortunately, because of new regulation and as old people who knew the process have passed, this traditional beverage is about to disappear. Fortunately, the winemaking traditions are still very strong, preserved by many talented, passionate producers. Some people say that winemakers are like historians, trying to pass to you a piece of their region's history. Sharing culture and history all over the world is an honorable quest.
During last week's staff tasting, we tasted a few Alsatian wines from Meyer-Fonné and Domaine Ostertag. Les Vieilles Vignes de Sylvaner from Ostertag was stunning, a perfect harmony between freshness and white fruit aromas with a long, crisp finish. Sylvaner is not one of the four Noble grapes used in Alsace: Riesling, Pinot Gris, Gewürztraminer, and Muscat. This rustic and high yield grape was neglected but has recently enjoyed a revival and is now even accepted on the Zotzenberg Grand Cru. Through André Ostertag's talent and his passion to express the terroir, the Sylvaner grape is back to its former glory and transports you to the small village of Epfig.
Thanks to Kermit Lynch's wide range of superb wines from Alsace, I barely feel homesick. I can enjoy the pleasures of the Bay Area while keeping a taste of home.
2013 Gentil d'Alsace • Meyer-Fonné $18.00
2013 Pinot Blanc "Vieilles Vignes" • Meyer-Fonné $19.95
2013 Sylvaner "Vieilles Vignes" • Domaine Ostertag $25.00
2013 Pinot Blanc "Barriques" • Domaine Ostertag $26.00