February Newsletter: 2013 Vieux Télégraphe PA, Mark's Farewell Sampler, Cellar-worthy Selections
The February Newsletter is now available.
Click here to download the pdf.
Highlights from this month's newsletter…
by Mark Congero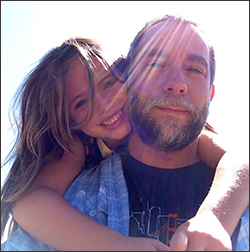 Folks, it has been a great run here at KLWM, but after eight years, I am moving on. I am, along with my wife and daughter, headed to Maui. Island life awaits: warm sun, tropical breezes, and delicious wine . . . well, two outta three ain't bad! I have had a lot of fun writing my seasonal samplers, and I hope that you all have enjoyed them as well. It has been my pleasure, truly, to taste and then write about so many great wines, and a joy to find recipes to pair with them. Whether the theme was a Provençal summer or an Italian winter or preaching about the virtues of local, sustainable, organic food, my goal was to make you hungry and thirsty and, if you tried the recipes, satisfied!
My time here means a lot to me. I will remember it fondly and I will miss all my colleagues and the great client relationships, but most of all I am going to miss the wine! But who knows—there may be some adventures on the KLWM wine route still to come.
Please enjoy my Farewell Sampler. In the carton you'll find some of the best recipes from past samplers, and (as always) you'll find a mouthwatering selection of wines, including a few of my all-time favorites.
Bon appétit and aloha!
per bottle

Clairette de Die Brut • Domaine Achard-Vincent

$25.00

2013 Muscadet • Michel Brégeon

17.95

2013 Edelzwicker • Meyer-Fonné

18.00

2013 Petit Chablis • Roland Lavantureux

22.00

2013 Pigato "Vigneto Ca da Rena" • Punta Crena

27.00

2013 Bourgueil "Alouettes" • Chanteleuserie

16.00

2012 Languedoc Rouge • Château de Lascaux

17.00

2013 Dolcetto d'Alba "La Costa" • Piero Benevelli

17.00

2013 Vaucluse Rouge "Le Pigeoulet en Provence"

Frédéric et Daniel Brunier

18.00

2011 Lussac St. Emilion "Les Griottes" • Bellevue

19.95

2012 Marsannay Rouge "Les Longeroies"

Régis Bouvier

34.00

2009 Bandol Rouge • Domaine de Terrebrune

36.00
Normally $267.90
Special Sampler Price
$199 (a 25% discount)
SÜDTIROL
by Anthony Lynch
2013 GRÜNER VELTLINER • MANNI NÖSSING >
Welcome to the Valle Isarco, Italy's northernmost wine district before the border with Austria, a country celebrated for its fine Grüner Veltliners. Yet Manni Nössing's Veltliner, grown at 700 meters above sea level, could give many an Austrian wine a run for its money. This mountain man prefers a high-acid style, which does not preclude this clean, racy, mineral-packed white from expressing elegant fruit. A passage in neutral acacia barrels polishes the edges of this pristine Dolomite creation.
$30.00 per bottle $324.00 per case
From the first sip I ever took of Nössing's Kerner, I was immediately captivated by this white's exotic perfume and screaming acidity. It screamed, Steep vineyards high in the Alps! Impeccable vinification! Minerals galore! Try Nössing's 2013, recently arrived in our shop, to taste this exceptional rendition of a rare grape. It features a nuanced tropical fragrance with important weight and complexity, underpinned by the stony nerve one would expect from this mountainous terrain.
$30.00 per bottle $324.00 per case
This mountain white does not taste like any other Sauvignon Blanc on Earth. Beautifully defined, it shows pretty hints of ripe grapefruit and candied lemon. Yet the cutting Dolomite minerality takes over any overt fruitiness, giving great structure to complement a subtle creaminess. Graceful, balanced, and of ample weight, this is serious high-altitude Sauvignon that can be enjoyed now and for years to come.
$32.00 per bottle $345.60 per case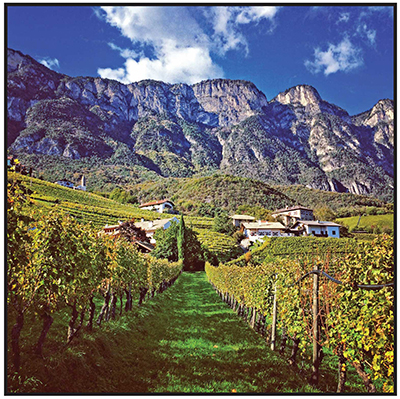 Peter Dipoli's Voglar vineyards, 600 meters above sea level © Anthony Lynch